Let me start by asking this one question…
Could you have asked for a better Final Four?
#1 Duke vs. #7 Michigan State
What Tom Izzo's Spartans have been able to do this March has been remarkable. Some will argue that they were in the weakest region and that they didn't even have to go through the #1 seed as Villanova was ousted by NC State in the Round of 32. But what they did was run through the #2 seed Virginia and #3 seed Oklahoma, the two most well rounded teams in the Region. The Georgia team they took care of rather handily in the first round was no slouch either. Just look at what they did to Kentucky earlier this year. Travis Trice and Branden Dawson have been nothing short of spectacular. Trice's performance in the first 10 minutes and the final 5 minutes of the game against Virginia was the difference in the game. Dawson is a matchup nightmare at the four spot for most teams and he's quietly playing his way into the first round. Denzel Valentine's contributions can't be overlooked either as he's hit big shot after big shot for this team.
The Spartan magic will likely come to an end as they are facing a Blue Devil team that can matchup with the Spartans on both ends of the floor and exploit Michigan State's weaknesses. No disrespect to Matt Costello but he along with the rest of the Spartan big men are no match for Jahlil Okafor inside. And that matchup nightmare that Dawson presents for most teams, won't be an issue for Duke as Justise Winslow can combat his size, strength and athleticism. This Duke team took down Michigan State back in November. Okafor did his thing but the guard combination of Jones and Cook was the ultimate difference as the two combined for 36 points and 10 assists with zero turnovers. Of course that was back when Duke had Rasheed Sulaimon and Semi Ojeleye on the roster although neither was a huge factor in the game. Look for this game to be similar to the first one in that Duke will be able to do pretty much whatever they want on the offensive end. Okafor will get his as will Jones and Cook with the difference being the ability of Winslow to shut down Dawson.
#1 Kentucky vs. #1 Wisconsin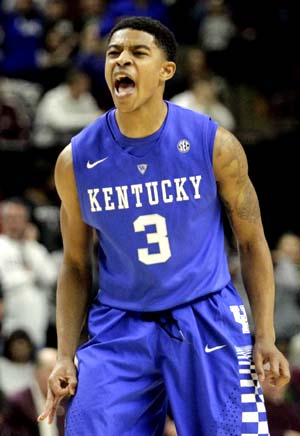 Last year's Semi-Final game between these same two teams was the most watched college basketball game ever. I expect this one to surpass that and by a large margin. Last year's game didn't have anywhere near the story lines that this year's game has. Kentucky comes into this game undefeated and Wisconsin comes in as one of the hottest teams in the Tournament and looking to avenge a game that they arguably should have won a year ago. The Wildcat defense anchored by Willie Cauley-Stein shut Wisconsin big man Frank Kaminsky down last year and will likely have the same formula this season. The only difference is a guy by the name of Sam Dekker. This Tournament has been a coming out party of sorts for the 6'9 forward from Sheboygan, Wisconsin. He's averaged over 20 points and 5 boards per game during the Badgers' run and he's vaulted himself into lottery consideration for this June's draft. Trey Lyles will likely draw the defensive assignment against Dekker. If Lyles can slow him down and allow WCS and Towns to do their thing against Kaminsky then this could be a much easier game that most people realize it will.
But the way you draw things up isn't always the way things go. Kaminsky and Dekker have shown they can score against the best as they did against an Arizona team that quite a few people had in this spot against Kentucky. Nigel Hayes, Bronson Koenig and Josh Gasser are all guys that epitomize what a "role" player should be. They each know what they do best and they do it. Thus is the mark of a Bo Ryan coached team. They are great defensively, they are methodical on offense, take their time and get the best shot available. They don't turn the ball over and they hit their free throws. All characteristics of great teams. Unfortunately for them, their greatness coincides with the buzz saw that is the Kentucky Wildcats. Wisconsin will keep this game close but ultimately Kentucky comes out on top.

Championship Prediction
Duke and Kentucky is a dream scenario for anyone who follows college basketball. Whether you want to admit it or not, this is the game that you've wanted to see from Day 1 of this Tournament. Whether you love them or you hate them, these two teams are the epitome of college basketball greatness. These two programs are #1 (UK) and #4 (Duke) in wins all-time. They have two of the best, if not the best, college coaches ever and they have, what looks to be, the top two picks in this year's draft. Phil Jackson and the Knicks better have a front row seat to this game as he'll likely be picking from Duke big man Jahlil Okafor and Kentucky big man Karl-Anthony Towns with that number one pick this Summer. You really can't go wrong with either guy as they are both future stars at the next level but a one on one showcase on this type of stage is just the type of thing that leaves Coaches, GM's, Scouts and fans salivating.
I wrote in my South Region Preview that Duke's biggest weakness was going to be their depth, or lack thereof. One of Kentucky's biggest strengths? Their depth. Duke has been able to ride Okafor for most of the season, especially on the offensive end and he's taken them this far but what Kentucky has that no other team on Duke's schedule had is fresh legs to throw at Okafor all game long. Towns, Willie Cauley-Stein, Dakari Johnson and Marcus Lee will all get their shot at defending Okafor and based on the way that Coach Cal uses his rotations, they'll all have fresh legs and they'll all be able to give Okafor 100% on both ends of the court. As good as he is, I'm afraid that it will be too much for him to handle. If that happens, it will be on Justise Winslow to pick up his slack. Winslow has been great during this Tournament and has really flourished since being moved to the four spot in February. He's turned into a monster on the defensive glass, he can get the fast break started with an outlet pass or he can start the fast break himself. He's really been this team's "X" factor lately and that will be no different when playing the Wildcats, a team that really doesn't have anyone on their roster that can match up with him. Alex Poythress would be the perfect player to draw that defensive assignment but he won't be available.
All of that being said, foul trouble and the inability to hit shots over Kentucky's length will ultimately be Duke's undoing. If Okafor, Winslow, Quinn Cook or Tyus Jones get into any sort of foul trouble, the combination of Amile Jefferson, Grayson Allen and Marshall Plumlee just won't be enough to combat what Kentucky brings in off the bench. Combine that with the fact that Duke's guards are small compared to that of Kentucky and it could be a long night on the offensive end for one of the better offensive teams in the country this season.
If Kentucky gets past Winsconsin, which I believe they will, they will cut down the nets in Indy. They are just too talented, too long and too athletic. They get after it defensively, they have a nice mix of youth and experience and they are simply put…the best team in college basketball. They have been all season and that won't change this weekend.
Final Score: Kentucky 70 – Duke 64
Follow me on Twitter @CCroweNBADraft