The 2016 NBA Draft doesn't have a lot of hotly-debated positional battles like we've seen in the past few years, but there is an interesting clash going on in some mock drafts between Oklahoma guard Buddy Hield and Kentucky guard Jamal Murray.
The two high-scoring guards have some noticeable limitations as they ascend to the next level, but they're also proven college scorers who both averaged over 20 points per game last season.
Murray's potential became a great subject of debate recently when he went 79-for-100 from three during a workout for the Boston Celtics in which he proclaimed that he was the best player in the draft to the media afterwards. Hield responded a few days later with a 85-for-100 from three performance, as well, in front of the Celtics.
While some are inclined to believe that Hield could be an elite perimeter shooter who can find his mark in the NBA very quickly, others are convinced that Murray's long-term upside will make him the better long-term pick.
Here's a look at where Hield and Murray stand by comparing them in five separate categories as we enter the final stretch of draft preparation.
Size and measurements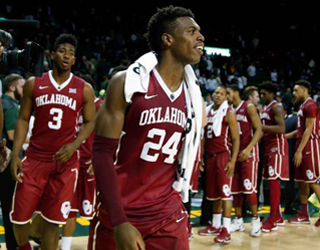 With both players projected as potential top-five picks, let's start by looking over their measureables and where each player stands.
It's a little bit difficult to directly compare Hield and Murray from a measurement standpoint, mostly because they haven't been measured at the same time at the same place. The most recent measurement for Hield came at the 2016 NBA Draft combine, while Murray's latest measurements were seen at Kentucky's pro day (which means you can take those measurements with a grain of salt.)
Hield and Murray came in with similar heights as Buddy stands 6'5" with shoes while Murray came in a 6'4.25" with shoes. Ideally, you'd like both players to be an inch or two taller if they are playing two guard, but both measurements aren't terrible, either.
The differences start to really come into play when it comes to length. Hield measured with a very strong 6'9.25" wingspan and 8'5" standing reach while Murray came in at a 6'6.5" wingspan with an 8'1" standing reach.
With Hield having the advantage in length, it gives him the advantage of defending some bigger wings and potentially enabling to move him up a position in a smaller lineup while Murray's lack of quickness and so-so wingspan could hurt his defensive upside.
Both Hield and Murray came in with similar weights (212 pounds for Hield to Murray's 207 pounds) and body fat percentages (6.1 percent for Hield to 7.2 percent for Murray).
Again, it's also important to note that Murray's measurements came before his season at Kentucky, where he averaged 35 minutes a night and was running all over the floor. So that weight and body fat percentage might be a touch high compared to where it was in the fall.
Edge: Hield
Athleticism
You can see why there are many skeptics of this 2016 NBA Draft, in terms of star power, because while Hield and Murray are both talented college players, they both lack the elite athleticism that many teams covet on the wing in the NBA.
Neither player is known for their ability to attack the basket, in-part because neither player possesses elite vertical athleticism. Hield's burst off the floor is better than Murray's at this point, but neither player is going to be challenging shot blockers at the rim very often.
In terms of lateral quickness, both players are also below average, with Hield taking the slight edge in that category as well. Hield's wingspan helps him make up for his lackluster lateral quickness, while many question Murray's ability to keep up with smaller guards or good athletes at the two.
Murray is going to have to prove a lot of doubters wrong when it comes to his athleticism at the next level, so Hield gets the slight advantage here for being better vertically and laterally.
Edge: Hield
Scoring ability
Although the previous sections harped on both players being slightly undersized and below-average athletes, the scoring ability that both of these players possess can't be denied.
Hield was a solid four-year player at Oklahoma and his prolific senior season captured the nation's attention as many basketball fans saw his deep range and instantly (and unfairly) compared him to Steph Curry. During his senior season, Hield averaged 25 points per game as he got rolling during a number of games thanks to his 67 percent true-shooting percentage. Hield shot 45 percent from three-point range during his senior season (many of them bombs from NBA range) while also hitting an impressive 88 percent mark from the free-throw line.
During a solid freshman season at Kentucky, Murray became the Wildcats' go-to scorer, as he pumped in 20.0 points per game on 40 percent shooting from three-point range. Murray also shot a solid 78 percent from the free-throw line and he's a crafty player with the ball in his hands who does a great job of adjusting to what the defense gives him.
What makes Murray stand out is his ability to hit shots coming off of screens. Murray was an impressive 56 percent when running off of picks this season and that kind of ability has to have teams very interested in running him all over the floor as a floor-spacing distraction to the defense.
Both players are tough-shot takers and tough-shot makers, but Murray stands out because his ball handling is superior to Hield's — especially when you consider Murray is three years younger.
Although Murray was spectacular off of screens, Hield deserves a ton of credit for re-defining his game as a scorer and continuing to improve off the bounce. It's likely that Hield will be mainly a catch-and-shoot threat early in his career, but he's a worker who could improve that over the course of his career.
Edge: Push
Defensive ability
Question marks loom for both Hield and Murray when it comes to defending at the next level. Since both players are undersized with mediocre (at best) athleticism, there are major questions marks with regards to checking elite perimeter options in the NBA.
Hield improved his defensive abilities throughout his college career as he became a more dependable perimeter defender as a senior. Averaging a little more than one steal per game as a senior, Hield showed that he has quick hands at times, but he didn't try to gamble on steals too much (which could be in part because Oklahoma needed him to stay out of foul trouble).
Murray was borderline dreadful to start the season on the defensive end at Kentucky, but he progressively got better as the season went along. Also averaging one steal per game, Murray's competitiveness came out late in the year when he showed more willingness to be a defender, but he's still slow-footed and doesn't have great length to keep his man in front of him.
You also have to take into account that Murray was only a freshman in college and being asked to truly defend hard for one of the first times in his life. With more of a focus on that end of the floor, he could improve a bit as he figures things out at the NBA level.
For either player, there isn't much of an expectation to be any kind of all-league defender, but Hield is the more likely of the duo to be an average to above-average defender.
Edge: Hield
Potential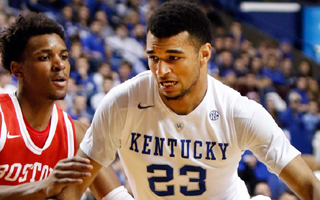 Here is where things get interesting. Because Hield is already 22 years old and played four years of college, there is a prevailing sentiment that it might be, "what you see is what you get," in regards to his upside. Since Murray is only 19 years old, and three full years younger, there is some intrigue in terms of the player he might become, especially since he was so good during his one and only season at Kentucky.
Given Murray's confidence during his prep career (both with Canada Basketball and in the Nike EYBL) and his youth, it's intriguing to see if he can become a special shooter in a league that is salivating for floor spacers. A career point guard before joining Kentucky's roster, Murray can also handle the ball better than Hield and he owned a 3.0 to 1.9 assist to turnover ratio in 21 games in the Nike EYBL in the summer of 2014. Murray isn't the type of passer or floor leader who will get other guys open looks, but he is more than capable of finding the open man and getting him a look.
But we can't count out that Hield is a known hard worker who put in a ton of time to improve his game during his four years at Oklahoma. Although he is 22, he might not be done improving his skill level, especially once he doesn't have to worry about academics or anything school-related and he can just focus on ball. It's also unrealistic to think that where Hield was at 19 versus where Murray is now means that Murray has significantly more upside left to develop than Heild, due to the fact that Murray was playing against a higher level of competition at 15-19. But it is probably safe to assume he will improve at least slightly more due to being three years younger.
Edge: Murray