Three Team Trade Shaking Up Lottery
The Kings, Bucks and Bobcats completed a 3 team deal according to multiple reports.
Sacramento has moved back from 7 to 10 and are targeting Jimmer Fredette. (The Kings also receive John Salmons).
Charlotte received Corey Maggette and the 7th pick and now has the 7th and 9th picks and are likely targeting Tristan Thompson. They are also high on Bismack Biyombo who might go to Detroit at 8.
Milwaukee receive Stephen Jackson, Shawn Livingston, Beno Udrih and picked up the 19th pick where they could target wither Marshon Brooks or Donatas Motiejunas.
Utah Targeting Derrick Williams in 3 Team Deal
We're hearing that there is a 3 team deal in the works between Utah, Washington and Minnesota.
The deal would send the 6th pick and players (and/or cap relief) to Minnesota.
Utah would get the 2nd pick and is targeting Derrick Williams.
Washington would get the 3rd pick and is targeting Enes Kanter.
And Minnesota would move back and dump salary or add veterans such as Paul Millsap.
Minnesota might not be done at that as there is speculation that they would trade 6 to either move down again or add more established veterans.
The deal would likley involve established players. Some names that have been mentioned: Jonny Flynn and Devin Harris.
Bismack Biyombo Back/Knee/Buyout Concerns?
I got word from a GM last night that there are some concerns over Bismack Biyombo's medical reports. He supposedly has a herniated disk which could cause some teams to pause.
Despite that, teams in the lottery don't seem to be too concerned as he has been extremely impressive working out.
Biyombo had a very impressive workout yesterday with Charlotte, who could take him at 9.
There is some thought that he could go as high as 5 to Toronto as he would be the perfect complement to skilled bigman Andrea Bargnani and fit into their international gameplan. Biyombo could also go 8 to Detroit or 11 to Golden State.
Biyombo was a late invite to the green room and cancelled a workout with the Knicks today adding speculation that he will be a likely lottery pick.

Biyombo also has some issues related to a knee surgery he had, according to Marc Spears of Yahoo. He's also got a buyout situation, though that's not considered to be as big of an issue as Jonas Valanciunas'.
Cavs Like Tristan, Will Take Jonas
The Cavs apparently have Tristan Thompson high on their board after watching him work out impressively against Enes Kanter and inviting him back for a second workout. But look for them to end up taking Jonas Valanciunas at 4.
Toronto Should Consider Tristan Thompson at 5
Thompson has not gotten much traction at 5 to Toronto and that's likely due to the fact that the team added a similar player in last year's draft with Ed Davis.
But when you consider that basically every American player they've drafted that has become a star (Damon Stoudemire, Vince Carter, Tracy McGrady, Chris Bosh) has eventually left, taking a Toronto kid like Tristan makes a lot of sense long term.
They could deal Ed Davis as he's got a lot of trade value and hope that Tristan can be as good or better.
Then again, it's difficult to know if GM Bryan Colangelo can afford to think so long term.
Spurs Promise to Davis Bertans?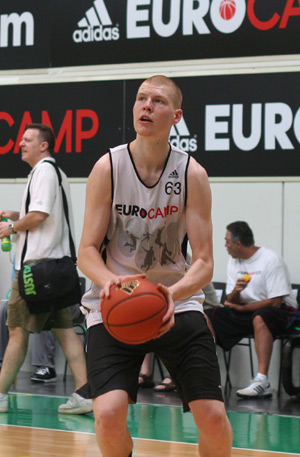 There's been a lot of speculation that Latvian sharpshooter Davis Bertans has a promise at the end of the first round. We're hearing that San Antonio could be the team.
The Spurs have long had success drafting European players and stashing them in Europe and Bertans appears to be a perfect option to do that with.
Despite not playing much this season, he could be the top shooter in the entire draft and develop into something along the lines of a Peja Stojakovic over time.
Iman Shumpert to Phoneix at 13?
We're hearing that Georgia Tech junior combo guard Iman Shumpert could possibly land in the late lottery.
He's a player that we don't project as highly, but NBA team sources insist that he's likely a top 20 pick and could go as high as 13 to the Suns.
A team like Phoenix looking for athleticism and defense could be targeting him. If Jimmer Fredette is gone as expected, would they actually take Shumpert over Kemba Walker? It's possible.