Uncertainty Reigns Supreme for 2012 Draft
More than any draft in recent memory, the 2012 draft approaches with incredible uncertainty. You talk to 10 scouts and you get 10 different opinions on where a centain player will go or what a specific team is going to do. This year's NBA draft has so much parity between picks 2-20 that one team told me they did their yearly tiers and had 14 players in their 2nd tier after Anthony Davis.
For instance, Terrence Ross could fall into the teens and end up better than Bradley Beal. Moe Harkless is not a lock for the top 20 and he could end up better than Harrison Barnes. Perry Jones and Jared Sullinger each came into the season projected as possible top 5 picks and both could slip out of the top 20, and Sullinger was left out of the green room invites.
It's generally assumed that the 2nd tier (in no particular order) consists of six players (Thomas Robinson, Bradley Beal, Michael Kidd Gilchrist, Harrison Barnes, Andre Drummond and Damian Lillard). None of these players are expected to slip very far. After that there is certain to be alot of surprises.
Draft Day Trades are Sure to Mix Things Up
Like a perfect bracket being broken by an early round upset in the NCAA tourney, a mock draft can quickly be shredded when a surprise team trades up for a player and thus alters the dominos that follow that pick. This year it seems that nearly every team in the lottery is weighing their options for moving up, down or out altogether.
Lottery Thoughts
It's looking more and more likely that Charlotte will take Thomas Robinson if they hold onto their pick, although Barnes and Beal still appear to be options. They could always trade down a few spots and grab one of those players 2-3 spots lower. But the problem is that nobody seems to be willing to give up much to take the pressure of drafting 2nd off of their hands. Andre Drummond might have the most upside, but he is a terrible fit with Charlotte, as both parties are in need of structure.
Washington appears set on Bradley Beal after the highly questionable trade they made adding another aging bigman and middling SF Trevor Ariza to their roster. The assumption has been that they are now targeting Beal after adding Ariza, but why would having Ariza change anyone's draft plans? While Kidd-Gilchrist remains a possibility. Beal is likely the player they want because they would love to put Nick Young even further in their riew view mirror.
Cleveland apparently fell in love with Beal after his workout and would love to get their hands on the 2nd pick to insure they can grab him. If not, they will likely settle for Harrison Barnes at 4.
Sacramento has not appeared to have a plan in place for some time now. They were unsuccesful in bringing any of the top six prospects in besides Drummond. This appears to be a place where a team could look to trade up (Houston perhaps) targeting Drummond or MKG. Their roster has talent, but lacks stability. Sacramento would not be a favorable destination for Andre Drummond.
It's assumed that Portland will likely take Drummond (at 6) if he falls out of the top 5. But the Blazers are also extremely high on Damian Lillard and may not want to take the gamble that he's still available at 11.
Golden State would like to shore up their SF position. One option would be to trade to the late lottery area to target either Terrence Ross or Moe Harkless. Another rumor is that they are looking to add a veteren SF with their 7th pick with Luol Deng's name getting a lot of run. But the Bulls assured Deng he wasn't going anywhere according to Yahoo.
Houston appears to be targeting the 5th pick to move up for Andre Drummond. With Kyle Lowry's displeasure with head coach Kevin McHale, there is a good chance that the Rockets move him in a deal on draft day. The Rockets have 14 and 16 and are furiously trying to get a deal done to improve their picks.
Jeremy Lamb Shoulder a Concern
If Jeremy Lamb doesn't go 8 to Toronto as some expect, there are rumors that he could really slide on draft night. Teams apparently are more than just a little bit worried about his shoulder, which David Aldridge first reported on. The injury that doctors have flagged is to his right shooting shoulder and there is concern that it could recur during his career. One team we spoke with said they felt he could slide right out of the lottery and into the teens. We consider Lamb to be the SG prospect with the most long term potential. But this shoulder injury combined with his ankle injury and inability to work out for teams before today (Portland) could cost him on draft night.
Andrew Nicholson Moving Up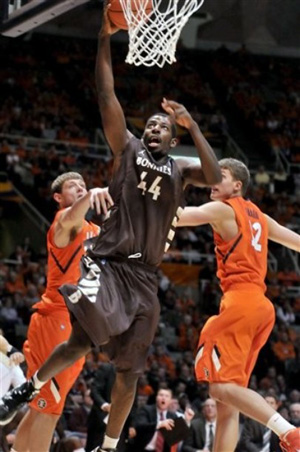 Andrew Nicholson is a hot name right now as teams in the late lottery are considering him and there's an excellent chance that he will land somewhere in the teens on draft night. There are a number of teams attempting to move up for him, and it's unlikely that he would fall past Orlando at 19 or Denver at 20. We hear OKC is one team that could be looking to add a mid-first rounder to grab him, with Eric Maynor as possible trade bait.
Mid-Round Steals
Smart teams are looking for ways to add picks in the late lotto and early teens as there will be some excellent value here with some unexpected players that slide. Teams in need of a wing forward like the Warriors and Kings would be wise to trade for a pick in the 12-16 range and target players like Terrence Ross or Moe Harkless, or even Jeremy Lamb.
Promises, Promises
There have been a number of reported promises. None of which are consisdered set in stone. But some more likely than others. The Phoenix promise with Dion Waiters has the most legs. But there's speculation that it could also be Portland. Then again Portland could take Waiters at 11 regardless.
Austin Rivers at 10 is another rumor that seems to be gaining steam. The team is supposedly looking to take an OKC approach and blow the team up (they have already moved Okafor and Ariza) and could be looking to deal Eric Gordon as well. There are rumors that Gordon could be heading back to his home state, with the Pacers pushing to put a deal together.
Royce White to Boston. This one is another possibility but we've heard rumors that there may have been other reasons that White decided to shut down his workouts.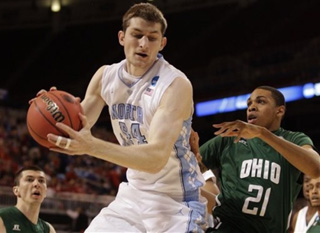 Jerry West Loves Tyler Zeller
We hear that Tyler Zeller has entered the mix for the Warriors at the 7th pick because Warriors executive Jerry West loves him.
Seven seems awfully high for a player that many projected as a mid-late first coming into the season.
The team could always look to trade down a few spots to the 10-12 range and likely still be able to grab him.
Barnes Unpopular with Teammates
According to one NBA scout, Harrison Barnes excelled in predraft interviews but teammates were not so positive about him. There was nothing alarming said about him, just that he wasn't as popular or viewed as the team leader that some might expect. then again, Kobe Bryant was never considered the most team oriented socialite, and he's got 5 rings. Teammate Tyler Zeller was the player that nearly every player noted as being a great teammate and the team's MVP.
Terrence Jones' Positive Psych Tests
Due to bad body language, Terrence Jones has been a player that scouts speculated would struggle in interviews and psychological examinations, but surprisingly according to contacts he has tested very well. Despite that, word is that he has been slipping some of late. He's seen as a likely mid first rounder (15-23) with an outside shot of cracking the lottery.