Two weeks ago we placed Kansas 2-guard Ben McLemore above Shabazz Muhammad and #3 on the 2013 mock draft and many scouts thought it might be a little high. No other draft prognosticators even had him projected in the lottery. Some had him in the late 20s, while others had him in the late teens. Over the past two weeks, McLemore has lived up to that early projection and now the question has turned to whether he could go #1 overall.
Wings going first are extremely rare, as only three have gone first overall in the past 40 years (LeBron James, Glenn Robinson, and David Thompson) and no shooting guard has gone first overall in the past 30 years. If you consider Thompson a SF, it has been over 40 years since a 2-guard went first overall (Austin Carr in 1971).
The shooting guard position in the NBA is an unusual position. With numerous athletic wing players over the NBA landscape recently, one would be forgiven to think that the two-guard spot is the deepest position in the league. In fact, this is far from the truth. The number of elite shooting guards can be counted one hand; Kobe Bryant, Dwyane Wade and James Harden. That's a grand total of 3 elite players. Shooting guards on the level beneath all seem to come with a disclaimer:
Joe Johnson – Being paid like a superstar, but clearly not on that level and past his prime.
Ray Allen – Nearing 40 years of age and is now essentially a spot up shooter.
Monta Ellis – Explosive but does not make his teammates better and oft injured.
Eric Gordon – Talented but apparently extremely injury prone..
Manu Ginobili – Often injured and seemingly reaching the end of his career.
Paul George – Very young, has a long way to go and more of a SF.
To approach this from another angle, if an NBA team has an all-star player who plays the shooting-guard position, that team will have a substantial advantage over nearly the entire NBA. That old saying "they don't grow on trees" could not be more appropriate. The lack of quality NBA shooting guards essentially raises the value of those position players in the upcoming drafts.
McLemore happens to be a player who fits the prototypical two-guard position. The freshman has the size and skills to be a difference-maker on the next level, and has quickly shown off his vast potential in his short collegiate career. With a silky jump shot and the athletic ability to excel at the NBA game, McLemore seemingly has all the tools one could want in a two-guard.
You can add Kansas University head coach Bill Self to the list of believers. "He's good. I mean, he's as talented as just about anybody we've had come through there." That's high praise from a man who has coached the likes of Deron Williams, and when someone like Bill Self makes such an endorsement, people should take notice.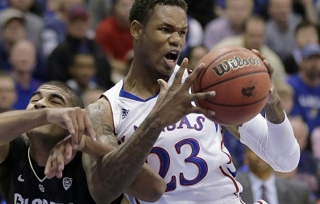 So far this season, McLemore has averaged 16.5 PPG, 5.7 RPG and 2.3 APG. These numbers continue to rise as he acclimates himself to the college game. After sitting out last year due to academic ineligibility, the red-shirt freshman has exceeded expectations and is set to continue the trend. His efficiency is off the charts. He's just 4 points away from being in the 180 club, with his FT (86), FG (49) and 3p (41) percentages totaling 176.
Aside from his efficiency, what makes McLemore such an impressive prospect is his versatility on both ends of the floor. His athletic ability enables him to move his feet quickly on the defensive end to handle small guards, and his 6'5 body and frame will enable him to defend bigger guards. On the offensive end, the combination of his shooting touch and his ability to penetrate the lane by using his athleticism will allow him to build an inside-outside game that will make him a threat from all parts of the court.
When one takes into consideration that an undersized SG like (6'4) Bradley Beal went No.3 in last year's draft, the sky is seemingly the limit for McLemore, who is taller, more athletic and arguably a better shooter than Beal (a former teammate from St. Louis). A Kansas trainer first compared him to a young Ray Allen, and that appears to be a very accurate comparison. Like Allen, McLemore is silky smooth in his ability to spot up and pull up off the dribble.
If McLemore can continue his rate of improvement and learn how to further impose his will on the game, by the time draft day rolls around, anything is possible. In a draft with no clear cut #1 pick, a shooting guard such as McLemore has a legitimate chance to be the top overall pick, something we have not seen in 40 years.