What exactly is a point guard in today's NBA? The point guard position is almost undefinable. There are "scoring" point guards like Russell Westbrook and Kyrie Irving but there also are "pure" point guards like Chris Paul and Elfrid Payton. Today's NBA is filled with scoring points, but the teams with points that make everyone around them better (a la Magic, Stockton and Isiah) seem to produce the best success. The 2015 NBA draft is filled with fantastic point guards that can do it all. However, [player: Cameron Payne] may be the best "pure" point guard prospect in the draft.
It all happened very quickly as many scouts were not even aware of Payne mid way through the season, and he quickly shot up boards to the point where he's now considered a real possibility in the lottery.
"The one play that always sticks into my mind, happened in the second half against Eastern Kentucky," Murray St. coach Steve Prohm explains, " (Payne) played really well in the last eight minutes. . .but we are down three with about 20 seconds to go and he drives to the rim and could have hit a runner, which would have been okay, but instead he makes the extra pass for a corner three which got knocked down. "
Prohm went on to say how Payne dominated in overtime and won them the game. This play particularly stood out for the Murray St. coach because it demonstrated Payne's selfless nature, the indispensable quality of a true point guard.
Payne is a 6-2 lefty point guard that started for the Murray State Racers. He averaged 20 points, six assists, four rebounds and two steals a game his sophomore season. The guard was the steady force the Racers needed throughout the season. Payne was even able to raise his field goal percentage five points while also increasing the amount of shots he took, which is no easy feat.
The Memphis, Tennessee native is sure to help whichever team he is selected by. He is one of the most competitive players in the draft, even telling stories about crying as a kid just because he didn't want to lose. Payne clearly worked between his freshman and sophomore year, showing tremendous growth, especially on the defensive side of the ball.
Prohm absolutely gushes when describing how much he enjoyed coaching Payne. The determined guard was actually only coached by his father before attending Murray St.
Payne contributes much of his basketball IQ to his father. "He taught me will power, he taught me how a point guard should play," Payne said about his father, "He made me a great player and is definitely a reason why I'm here now. He pushed me to limits I didn't even think I had." Payne's basketball IQ has come from a lifetime of playing the game and constant encouragement from his father. Both contribute to Payne's best trait, his vision.
Payne is a fantastic passer, always finding the open man. Teams found it very difficult to guard Murray St. this year because of this quality. If they sent a double team Payne's way, he would consistently burn them by finding the open man. If opposing teams decided to defend everyone else, Payne had no trouble taking over the scoring and leading the Racers to victory.
Payne has an incredible feel for the game, knowing when to score and when to pass, always making the best basketball play. He is great running the high pick and roll and has a quick release on a still improving three-point shot, both skills should translate immediately to the NBA game.
No player is perfect, and Payne is no different. Both Prohm and Payne believe the guard has to work on developing a stronger frame, but that will come in time.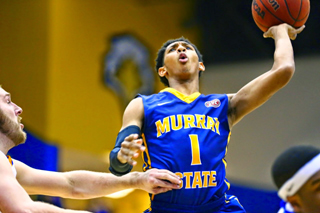 Payne can also be sloppy with his passing even with his great vision. So Payne will need to mature and clean up his ball security. He also will look to become a better three point shooter, but even with these areas that need improvement, he should make an immediate impact for the team that drafts him.
Considered a late bloomer, Payne was generally overlooked by the major schools in his area (Memphis, Tennessee and the North Carolina schools). Coming out of high school, Payne was not recruited by the so called "high major" schools, and it certainly affected him. "It really put a chip on my shoulder, to make me go harder everyday," Payne said, "Being overlooked put me in this position now. It really put fuel in my fire and it got me better because I thought I should have been on that big stage." The guard went on to say how he would not have been put in this position if it wasn't for Murray State.
Being overlooked can be a good thing. Just ask Stephen Curry or Damian Lillard. Both late bloomers who were also passed over by the high major schools in favor of higher rated recruits. They were never given special treatment or coddled while in high school on the AAU circuit, and it shows in their work ethic and desire.
Going to Murray State turned out to be one of the best decisions Payne ever made. Much of basketball is about opportunities and who can seize them.
Teams with the chance to draft Payne should take a long look at him. If they pass on him, they might end up like all of the major college teams that decided not to recruit Payne, regretting their decision.