Let's address the elephant in the room immediately: Alabama did indeed play with three players for the final 11 minutes of their game against Minnesota following their entire bench getting ejected, Dazon Ingram fouling out, and John Petty getting injured. The Crimson Tide indeed outscored the Golden Gophers from that point on and cut in to their lead to fall just short 89-84, after closing the lead to 3. Alabama was ranked 25th in the AP poll during that game, and I guess the voters were impressed with the resilience of the squad and even bumped them up a spot in this week's rankings. Despite the loss, the performance Collin Sexton had was ridiculous. It didn't even make sense, but we will get into that later. He is something special and will be a top-10 pick come June.
Speaking of elite SEC talent, Michael Porter Jr is out for the year with a spinal injury. This whole situation just stinks. It could hurt his draft stock, he will still go Top-5, but he could have played his way into No. 1 pick territory. The talent Missouri boasts this season is impressive, and the addition of MPJ to that lineup could have turned their last place finish in the SEC last year into something special this year. Also, this sucks for college basketball. Porter Jr. is a special talent and his name would have been mentioned as much as the Marvin Bagley's and Deandre Ayton's of the world. His absence is tough on a lot of people, but let's worry about his health first and foremost, not your fan-related wants. He will leave after this season, and it will be the right decision.

Player of the Week
Jalen Hudson (Florida)
Jalen Hudson is the best player on the best team in the SEC. If you aren't aware of who he is yet, Hudson is a transfer from Virginia Tech who sat out his junior year due to the NCAA's transfer rules. He is one of two transfers Florida has this season, the other being Egor Koulechov, their second leading scorer behind Hudson. What makes Hudson so good is his versatility when it comes to scoring the basketball. He gets to the bucket and can finish with either hand, floaters in the lane, and excels at hitting off-balance contested jumpers. But, where he is most improved is behind the 3-point line where he is shooting 47.5%. He is currently averaging 21.8 points per game and it is against stiff competition. Florida has been a part of, in my opinion, the two best games of the year so far against No. 17 Gonzaga and No. 1 Duke. Both of these games occurred in the PK80, a tournament loaded with talent. And Hudson had 35 points and 5 boards against an aggressive Zags team, and 24 points and 10 rebounds against the No. 1 team in the country in the Blue Devils. Against Duke, Hudson's arsenal in order to get buckets was very impressive, but what stood out was his rebounding ability. Duke's length down low with Bagley and Wendell Carter is absurd, both of whom are going to be lottery picks, and Hudson showed great ball instincts and hustle. Despite the Gators blowing a 17-point lead, Hudson showed he is going to excel regardless of opponent. His age and funky release are both hurdles, but he's firmly put himself on the map as a potential draft pick for 2018.

Freshman of The Week
Collin Sexton (Alabama)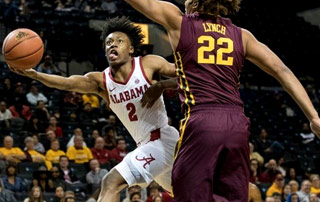 This kid is special. When you are out-manned for 11 minutes of a ball game, most players would just wave the white flag and mail in the rest of the game. Sexton took it upon himself to take on the world and went out and dropped 40. He wasn't just heaving up shots either, he shot 55% from the field. He also grabbed 6 rebounds, 5 assists, and 1 steal. This wasn't Sexton's coming out party either, he is currently 4th in the country in scoring averaging 25.2 points per game. Avery Johnson's Crimson Tide have high hopes this year. 'Bama is currently ranked 24th in the new AP poll and has the talent to back it up. They boast one of the most lethal back courts in the country with Sexton and 5-star shooting guard John Petty. No one plays with the passion or aggression that Russell Westbrook does, but the edge and style of play that Sexton brings to the floor is similar. And you have no choice but to tip your cap when someone gives the effort he does on the court. Expect Sexton to be named SEC Freshman of the Year, and if Alabama exceeds expectations like I think they can, expect him to be in the SEC Player of the Year debate.
Who's Hot
Jaylen Barford (Arkansas)
Barford is currently the leading scorer for the Razorbacks, and expect that to continue all season, but he is also leading them to victories. Arkansas currently has one loss to then No. 9 North Carolina and Barford still performed with 21-points, 3 rebounds, and 3 steals. If anyone is going to replace Sindarious Thornwell for the veteran who shattered expectations in their senior year expect it to be Barford. He has become more well-rounded and it has showed in his stat line where he averages 20.8 points per game, 4.2 boards, and 3.3 dimes. His shot from beyond the arc has really expanded his game. In his junior year Barford shot 27% from 3-point range. That number is up to 50% this season. Defenders would sag off Barford begging him to shoot, but now the development of his outside jumper has led to making defenders more honest. This has opened the floor for him where he has been able to find teammates at a higher rate. Don't expect Barford to have a magical season the way Thornwell did, but just give me credit when you see similar traits or box scores.

Who's Not
Matthew Fisher-Davis (Vanderbilt)
Well, talk about underachieving. If I could put the whole Vanderbilt squad here I would, but at NBADraft.net we talk about prospects and Fisher-Davis would fit that category. Vanderbilt already has 4-losses on the year, to USC, Seton Hall, Virginia, and Belmont. In those games Fisher-Davis performed well in one when he scored 31 points in an OT loss to USC. But, besides that performance he is averaging just 7 points per game on 21% shooting from the floor. For someone with such a sweet stroke, there is no way you can shoot such a low percentage. He is even shooting 30% from downtown, which is the worst percentage of his college career. Of the 24 shots he took in those three losses, 12 were from beyond the arc. This is where Fisher-Davis needs to improve his mid-range and game inside the paint. If defenders are running you off the 3-point line you have to adjust and make them honest by getting to the hole. Fisher-Davis has yet to prove he can do that and it is affecting his team's performance and record.
Top 5 Teams in the SEC
Since records don't tell the whole story, especially early on in the season, here is a rundown of the Top-5 teams in the SEC so far.
1. Florida Gators
I believe this is the best team in the SEC right now and it really isn't that close. Teams like Kentucky and A&M will catch up by conference play, but they must be very grateful they have to wait for conference play. The two transfers in Hudson and Koulechov have elevated this Gators team to elite status.
2. Texas A&M Aggies
Billy Kennedy finally got DJ Hogg to start showing and proving his potential. He is the driving force of this team right now because most 6'9 players cannot do the things he can do. Couple that with potential lottery pick Robert Williams and big man Tyler Davis and this undefeated Aggies team doesn't look like it is going to slow down any time soon.
3. Kentucky Wildcats
Last week I discussed five reasons of why Kentucky isn't going to win the SEC. That was before I saw Florida play against competition and show up the way they did. Kentucky is talented and keeps getting better, the offense looks like it is starting to figure it out after averaging 96.5 points per game in the last two, but I'll be sold once they figure out how to disrupt opponents with their length on the defensive end.
4. Alabama Crimson Tide
Collin Sexton and John Petty are exceeding expectations. Petty might miss some time with an ankle injury, but expect this team to live in the AP poll this season, something an Alabama basketball team hasn't done in a very long time. After watching Auburn bounce them from the playoff (for now), at least they can fall back on the excellence of Collin Sexton.
5. Tennessee Volunteers
I know, Mississippi State is undefeated and they're not making the list. But, it took a Quindary Weatherspoon game-winning 3 to beat Jacksonville State. They have plenty of time to prove they are as good as their record. On the other hand, Tennessee has come out and been flat-out impressive. Rick Barnes' squad was expected to finish bottom-3 in the SEC by almost every sports outlet. And here they are 4-1 with their only loss coming to a top-5 team in Villanova. They have beaten NC State and Purdue, who are quality victories early on. They are proving all the nay-sayers wrong (including me), and continue to impress.