Big East basketball is back and while six teams (Butler, Georgetown, Providence, St. John's, Villanova and Xavier) made it to the NCAA tournament, this is in no way a powerhouse conference filled with star-studded teams. Last year, Villanova won the conference by four games and the Wildcats look to win their third straight Big East Title. Although this is a deep conference, the question remains: can anybody compete with Villanova in the Big East?
1. Villanova Wildcats
2014-15 Record: 32-2 (16-2)
Key Departures: Darrun Hillard, JayVaughn Pinkston
Top Returning Players: Ryan Arcidiacono, Josh Hart, Daniel Ochefu
Notable Newcomers: Jalen Brunson, Donte DiVincenzo
Villanova dominated the Big East last year, going 16-2 in conference and a 32-2 record overall. Villanova is led by one of the best coaches in the country in JayWright. Wright won his second straight and fourth overall Big East Coach of the year award. But the Wildcats lost three starters and will look to a mix of reserves from last year to step up and to a strong freshmen class. The Wildcats will lean on Ryan Arcidiacono for leadership. Arcidiacono, a senior, averaged 10.1 PPG. and won the Co-Big East Player of the Year along with Providence's Kris Dunn. Arcidiacono is used to being a leader and has been the captain since his freshman season. While Arcidiacono isn't a prolific scorer, (his offense is almost strictly as a jump shooter) he's as steady as you can get, highlighted by his 2.7 assist/turnover ratio. Villanova welcomes back senior forward Daniel Ochefu (9.2 PPG and 8.5 RPG.) and junior Josh Hart. Hart accumulated a number of trophies last year, winning Big East Sixth Man of the Year. Hart and Ochefu will look to play bigger roles this year to soften the blow of losing key starters.While Villanova has talent on offense, there's no question that they'll miss the impact of Darrun Hillard and JayVaughn Pinkston. Hillard (14.3 PPG) made 79 3-pointers last year and Pinkston (9.7 PPG) was a four-year starter and force in the paint. Starter Dylan Ennis transferred to Oregon. But Villanova had a great recruiting class, led by point guard Jalen Brunson. Brunson will slide into the starting rotation and will benefit from having guys like Arcidiacono and Hart. The recruiting class also includes Tim Delaney (6'8" PF) and Donte DiVincenzo (6'4" SG). Villanova is again favored to blow away the competition and will look to win their third straight Big East title. Veterans Ryan Arcidiacono and Josh Hart add stability to this team, Daniel Ochefu will benefit from an increased role and top recruit Jalen Brunson will play a pivotal role in determining how far the Wildcats go into the postseason.
2. Butler Bulldogs
2014-15 Record: 22-10 (12-6)
Key Departures: Kam Woods, Alex Barlow
Top Returning Players: Kellen Dunham, Andrew Chrabascz, Roosevelt Jones
Notable Newcomers: Tyler Lewis
Butler looks to get back to their dominant ways, after a surprising NCAA tournament run that had them losing to Notre Dame in OT in the round of 32. Last year started poorly under head coach Brandon Miller, going 14-17 overall and 4-14 in the Big East. Miller then mysteriously disappeared without comment as Butler looked to Chris Holtmann, who steered the ship as the Bulldogs finished the season on a bright note. Holtmann will lean on seniors Kellen Dunham and Roosevelt Jones, both named First-Team Preseason All-Conference players by the Big East Coaches. Dunham, a 6'6" shooting guard, scored 16.5 PPG, shot 41 percent from three-point range and shot 85 percent at the free-throw line. . He's an elite scorer and can get his shot off in a lot of ways. Jones is a 6'4'' forward who averaged 12.7 points and 5.2 rebounds. Jones is odd in that he's a forward that cannot shoot but more than makes up for it in smart passing and getting to the rim. Andrew Chrabascz has the size and potential to take over games and will be asked to shoulder a larger load this season. Butler lost Kam Woods (7.8 points and 9.9 rebounds per game) but have Chrabascz, Kelan Martin and also added 6'10" freshman Nate Fowler to the mix to replace Woods. Butler also lost Senior leader Alex Barlow (8.9 points and 2.2 steals per game) with Tyler Lewis asked to fill in at point guard position. Lewis is a transfer from NC State and has a chance to thrive in Butler's offense. Butler is flying under the radar again but that is exactly the way that they like it. Even if they just sneak into the NCAA tournament, don't be surprised if Butler makes yet another run at the title.
3. Georgetown Hoyas
2014-15 Record: 21-10 (12-6)
Key Departures: Jabril Trawick, Joshua Smith
Top Returning Players: D'Vauntes Smith-Rivera, Isaac Copeland, LJ Peak
Notable Newcomers: Jessie Govan, Marcus Derrickson, Kaleb Johnson
Georgetown boasts one of the best players in the country and will look to build off of a season in which they got back into the NCAA tournament and finished No. 22 in the final Associated Press poll. The Hoyas finished with a 12-6 Big East record (22-11). Coach John Thompson III will look to lean on his superstar D'Vauntes Smith-Rivera. Smith-Rivera, like Providence's Kris Dunn, chose to forgo the NBA 2015 draft to stay in the Big East. Smith-Rivera was a first team All-Big East selection and averaged 16.3 PPG, shot 38.7 percent from 3-point range and 85.5 percent from the free-throw line. Smith-Rivera is an undersized two who can shoot the heck out of the ball. Smith-Rivera loves to spot up and can get his shot without much space at all. Underclassmen L.J. Peak (7.9 PPG) and Isaac Copeland (6.8 PPG) return. Peak and Copeland both made the Big East All-Rookie team. Copeland has the chance to be a key player for the Hoyas. Paul White (37.7 percent from three) and Reggie Cameron add shooting depth. Coach John Thompson III was able to secure two top recruits in Jessie Govan and Marcus Derrickson. Govan (67 on ESPN 100) is a 6'10'' bruiser and should develop a nice post game. Derrickson (89 on ESPN 100) is a 6'7'' power forward with a lot of skill. Derrickson has a jump shot and its development will be key in how much of a factor he is down the stretch. Georgetown will rue the departures of guard Jabril Trawick and center Joshua Smith. Trawick formed an impressive duo with Smith-Rivera and was a defensive standout. Joshua Smith was one of the more efficient players in the league, scoring 10.8 PPG, grabbing 5.8 RPG and shooting 62.1 percent from the floor. Georgetown will also miss the leadership of Mikael Hopkins and Aaron Bowen. Georgetown's season starts and ends with D'Vauntes Smith-Rivera. If Georgetown wants to have any shot at competing with Villanova for the Big East title, Smith-Rivera will need to be a player-of-the-year candidate. Luckily for John Thompson III and the Hoyas, Smith-Rivera has the skills to do so.
4. Xavier Musketeers
2014-15 Record: 21-13 (9-9)
Key Departures: Dee Davis, Matt Stainbrook
Top Returning Players: Jalen Reynolds, Trevon Bluiett, Myles Davis
Notable Newcomers: Edmond Sumner, Makinde London, Kaiser Gates
Xavier finished the 2014-2015 season (23-14) on a high note, losing in the Sweet 16 round of the NCAA to Arizona. Coach Chris Mack will be bringing back a very similar team albeit losing two starters. Xavier will look to improve on their 9-9 record against the Big East last year. They will rely on junior forward Jalen Reynolds (6'10"), an athletic monster who has the potential to be a star for the Musketeers. Reynolds (9.9 PPG, 6.1 RPG) shot 61.8 percent from the field and will look to take his game to the next level, having finished the season strong and making it to the Big East All-Tournament Team. Big East All-Rookie team selection Trevon Bluiett (11 PPG.) also returns. Seniors Remy Abell (8.4 PPG) and James Farr (4.2 PPG. 5.4 RPG) will retain their starting spots. Xavier lost two key starters in Dee Davis and Matt Stainbrook. Sweet shooting junior Myles Davis will look to take the starting spot last held by Dee Davis who was a key component in Xavier's offense, averaging six assists and almost 10 points a game last season. Xavier also lost Center Matt Stainbrook. Stainbrook (12.3 PPG and 6.9 RPG) was an All Big East Second Team selection. The Musketeers will look to Reynolds and Myles Davis to replace the production of Dee Davis and Stainbrook. JP Macura will also be back, adding some three-point shooting from the bench. Xavier added two redshirt freshmen in Edmond Sumner and Makinde London. Sumner figures to play the biggest role of the two, but they won't be asked to do much with so many key players returning. Sumner will have the chance to provide instant offense off the bench. Xavier surprised a lot of people by making it to the Sweet 16 and with an experienced roster with tournament experience, the Musketeers will need to do well with raised expectations.
5. Providence Friars
2014-15 Record: 22-11 (11-7)
Key Departures: LaDontae Henton, Tyler Harris, Carson Desrosiers
Top Returning Players: Kris Dunn, Ben Bentil, Jalen Lindsey
Notable Newcomers: Ryan Fazekas, Drew Edwards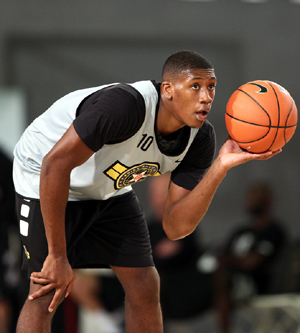 Providence might have the best point guard in the country in 6'4" junior Kris Dunn. Dunn is tremendously well-rounded averaged 15.6 points, 5.5 rebounds, a league-leading 7.5 assists and 2.7 steals last year. Dunn was the Big East Player of the Year and Defensive Player of the Year and looks primed to repeat, although his supporting cast leaves much to be desired. Providence has a young team, without a single senior on their roster and it will show throughout the season. Providence finished with a 22-12 record (11-7 in conference) but lost three key players in LaDontae Henton, (19.7 PPG), Tyler Harris (9.9 PPG) and Carson Desrosiers (6.7 PPG, 2.5 BPG). Sophomores Ben Bentil and Jalen Lindsey will look to add some much-needed scoring next to Dunn. Providence hopes that freshmen Ryan Fazekas and Drew Edwards will be able to step in day one to add some much needed scoring punch. Although Kris Dunn is a legitimate Player of the Year candidate, Henton's scoring will be sorely missed and Providence will be a work in progress for much of the season. There just is not enough talent other than Dunn for this team to be a legitimate threat and it will be interesting to see how Dunn plays without having Henton or Harris on the offensive end. Providence will rely on Dunn in every aspect but it might be too much for the probable lottery pick.
6. Seton Hall Pirates
2014-15 Record: 16-15 (6-12)
Key Departures: Sterling Gibbs, Brandon Mobley
Top Returning Players: Isaiah Whitehead, Angel Delgado, Desi Rodriguez
Notable Newcomers: Derrick Gordon, Veer Singh, Braeden Anderson
Seton Hall will look to bounce back from what was a strange season. A tremendous start saw the Pirates win 12 out of their first 14, earning the No. 19. ranking in the nation. But the bottom soon fell out—at one point losing seven straight—and Seton Hall finished with a 16-15 record. The pirates finished with a mere 6 wins in conference. Rumors of distress in the locker room were not helped when Jaren Sina left the Pirates after 12 games. Leading scorer Sterling Gibbs (16.3 PPG) is now at Connecticut. Losing Gibbs is a tough blow but the pirates have the talent to overcome the loss. Coach Kevin Willard will look to smooth the loss of Gibbs by relying on his 2014 recruiting class, one of their best in years, and Angel Delgado and Isaiah Whitehead did not disappoint. Delgado, a 6'9" forward, was named Big East Rookie of the year, averaging 9.3 PPG, 9.8 RPG, 10.7 RPG in league games and looks to build on a more-than-solid rookie campaign. Whitehead, a 6'4" guard (12 ppg.) dealt with a wrist injury during the season and missed nine games with a broken foot. It's Whitehead's team now and much of the season will be determined by whether he can take the next step. Whitehead is a flat out scorer and can simply take over games when he's right. Rounding out last years freshman class are Khadeen Carrington and Desi Rodriguez. The Pirates will look to graduate student Derrick Gordon for production and experience. Gordon, the first openly gay player in NCAA basketball, averaged 9.8 PPG when he was at Massachusetts. Seton Hall is a team with a high ceiling but a low floor and will hope their great freshman class matures together. Whitehead and Delgado will need to improve and take the reins if coach Willard is looking to reach the NCAA tournament.
7. Marquette Golden Eagles
2014-15 Record: 13-19 (4-14)
Key Departures: Matt Carlino, Derrick Wilson, Juan Anderson
Top Returning Players: Duane Wilson, Luke Fischer
Notable Newcomers: Henry Ellenson, Haanif Cheatham, Matt Heldt, Traci Carter, Sacar Anim
Marquette struggled mightily last season, as the Golden Eagles went 4-14 in conference (13-19 overall) and never really showed signs of improvement during the season. Thankfully for them, the Golden Eagles might have the number one recruiting class in the Big East. Still, Marquette is very much a work in progress without much hope of competing for the Big East title. Forward Henry Ellenson leads that heralded recruiting class. As a 6'10" power forward, he had offers from Michigan State and Kentucky (according to ESPN) but chose Marquette and second-year coach and former Duke assistant Steve Wojciechowski. Ellenson is a potential first round pick in the upcoming draft but will need to lead a young roster if he wants to be playing in March. Marquette lost three starters but the loss of guard Matt Carlino will be the toughest to replace. Carlino averaged a team high 15.0 PPG and shot 41.9 percent from deep. Guard Duane Wilson is now the veteran after making the Big East All-Rookie team and averaging 11.9 PPG. Center Luke Fischer also returns following an impressive campaign in which he was fifth in the Big East in field goal percentage (60.9 percent) and had 2.2 BPG. Freshman Haanif Cheatham and Matt Heldt will immediately be thrown into the mix and be in the rotation from day one. Although Marquette has missed the tournament the last two years, they are trending upward. They are not there yet , but with the addition of talent led by Ellenson, the future is bright for the Golden Eagles if Ellenson decides to stick around for a few years.
8. DePaul Blue Demons
2014-15 Record: 12-20 (6-12)
Key Departures: Jamee Crockett
Top Returning Players: Billy Garrett Jr., Tommy Hamilton IV, Myke Henry
Notable Newcomers: Eli Cain, Oumar Barry, Develle Phillips, Frederick Scott
DePaul finally dug themselves out of last place last season and finished 6-12 in conference and 12-20 overall. DePaul brings back Dave Leitao, who last coached for the Blue Demons from 2002-2005. He'll be guiding a filled out roster that has four returning starters. DePaul did not lose much in the offseason. Jamee Crockett (11.9 PPG) and Forest Robinson (6.4 PPG and 3.2 RPG) are gone, but the team's nucleus is still in place. Leitao has some talent to work with: Guard Billy Garrett Jr. (All-Big East Honorable mention) averaged 12.3 PPG and 3.9 APG. Myke Henry (a transfer from Illinois) impressed in his first season, averaging 12.0 PPG and 5.4 rebounds. Tommy Hamilton IV averaged 10.0 PPG and 5.3 RPG. The pieces are there for Leitao but it will be up to him to make it work. Leitao also has options all over his bench. Freshmen Oumar Barry, Develle Phillips and Frederick Scott could all see minutes in the front court. Eli Cain and Erten Gazi could make it into the rotation, as well. DePaul did make it out of last place and with a nicely rounded squad Dave Leitao will look to build on his stellar 58-34 record as the Blue Demon's prior head coach. But the team does lack a top talent and such is the case, historically, for DePaul.
9. Creighton Bluejays
2014-15 Record: 14-19 (4-14)
Key Departures: Austin Chatman, Rick Kreklow, Devin Brooks
Top Returning Players: Toby Hegner, Isaiah Zierden, James Milliken
Notable Newcomers: Mo Watson, Cole Huff, Khyri Thomas, Ronnie Harrell Jr., Martin Krampelj, Justin Patton
Creighton surprised a few by going 14-19 (although they were 4-14 in the Big East) in their first year without college great Doug McDermott, but it looks to be another year in transition for the Blue Jays. Greg McDermott (Doug's father) will continue to try to rebuild the Jays to a team that can make it back to the NCAA tournament. Creighton had seven players graduate; Austin Chatman (11.5 PPG, 3.7 APG), Rick Kreklow (7.5 PPG), Will Artino, Devin Brooks and Avery Dingman are all key losses. But McDermott was able to snag Justin Patton, a promising center who will redshirt in his first season, and Creighton will be boosted by the return of Isaiah Zierden. (Zierden was hampered by injuries last season but has the potential to be one of the most exciting players in the Big East.) James Milliken (9.6 PPG) also returns, who will look to build on a solid campaign and Toby Hegner (6.7 PPG) had a nice freshman season for the Blue Jays. Transfers Mo Watson Jr. and Cole Huff will play immediate roles and slide right into McDermott's rotation. Creighton was a lot better than people thought they'd be last year, despite the loss of the great Doug McDermott. But the Blue Jays will miss those seven graduated seniors and this could be an even tougher season than last year's. Creighton will not figure to make the NCAA tournament but coach Greg McDermott has a plan and still looks to be one of the brightest coaches in the Big East.
10. St. John's Red Storm
2014-15 Record: 21-11 (10-8)
Key Departures: Sir'Dominic Pointer, D'Angelo Harrison, Phil Greene IV, Chris Obekpa
Top Returning Players: Felix Balamou, Amar Alibegovic, Christian Jones
Notable Newcomers: Durand Johnson, Yankuba Sima, Darien Williams, Frederico Mussini, Malik Ellison
St. John's is another team with low expectations. The Red Storm finished with an impressive 10-8 Big East record but only has three players from last year's team. The main addition might have been at the coaching position where Two-time Olympic gold medalist and two-time (for '92 Olympics and for career) Basketball Hall of Famer Chris Mullin is now the coach of his alma mater. Mullin will look to add a spark to a program that desperately needs it. The three returning players (Felix Balamou, Amar Alibegovic and Christian Jones) were all reserves last year so Mullin will look elsewhere for production. St. John's lost every key contributor from last year's roster. Sir'Dominic Pointer (13.5 PPG, 7.6 RPG) was the Big East Defensive Player of the Year and was drafted by the Cleveland Cavaliers with the 53rd pick in the 2015 NBA draft. D'Angelo Harrison (All-Big East First Team), Phil Greene IV (13.2 PPG) and Rysheed Jordan are all gone. Shot blocking sensation Chris Obekpa transferred to UNLV after numerous off court issues. So who will the Red Storm rely on in 2015? Mullin has a couple of talented transfers to work with. Durand Johnson (Pittsburgh), Darien Williams (City College of San Francisco) and Ron Mvouika (Missouri State) all figure to play key roles. Freshmen Yankuba Sima, Federico Mussini and Malik Ellison will all have chances to impress Mullin. St. John was dealt a blow when freshman Marcus LoVett was deemed ineligible to play in the upcoming season. LoVett was St. John's prized recruit and will have to wait until next season to show his stuff. The NCAA still has to decide whether Kassoum Yawke will be eligible for the season, but St. John's is leaning towards redshirting the freshman.This is going to be a rough year for the Red Storm. For one, this is a completely new team that, although talented, needs work. Secondly, Chris Mullin is getting his first shot as a head coach and will have a tough go with this young, inexperienced roster.
Big East Top Prospects
1. Kris Dunn, Providence – Dunn is the best draft prospect in the conference, with his main knock being that he stayed in college and is a year or two older than most guys that are being drafted. Dunn has the strength to bully smaller guards and has the potential to be a good finisher at the rim. Dunn has the all-around ability that makes him a legitimate triple-double threat every time he steps on the court. Dunn is one of the most gifted passers in the country, which will no doubt translate to the NBA. Dunn has all the makings of a solid defender and is a guy that can limit his flaws with his athleticism. Dunn's physical tools, composure, defense and play making ability make him a lock to go high in the draft.
2. Henry Ellenson Marquette – Ellenson is a big name but probably would have been a bigger deal had he chose to go to somewhere such as Kentucky. Being at Marquette might be a blessing in disguise, where Ellenson will get ample opportunities to show he deserves to be a first rounder. Ellenson has great size at 6'10'' 240 lbs and has good length with a 7'2'' wingspan. Ellenson is a good finisher, with versatility and has the tools to become a shooter at the next level. Ellenson does not project to be a great rim protector and will need to improve in most areas defensively.
3. Jalen Brunson, Villanova- Brunson, Ellenson and Dunn figure to be the only guys with a shot to be drafted in the first round. Brunson is a perfect floor general for Villanova, a point guard able to push the pace and still make the right decision. Brunson fits in really well in the NBA's fast paced and pick and roll heavy offenses. Brunson can score too and does not have a problem getting to and finishing at the rim. He needs to improve his jumper but it's far from broken and has shown signs of improvement. Brunson is also impressive on the defensive end and can annoy opposing point guard with his relentless pressure. Brunson lacks length (his wingspan is only 6'3'') and is not an explosive athlete. Questions will be asked with how dominant he can be in the NBA, as his ceiling might be a solid backup point guard.
4. Isaac Copeland, Georgetown- Copeland was Georgetown's sixth man for much of last season but will be given a bigger role in 2015. Copeland is not the most explosive athlete but does the little things very well. Copeland shows good effort and is an efficient finisher even if he might not have the strength or length that excites scouts. Copeland is undersized at the power forward position (6'9'') but can find a nice niche for himself in the NBA if he continues to improve his three-point range. Stretch-four's are all the rage in the NBA and Copeland has a chance to be just another guy molded to stretch the floor.
5. Isaiah Whitehead, Seton Hall- Whitehead was a McDonald's All-American and a top 20 prospect coming out of high school. He struggled with maturity and injury issues but the talent is definitely there. Whitehead has good size for a combo guard but is undersized at the shooting guard position. He tends to beat opponents using a bully ball style which won't work against superior athletes at the next level. Though Whitehead did not score the ball efficiently last season (36.7% from the field) he can blame injuries and last year's chemistry issues. Whitehead will be asked to shoulder the load and scouts will be able to see if he's a legitimate NBA prospect or simply just a college star.