The second stop of the Adidas Gauntlet in Indianapolis featured many top players. Many college coaches came out to the Best Choice Fieldhouse to see which players could be the face of their programs. Here were some of the top prospects.
Dennis Smith – Team Loaded NC 2016
Smith is known for his high flying dunks but his passing game was key for Team Loaded's undefeated weekend. He set up others to score many times, even in a half court set. He connected Edrice Adebayo on multiple oops when Adebayo didn't even know he was open. He is currently leading the Gauntlet in assists with nearly seven per game. Defensively, Smith blocked a few shots at the rim and got many steals leaving his man to rip the ball handler. He plays with a lot of patience. For such a great athlete, he patiently brings the ball up the court. His jump shot still needs work; he tends to hesitate when he shoots off the catch. Smith's basketball IQ separates him from the other elite athletic point guards and that was evident this weekend.
Edrice Adebayo – Team Loaded NC 2016
Also known by his nickname "Bam Bam", Adebayo had a tremendous weekend. He's tough for any opponent to handle, offensively and defensively. He has great hands, rebounds well, and averaged a double double during his stop in Indy. Adebayo's athleticism combined with his size makes him difficult to contain when he's going to the rim. He does have a good midrange shot and for a player that can get away with relying on his superior size and athleticism at this level, he does possess a good feel for the game and touch around the basket. His offensive awareness and activity level correlates with Smith perfectly.
Kobi Simmons – Atlanta Celtics 2016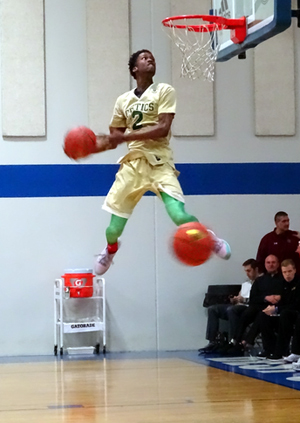 The 6'5 combo guard was having a strong weekend until going down with an unfortunate ankle injury against MBA Hoops. Whether it's scoring himself or setting up a teammate, Simmons always puts his team in position to score when the ball is in his hands. He's at his best when attacking the basket; he's very quick, changes speed, and floats in the air. His ambidexterity when going full speed in traffic is very impressive, enough to make you believe he's left handed. His shot needs to be more consistent and he has a tendency to turn it over, but Simmons is an exceptional talent and attracted many coaches to the court each time he played.
Braxton Blackwell – Atlanta Celtics 2016
Blackwell possesses a high basketball IQ. He gets his teammates involved and knows where he's making his next pass before he receives the ball. He plays with a lot of patience and while he's not real quick, he draws a lot of fouls. His best game was against New Orleans Elite, scoring 18 points and grabbing six rebounds. Blackwell needs to become a better shooter and perimeter threat, only making one three pointer during entire Gauntlet series. He is also only shooting 45.8% free throws and 31.5% from the field.
EJ Montgomery – Atlanta Celtics 2018
One of the youngest players in the Gauntlet, Montgomery is one of the most highly touted freshmen in the country. The left handed big man showed flashes of his talent over the weekend. He may not have scored much but his job for the Celtics is rebounding. While playing a few years up, he can't get many points for himself yet and needs to play within himself. He has a tendency to fall in love with the three but has only made one of ten attempts. He struggled shooting with 23.2% from the field and 44.4% from the free throw line. His strongest showing came against Indiana Elite posting 13 points and six rebounds. Montgomery has the talent for a bright future and could very well be the top player in this event a year or two from now.
TJ Leaf – Compton Magic 2016 (Arizona)
I only got to see one game of Leaf over the weekend but it came in a loss against the Colorado Hawks. Leaf had a solid line scoring 14 points and grabbing seven rebounds, but struggled from the field on 6-16 shooting. He had trouble finishing around the basket even with a smaller defender on him. If Leaf wants to be a full time wing, he needs to become a better shooter, only making four of 23 three point attempts so far. Also, he really needs to work on his ball handling, as he doesn't keep his head up and watches the defender's feet as he makes his moves on the perimeter.
Jarrett Allen – Texas P.R.O 2016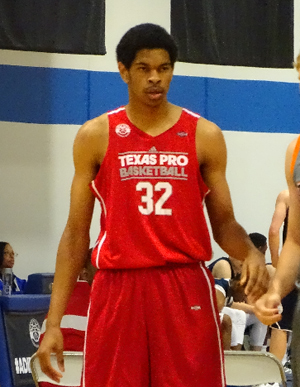 Behind Adebayo, Allen was the best big to play in the Gauntlet. Long and athletic, Allen dunks everything, while trying to tear the rim off. He runs the floor very well and stays active the whole time he's out on the court. He's a great shot blocker and alters many just when contesting. Almost all of his points come from dunks, as he develops, he will need to add more to his arsenal. He doesn't have the softest touch around the rim and he doesn't really react to the defense, he can simply get away with putting it out of the defender's reach at this level. He doesn't have much of a face up game and has an awkward free throw stance, looking a little uncomfortable, and thus leading to inconsistent results. One game shooting 8-9 while shooting 9-16 two games later. Allen's best game was his final against the Florida Sons posting 31 points, 11 rebounds, two blocks, and three steals.
Jaylen Hands – Compton Magic 2017
Hands is quick and absolutely fearless. He will challenge a bigger defender at the rim without hesitating. He's a strong ball handler and gets to the rim with no problem. He also does a great job of getting to the free throw line, with 11 attempts against the Colorado Hawks. Hands finished with 20 points (5-16 shooting), four rebounds, three assists, and three steals. He plays with a lot of energy but wears his emotion causing him to lose focus. Moving forward, it will benefit Hands to stay poised and not get rattled when things don't go his way.
De'Ron Davis – Colorado Hawks 2016
Davis' size, aggression, and athleticism makes him tough for defenders to contain. He plays with a high motor all game. He led the Hawks to victory over the Compton Magic with 22 points and 10 rebounds. Davis plays within himself, rarely drifting to the perimeter, but shot well when he tried from three, making three of seven attempts. He has solid court vision. On a few occasions, while driving to the basket, Davis found a cutting teammate. He also does a great job drawing fouls, getting to the free throw line 12 times against the Magic.
Mario Kegler – MBA Hoops 2016
Kegler really came alive against the Atlanta Celtics, giving them their only loss of the weekend. He finished with 31 points and 11 rebounds. Kegler shot well from three making five of his seven attempts. In addition to his shooting, he excelled getting to the rim and threw down a few dunks when there was a gap in the defense. He has great lower body strength and athleticism, allowing him to take contact and make difficult shots around the rim. Kegler is a big talent and has had a strong showing in the Gauntlet so far.
Aric Holman – Hoop Dreams 2016
With a strong season, Holman has played himself into national recognition that he didn't receive a year ago. At 6'9, the big man has great length and skills. He blocks shots and has great court vision for his size. At this point, Holman is a face up big man; he doesn't do much damage with his back to the basket, even with a smaller defender on him. He has a tendency to drift to the perimeter and settle for three. He does have the mechanics and ability to shoot, but hasn't had much consistency (3-16) from the arc. While putting up inconsistent but solid numbers, with his size and talent, it would benefit him to assert himself in the paint against smaller opponents.