The 2018 USA Junior National Team October Minicamp took place between October 5th and 7th in Colorado Springs. With an immense amount of talent in each of the four high school classes, the event was extremely useful and getting a read on some of the brightest high school stars for future levels. We first take a look at the top seniors that participated.
Jaden McDaniels 9/29/2000
U18 Tryout June 2018 Measuements: 6'9" without shoes, 6'11" with shoes, 182 lbs, 6'10" wingspan (measured with a 6'11.5" wingspan at August Nike Skills Academy), 8'11" standing reach
McDaniels is extremely skinny for an 18 year old, but he has wiry strength. McDaniels shows a willingness to play through contact and actually rebounds the ball and finishes well despite his weight limitations. He's a player with arguably as much long term potential as anyone in the class, with his length, explosiveness and ability to shoot it. He was a little up and down as he struggled in day one but was the best kid on the floor in the scrimmage on Day 2. Comparable to a "more engaged" Jonathan Isaacs, McDaniels shows a lot of versatility. He's an aggressive scorer, displaying a good feel for the game with ball skills to attack the rim off the bounce as well as psss it. He's likely a stretch 4 in today's NBA but could also see time as a 3 in certain situations. Getting stronger will be key, but in a weak class, his long term potential stands out, giving him some real intrigue as a potential top pick.
Bryan Antoine 4/26/2000
U18 Tryout June 2018 Measuements: 6'3" without shoes, 6'4.5" with shoes, 167.5 lbs, 6'8" wingspan, 8'5" standing reach
Suffered a foot injury that took him out of action after the first day, but his performance on day one was enough to raise eyebrows. His freakish athleticism stood out as he is one of the bounciest players in all of HS basketball. He also has a silky jumper which he was hitting with consistency. He's only 6'3, but with a 8'5 standing reach he has good size for the SG position. He also made some impressive passes on the break and on the move. He was probably the most impressive interview we conducted. His biggest flaws at this point are that he needs to add strength and he is slightly undersized for the SG position.
James Wiseman 3/31/2001
U17 Tryout June 2018 Measuements: 6'11.5" without shoes, 7'0.5" with shoes, 231 lbs, 7'6" wingspan, 9'3.5" standing reach
Wiseman played the first day, but the sat out days two and three with a mysterious injury. He has developed a reputation as having great talent but lacking the desire and intensity to consistently perform at an elite level. He hit a few baby hooks and had some dunks in drills where he flashed his great fluidity and athleticism, but his performance at the minicamp did little to dispel the reputation that he's developed as a player lacking the desire to match his talent. He could end up the top pick if things click into place for him, but right now he seems content with just blending with the top talent, instead of destoying his peers.
Keion Brooks 8/7/2000
U18 Tryout June 2018 Measuements: 6'5.5" without shoes, 6'6.5" with shoes, 186 lbs, 6'9" wingspan
Has a good basketball body with long arms and decent fluidity and bounce. Sort of stuck in between positions for the NBA at the moment, as he will need to become more skilled on the perimeter. He's lacking a clean form on his shot as his mechanics need refinement and his shot can come off flat. He impressed in interviews and his body and athleticism give him some intrigue.
Kahlil Whitney 1/8/2001
August Nike Skills Academy Measurements: 6'7.5" with shoes, 198 lbs, 6'10.5" wingspan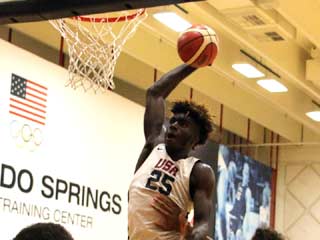 One of the most impressive prospects in the Senior class during the Minicamp. Whitney has a body that looks fit to play as an NFL wide receiver. He's extremely explosive and active, while he seems to be learning how to utilize his physical gifts. He is aggressive attacking the basket and seeks out contact. His shot is also a source of optimism as he shows good form and did a good job of knocking down shots throughout the weekend.
Vernon Carey 2/25/2001
U17 Tryout June 2018 Measuements: 6'9" without shoes, 6'10" with shoes, 277 lbs, 7'1" wingspan, 9'0.5" standing reach
Carey seems to have a real love for the game, which could set him apart from a prospect such as Wiseman. He competes more often than not and has tremendous body control plus decent explosiveness for a player at his weight. He lacks an athletic build, but has decent length and shows some willingness to bang in the post. His shooting also shows a good deal of potential, as he has some ability to stretch the floor from long range and showed potential on his turnaround jumper. He was one of the surest bets in the class to be a solid pro, and that makes him potentially the top big in the class.
Isaiah Stewart 5/22/2001
U17 Tryout June 2018 Measuements: 6'8" without shoes, 6'9" with shoes, 244 lbs, 7'4" wingspan, 9'0.5" standing reach
A player that everyone seems to be very high on due to his energy and production. Stewart has some freakish qualities with his chiseled frame and massive 7'4" wingspan. He is very active and outgoing, seemingly picking up the energy level of the group when necessary. He's got a barrel chest and is carrying around a lot of weight, but has lost weight and would probably gain further mobility and flexibility if he were to shed an additional 10-15 lbs. His shot and skill level seem to be improving. Stewart is also amongst the half of the class of 2019 players that have yet to turn 18. Stemart also seems to have Wiseman's number, as he showed once again in Colorado Springs when the two breifly matched up.
Scottie Lewis 3/12/2000
U18 Tryout June 2018 Measuements: 6'4" without shoes, 6'5" with shoes, 184 lbs, 6'11" wingspan, 8'8" standing reach
Lewis had fallen some in rankings due to an inconsistent jumper and the fact that his frame has not gained more definition. He is extremely active and gave great effort all weekend, winning virtually every wind sprint his group was in by a wide margin. His speed and athleticism alone should give him first round looks as soon as he becomes eligible, after his first year in college. But he still has some real holes to his game to iron out. For instance, his jumshot lacks consistency at this point. And his body type is extremely skinny which makes it harder for him to play through contact.
Tyrese Maxey 11/4/2000
U18 Tryout June 2018 Measuements: 6'1" without shoes, 6'2.5" with shoes, 187.5 lbs, 6'6" wingspan, 8'3.5" standing reach
Maxey impressed with his scoring ability and positive attitude. However the decision to go to Kentucky, or better Kentucky's decision to recruit him, appears to be a curious one. He is much more of a small 2 guard and figured to be a 3-4 year college player. Kentucky's formula wouldn't seem to be a good fit as there's a good chance he would either be forced to leave or see his minutes limited throughout his career at UK. On the bright side, he's going to one of the premiere college programs at masking guards weaknesses and accentuating their strengths. He's a very good shot maker with tremendous size for the lead guard position. If he can truly learn to play the position.
Matthew Hurt 4/20/2000
U18 Tryout June 2018 Measuements: 6'8" without shoes, 6'9" with shoes, 214.5 lbs, 6'9" wingspan, 8'10" standing reach
Hurt had a solid week as one of the more consistent long range threats in the Minicamp. In particular playing Jaden McDaniels even, and getting the better of him at times in a match up on Day 3. He's a good leaper and can knock down shots. He's not the most fluid of athletes in the open floor, particularly laterally, so a lot will likely depend on how high level a shooter he can develop into. He's shown the ability to compete with the nation's best in his class, reminding some of Kyle Singler. Will he peak in college, a la Singler or see his game translate to the NBA level? Stay tuned.