From May 15th to 18th in Milan, the finals of the Nike Junior International Tournament took place in conjunction with the Euroleague Final 4. The qualifying teams were: Red Star Belgrade, Real Madrid, Joventut Badalona, Zalgiris Kaunas, Cajasol Seville, AJ Milan, Fenerbahce, Brazil. The final game took place at the Forum of Milan and was won by Red Star in a defensive slugfest. Res Star was led by break out MVP Vojislav Stojanovic en route to a 55-42 victory. Here is a list of players that showed the most potential:
Vojislav Stojanovic (1997, 6'5", SG, Red Star Belgrade, Serbia)
Stojanovic was named MVP of the competition, as he confirmed his leadership skills despite his young age. Standing 6'5" he's a tough and rugged floor general with solid athletic abilities, though he lacks elite speed or athleticism. Always in control, he leads the offense both in transition and in the half-court game with personality and poise. Furthermore, he confirmed his ability to use his strength in order to create space for jump shots. This same strength helps him post up weaker opponents, generating free throw opportunities. With 6.3 rebounds per game he showed his ability as a rebounder, far above the average for his position. His biggest flaw remains the lack of shot consistency, even if he showed progress, especially in catch and shoot situations. One of the most mature prospects of the tournament, he could already play at the senior level without struggling. He finished the tournament with 13.5 points, 6.3 rebounds, 4.8 assists and 1.5 steals.
Stefan Lazarevic (1996, 6'7", SF, Red Star Belgrade, Serbia)
Lazarevic has been one of the key pieces of Red Star roster on both ends of the court. Standing 6'7", with his size, athleticism and explosiveness he was able to display a concrete defensive pressure, especially when the team played full court zone-press defense. He still has to work on his muscular definition in order to better withstand contact when he becomes a pro. Nevertheless he shows good body control and balance, which makes him an effective scorer at the youth level. He has average ball handling but he excels with the use of fakes and he has good footwork, which allows him to create space for his jump shot. Solid passer with good court vision, he plays an active role as an offensive facilitator. Defensively he struggles a bit in one-on-one defensive situations, but his quick hands and length are crucial in a structured defensive system. He's a prospect with great upside, he closed the tournament in Milan with 12.8 pts, 7.5 rebs and 3.8 assists.
Santiago Yusta (1997, 6'7", SF, Real Madrid, Spain)
With the absence of Barreiro due to a knee injury Yusta was the prominent player for the Spanish backcourt. With mobility and long arms he has the typical structure of the modern wing player, he has transitioned from a couple of years ago when Yusta was playing as power forward on a regular basis. His ball handling still needs some improvement, since is ability to attack the basket from off the dribble is limited in the half-court game. He's really effective in the transition game, when he's able to utilize his athleticism and speed, along with passing instincts best displayed when defenses would collapse on him. Has a complete set of offensive skills when attacking the basket with floaters and reverse lay-ups, even when faced with multiple defenders, with the ability to find the space among defenders thanks to remarkable body control. His three point shot was consistent, though he has to develop more ability to create off the dribble. Offensively, he could be considered a volume shooter. This could limit his consistency as a pro, as he will need to be effective in fewer possessions per game. He closed the tournament in Milan with 12.5 pts and 3.5 rebounds.
Andrej Magdevski (1996, 6'3", PG, Real Madrid, Macedonia)
One year after his transfer to Real Madrid, he has established his status as one of the brightest prospects among Balkan basketball, due to his combination of size and superior feel for the game. He is a combo guard with a good body and height, who needs work as a playmaker, currently relying mostly on instincts. Most of his assists come from his ability to create space beating the defender with his lightning quick first step. Even so, he has shown some improvement in this capacity during the tournament in Milan, also compared to the last time we saw him in Hospitalet.
He is really effective attacking the basket, showing the ability to finish in multiple ways. Even in situations where he was off balance, he could still manage to draw a foul. His midrange game is solid and he has a reliable floater as well. Despite his reputation as a clutch player, he still needs to work on his shot. It lacks consistency, especially outside three points, nevertheless his jump shot from the dribble is solid and effective. He averaged 10.8 points 4.5 rebounds and 2 assists during Milan tournament.
Lucas Colimerio (1996, 6'9", PF, Team Brazil, Brazil)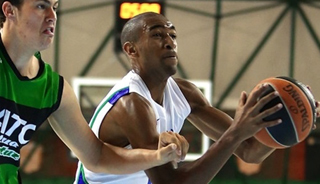 Colimerio was without any doubt the prospect with the highest upside of the entire competition. Standing 6'9" with a great wingspan and an excellent frame, he's a terrific athlete and leaper. He could work on his stance in order to reach a better balance, since he's a little bit lanky while running the floor, but the physical basis is amazing. With his speed combined with the athleticism he's a terrific weapon in the transition game, when he shows glimpses of his potential finishing above the rim. He has a natural feel for the game and instincts, but he's still raw from the technical standpoint, especially concerning his ball handling. His shot mechanics are not fluid, but he has soft hands which is a good starting point. He lacks post moves since most of his game is based facing the basket, especially in transition. Defensively he's really instinctive, with good timing for blocks, which combined with his wingspan makes him an intimidator. A long term prospect with a terrific upside, to be tracked. He closed the tournament in Milan with 13 points and 11 rebounds.
Lucas Siewert (1997, 6'7", PF, Team Brazil, Brazil)
Siewert is a sophomore at Cathedral High School, in Los Angeles, where he's collecting interesting stats and elevating his status as a legit NCAA prospect. Standing 6'7" he has a good height for the role of stretch forward, combined with a solid body structure even for NCAA standards. He's a streaky shooter, with fluid and effective mechanics and a consistent shot from three point (50% during Milan event). He's really effective in the off the ball game, showing great ability to exploit screens and cuts to receive the ball in the proper spot. With his good size and wingspan he's difficult to be contested, furthermore he shows a solid repertoire, also from midrange with step-back jumpers, pull-up jumpers, catch and shoot. His biggest flaw is his ability to create from the dribble, since he lacks the necessary ball handling skills and explosiveness to create his own shot. Defensively he could struggle against smaller and quicker opponents, but with his size and frame he could easily guard power forwards, at least at junior level. Highly unlikely he'll evolve as a small forward, even if his game is basically based outside the painted area. He averaged 10.7 points and 4.7 rebounds in Milan tournament.
Martynas Echodas (1997, 6'8", PF, Zalgiris Kaunas, Lithuania)
Solid power forward with good athletic abilities and physical structure, even if he could add some pounds of muscles in the near future. Standing 6'8" he's a little bit undersized to play the role at the maximum European level, but he has a solid jumper from midrange and soft hands, which could lead to a future role as a stretch forward. He's an underrated athlete (he showed a couple of finishes above the rim level with dunks) but he lacks a little explosiveness and aggressiveness in attacking the basket in the traffic, having all the physical skills to be dominant. He has basic post moves, but he should improve the use of pivot foot and the hook shot, since most of his baskets come from put backs and offensive rebounds. Defensively he's an effective shot blocker, but his lack of lateral speed make him struggle against quicker opponents. He closed the tournament with 17.7 points and 8.3 rebounds of average.
Martynas Varnas (1997, 6'5", SG, Zalgiris Kaunas, Lithuania)
Smooth and athletic guard with good size for the role. He's a little bit skinny and lanky, needing to bulk up especially in the lower body. In fact he tends to be bounced back when attacking the basket, losing balance and timing for the shot. However he had the chance to show his athleticism and leaping abilities with some remarkable finishes in traffic. He prefers to create with the ball on his hand with a slashing style of game, showing also the ability to involve teammates when the defense collapses on him. He needs to work on his jump shot, which lacks consistency, but overall he's really talented offensively even if he doesn't have the skills of a true point guard nor the quickness. Despite this he is a very good player in transition, can get to the rim and he's very smart offensively and defensively being a solid stealer. Definitely one of the most talented guards of his generation, he closed the tournament with 13 points, 2.7 rebounds and 3 assists of average.
Maksim Salash (1996, 6'9", PF, Cajasol Seville, Belarus)
Salash confirmed to be a really solid prospect deserving to reach the maximum level of European competitions. Even if he's a little bit undersized for a pro power forward, he's solid and his muscular development has already reached a good level. He's mobile for the position, with the ability to play inside/outside thanks to his reliable three point shot, plus with his solid ball handling skills, he's capable of beating bigger opponents off the dribble attacking directly the basket. His favorite move is the hook shot both from the middle of the area or from the baseline, often after an effective spin move. Salash is also a good passer, and with good court vision he plays the role of distributor when his team is facing zone defense. Furthermore with his structure and sense of position he's also a solid rebounder on both ends of the floor. He still needs to work on his post moves by adding variety and improving the use the pivot feet when taking position below the boards, plus he tends to struggle in P&R situations both offensively and defensively, due to a poor footwork. He closed the tournament in Milan with 14.3 points and 8 rebounds per game.
Xabi Lopez (1997, 6'6", SG, Joventut Badalona, Spain)
Lopez was the top scorer of his team during the tournament, confirming to be one of the top guard prospects of his generation. Standing 6'6" he has good height for his position and a good structure but he has to bulk up as he is too slight to compete at senior level effectively. Has a nice handle, an ability to create shots for himself and his teammates, thanks to his agility, furthermore he has shown progresses on his shot consistency, shooting with the 54% from three points during Milan tournament. Could be a late bloomer, as he develops in his game comprehension and improves as a decision maker, since the physical and technical basis is excellent. With his athleticism and size he's a really good rebounder for the role, competing with several big men below the boards. Defensively he is very aggressive, with a high level of activity while putting pressure on opponents with his quick hands. Exhibited a positive attitude, even if he could have had more influence as a vocal leader. He closed the Milan tournament with 15.3 points and 5.7 rebounds.