The World Team made it look easy defeating Team USA 112-98 behind the play of Andrew Wiggins 17 pts and 9 reb, Livio Jean-Charles 27 pts and 13 reb and Dennis Schroeder 18 pts and 6 ast. Coach Roy Rana deserves a lot of credit for beating Team USA in back to back years for the first time ever. His ability to get everyone playing together with tremendous chemistry cannot be overlooked. Having the chance to get together five days before the event, to the USA's two, and having a few players 1-2 years older that are used to playing in structured professional team settings is a nice advantage. And when you throw in a talent like Andrew Wiggins, and Rana's excellent coaching job, it's apparently very difficult to overcome.
Also see: 2013 Hoop Summit: Team USA Recap
Andrew Wiggins (6-8, 197, Canada, 1995) 7'0 wingspan
What was most impressive about Wiggins' Hoop Summit performance was how much better the team played with him on the floor. Team USA went on a run in the second half to cut the lead to 1 and once Wiggins came back in the lead ballooned back to double digits in a hurry. Wiggins still needs to improve upon his focus and attention to detail in order to maximize his skill level, and long term potential. Some question his passion and killer instinct, but he has shown the ability to step it up in big games, when necessary. Wiggins isn't a vocal leader at this point and hasn't developed a swagger, but that will come with time. He seems to still enjoy being a kid and the responsibilities of being a superstar at such a young age can be overwhelming. His focus and intensity isn't always where you would like it, but strictly on talent he's as talented as any prospect in the past 10 years (since LeBron).
Mouhammadou Jaiteh (6-11, 249, France, 1994) 7'4 wingspan
Jaiteh is not a sexy prospect, but he's an effective player. He has a solid understanding of how to play to his strengths and stay within himself. He has a huge wingspan, which helps to offset his under whelming leaping ability. His shooting form needs work, but he does his damage in close to the basket where his form isn't a huge issue. He does a good job of boxing out and gaining position for rebounds. Put backs, rebounds, and defense are all at a solid level, especially considering his age. There are some concerns about his legs and it's unlikely that he will ever gain much improvement in the leaping department. Regardless, he stands an excellent chance to be a mid to late second rounder as a player to leave overseas and develop into an NBA player in a few years.
Livio Jean-Charles (6-9, 217, France, 1993) 7'2 1/2 wingspan
Leading everyone in both scoring with 27, and rebounding with 13, he looks like a legitimate NBA forward, despite being a tweener. France is known for being behind in strength training and Livio is a prime example. He lacks upper body strength but has excellent length and agility. He's been discounted by many in France for quite some time as too much of a tweener for the NBA, but after such a dominant performance, he solidified himself as a legit NBA prospect. He's got a great motor, showing a willingness to hustle and work hard to get better. With great speed in the open floor, Livio showed how much further along he was than the high school players for Team USA. As good as Livio looked, it's important to remember he is nearly 2 years older than most of the USA bigs that he went up against. Regardless, late first round is not completely out of the realm of possibility after such a great Summit performance.
Sergey Karasev (6-7, 197, Russia, 1993) 6'9 1/4 wingspan
Karasev was more impressive in the practices than in the game. He's a deadeye shooter who goes for stretches during shooting drills where he doesn't miss. But he's more than just a shooter showing very good passing ability as well. He had one opportunity to finish with a big dunk on the break but his lack of strength and athleticism was apparent. He also struggled some with the athleticism of the USA guards, disappearing for much of the game and finishing just 1-6 from 3 with 7 points. Regardless, his elite level shooting ability and versatility could be enough to get a spot in the late first round in a weak draft.
Karl Towns (7-0, 243, Dominican Republic, 1995) 7'3 1/2 wingspan
Towns is ridiculously skilled for a high school junior. He had one very pretty up and under move, but overall had just an average game performance. He's not an overwhelming athlete, lacking great explosiveness and quick feet, but his skill level is very high, and he's extremely long. Despite being one of the younger players, he showed an excellent feel for the game, understanding and leadership. He's extremely intelligent and skilled, showing the ability to knock down shots out to 3 point range, and great footwork on midrange shots as well as in the post. Towns reminds of a bigger, less athletic Lamarcus Aldridge, with a high offensive skill level but lacking great strength/toughness to battle inside.
Dennis Schroeder (6-2, 168, Germany, 1993) 6'7 1/4 wingspan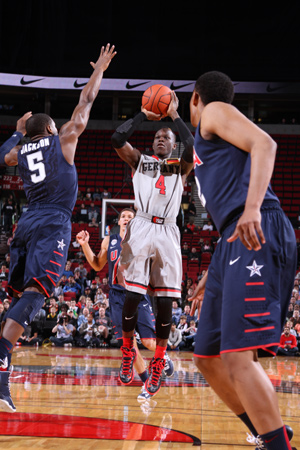 Schroeder was the breakout star of the event. He backed up an impressive week of practices with an equally impressive performance in the game. He thoroughly outperformed Kasey Hill, who happens to be just 3 months younger than the German. His blow by speed is what really intrigues scouts, but his solid ability to run the PG position as well as shoot it gives him nice potential. He finished with 18 and 6 with just 3 turnovers, showing a quick first step as well as solid handles when facing pressure. Schroeder came in without a ton of hype and leaves as a possible mid-first rounder for the 2013 draft, with the potential to be a Darren Collison type of pro.
Joel Embiid (7-0, 240, Cameroon, 1994) 7'5 wingspan
Embiid impacted the game mostly by anchoring the defense in the paint. He stuck one turnaround post move and finished with 7 pts and 7 boards. He shows a lot of upside with size, mobility and a soft shooting touch, but before the hype train spins out of control on him, it's important to remember he's got a long ways to go. His feel for the game is still very raw, as he still needs to develop basic skills like properly boxing out on rebounds and not leaving his feet before his opponent does when shot blocking. Coach Rana was visually frustrated with him at the end of the game as he loses focus easily and can be baited into fouls with pump fakes. Hopefully he will buy into the idea of being a 2-3 year player at Kansas and not rush his jump to the NBA, as he would surely benefit by sticking around college for a few seasons. But if he has a fast start, there's a real chance that he could be a lottery pick just based on his upside. His body is tremendous and should be able to add weight without losing much agility. He's picked an excellent school as Coach Self and Kansas has a great track record for developing pros.
Nikola Ivanovic (6-3, 193, Montenegro, 1994) 6'3 3/4 wingspan
Ivanovic impressed with his toughness and leadership. He was a perfect compliment in the backcourt for Schroeder, playing smart, fundamental ball. In limited minutes, (8) he did a solid job of breaking the US press. He scored just 1 point but had 3 assists and most importantly no turnovers. He lacks much NBA intrigue but should be a solid guard in Europe in the future.
Dante Exum (6-6, 188, Australia, 1995) 6'9 1/4 wingspan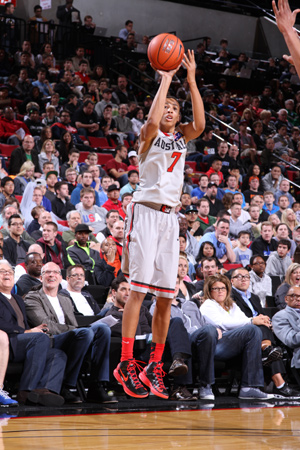 Exum appears to have grown a couple inches in the past year, giving him excellent shooting guard size. He's got a deadly first step, which gives him tremendous potential as an ISO player, particularly if he can improve upon his jumper. He's a great scorer showing great finishing ability but at this point his shot is a little flat. He's been focusing on playing the point all along, and currently fashions himself as a combo. Having ball handling and passing skills are obviously a plus, but it may behoove him to begin focusing on playing off the ball more as 2-guard could ultimately be his NBA position. He also could still be growing as he has a very young look and big feet. It wouldn't surprise if he ended up in the 6'7 to 6'8 range.
Tomas Dimsa (6-6, 188 Lithuania, 1994) 6'6 wingspan
Dimsa is another guy who has grown in the past year, as he appeared to be closer to 6-4 in Istanbul last May, and measured 6-6 here. He didn't stand out in practices or in the game and has a skinny frame that may limit his effectiveness at the NBA level. He's a solid athlete who plays a mature game but was overshadowed by players like Exum and Wiggins and therefore had a difficult time getting noticed. But he's one of Lithuania's top young prospects and if he gets stronger, he could emerge as a legit prospect in the next 3 years.
Gabriel Deck (6-7, 228 Argentina, 1995) 6'8 1/2 wingspan
For some reason Argentinean players tend to come in their own later in their careers. Deck was outclassed athletically, and doesn't appear to have much long term potential. He gave solid effort during the week but as a 6-7 power forward with limited athleticism, he's not considered an NBA prospect.