At this time each year there are certain players whose value soars once the workouts with teams start and other players who see their stock plummet, only to become quality NBA players. We here at NBADraft.net have come up with who we feel are the eight most overrated players in this year's draft and 5 guys who are being underrated by NBA front offices.
Overrated
Bismack Biyombo, Congo
Biyombo is an incredibly long forward, standing 6'9", and possessing a 7'7" wingspan. He has excellent timing and can block a ton of shots inside. He's the type of player that can disrupt offenses and has the tools to be a dominant help side defender. He also is a willing rebounder who has a stated goal of leading the league in rebounding. Sounds great, right? When is that last time you saw so much hype surrounding a player whose offensive game is virtually non-existent? In a pre-draft workout, he went through drills that really showed his ineptitude on the offensive end. As good as he can be defensively; he looks like he may never develop an offensive game to match. He's been expected to be a lottery pick, but would it be wise to use a high pick on a one-way player?
Kyrie Irving, Duke
Maybe it's because he's from Duke (a school with a reputation for producing college stars, but few recent great NBA players), or maybe it's because he spent most of his one year there on the bench injured, maybe it's because he measured in at 10.2% body fat, showing he may have conditioning issues. The point is, I'm not sold on him deserving to be considered a lock for the first pick. Irving has good quickness and could put a lot of pressure on opposing teams, but he lacks elite athleticism and only played 11 games in college and played poorly in the post season. There are too many questions about him for me to justify a team considering him a lock to be the top player selected. Is he really that much better than the other point guards to pass on a guy like Derrick Williams? I'll go out on a limb and say no.
Marshon Brooks, Providence
Brooks has the potential to be a very good player, but he's going from a "big fish-small pond" situation to being a small fish in a big pond. At Providence, he was a high volume shooter, who was looked upon to provide big scoring and was a do-everything player for them. In the NBA, he can't take the shots he took at Providence as he'll have to learn to defer to players that are more experienced and better acclimated to the NBA game. He will have to really focus on defense to see the court. He's capable of being a quality defender, and has good size, but it will be difficult to go from being "the man" to possibly coming off the bench, and that's a mental obstacle that has been the down fall of many athletes. One scout went so far as to say that he seemed to be a selfish player that guys don't enjoy playing with.
Chris Singleton, Florida State
Singleton is a good defensive prospect that can use his size and length to make life difficult for opposing players, but lacks versatility on offense. Singleton's stock has been rising, and a lot of that has to do with the fact that he is a player that can play NBA level defense. The problem with him is that he's the type of guy who will have little to no impact on offense. His own team will have to find ways to hide him within the offense, using him as a catch and shoot guy in the corner. Even at that, he's not a great shooter, meaning he will really be a specialty player that a team will rely on to get stops, but he doesn't look to be a great fit on most teams, especially if it means spending a lottery pick on him.
Charles Jenkins, Hofstra
Jenkins, at 6-3, has good size for the point guard position. The only problem is he's much more of a shooting guard than a point man. He tends to dominate the ball and can end up freezing out his teammates, not exactly a quality NBA teams look for in their point guard prospects. He's a lot like Brooks in that he was forced to be a do everything player at a school that couldn't surround him with a lot of talent. Unlike Brooks, Jenkins doesn't look to have the ability to be a defensive stopper due to his lack of elite quickness. He tended to rely too heavily on his physicality at the college level, which doesn't bode well for him in the NBA. His stock does seem to be sliding a bit, but it's not a stretch to think a team may use a high second round pick on him, but they have to accept that he isn't going to be the same player he was at Hofstra.
Kawhi Leonard, San Diego State
Leonard is a very good athlete who reminds me a lot of Shawn Marion. Not the Shawn Marion who tore it up in Phoenix alongside Steve Nash and Amare Stoudemire, though, more like the one we saw playing for Dallas this season. He has the potential to be a contributor for a good team, but there are holes in his game and he lacks the offensive tools to be a consistent offensive threat. He's 6-7, but relied on his almost nightly size advantage in college, which he won't be able to do in the NBA. Don't get me wrong, I'm not saying he can't succeed at the next level, but it's going to be much tougher for him when every guy he goes up against can match his athleticism and/or size. He's not great inside or outside offensively, merely adequate, and isn't a lockdown defender, and yet is looked at as a top 10 pick by many. He turns 20 later this month, so he has plenty of time to develop, but there's some risk with him, especially a player being considered within the 5-7 range.
Kemba Walker, Connecticut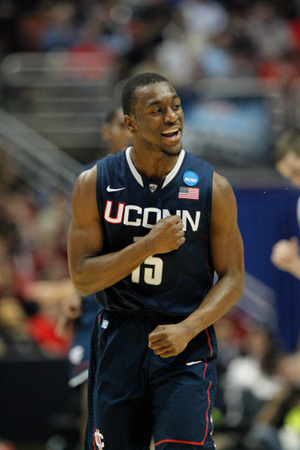 Fresh off a national championship and a stellar season in which he made a plethora of big shots as the leader of an over-achieving team, Walker has seen his stock hit an all-time high. His offensive ability is unparalleled in this draft by anyone not named Jimmer. There are questions about his size, and that could be a significant problem for him at the NBA level. Teams seem to be willing to overlook the size issue, though, because they are blinded by his offensive ability. Walker, despite being considered a point guard, is not a true point guard, and even as a lead ball-handler looks to score first and pass second. Last season, Jeremy Lamb was the point for UCONN when they were playing their best basketball. Walker is being considered a possible top 5-8 pick, and with those types of expectations, he could easily struggle to live up to the hype.
Iman Shumpert, Georgia Tech
Every few years, a prospect enters the draft whose college career doesn't quite measure up to his athletic gifts. This year, Iman Shumpert is that guy. He's a combo guard that has fantastic size, standing just under 6-6, and 222 lbs. His standing vertical jump measured in at 36.5", showing just how gifted he is as an athlete. His stats at Georgia Tech last year were pretty good, at 17 points, just under 6 rebounds, and 3.5 assists, but it just always seemed like he should be doing more and his field goal percentage of 40% (a career high) leaves a lot to be desired. His size and athleticism will get him in the league, but if he doesn't make major changes to his wildly inefficient game, he may not last long at the next level. He could be a useful combo guard off the bench, and can you his physical gifts to succeed, but there is a ton of risk with him due to his low basketball IQ, poor shooting, and high turnover rate. His success at the next level will rely more on what team selects him than any other prospect's fortunes do. If he lands in the right situation he could have a successful career, but he's the epitome of high risk-high reward player, emphasis on high risk, particularly if he's taken in the first round.
Underrated
Derrick Williams, Arizona
Williams, widely regarded as a top 2 player in this draft, has a fantastic all-around game that allows him to play both forward positions. He possesses good size, and presents matchup problems for opponents; on offense he can go inside or out, posting up opposing small forwards or pulling power forwards outside and punishing them on the drive or with his jumper. He expects to come into the league as a power forward but wants to transition to a small forward eventually. His versatility is something that presumed top pick Irving doesn't offer to a team. Williams did great things while at Arizona, and has shown big play ability, especially in the NCAA tournament game against a Duke squad featuring, among others, possible first round prospects Irving, Nolan Smith, and Kyle Singler. He jumps very well and should be a dynamic scorer at the next level.
Donatas Motiejunas
The Dallas Mavericks are coming off their first NBA championship, led by seven footer Dirk Nowitzki. Nowitzki can score inside and out, but relied more on his jumper early in his career. Motiejunas has a lot of the same skills that Nowitzki had when he came stateside, only he has a more developed post game than Nowitzki had. Motiejunas is a matchup nightmare, as he can go inside or outside and score the ball. He has range out to the three point line, but also possesses an inside game, and a willingness to run the floor. He's not a quality rebounder and that's surprising considering he;s a 7-footer. His defense is suspect, to say the least, but his offense more than makes up for his defensive short comings.
Trey Thompkins, Georgia
One of the most surprising aspects of this year's draft is that Thompkins isn't getting a great deal of love despite being in a class short on quality big men. You hear more about his high body fat (he measured in at an alarmingly high 15.5%) than his pro prospects, and he's regarded by many as a second round pick. He's an intimidating force down low, standing just under 6-10, and weighing 240. He didn't have a great junior year, but a lot of that has to do with the fact that he didn't have a quality point guard setting him up. He has shown the ability to bang inside as well as step outside and knock shots down out to around 20 feet. He is probably the most skilled post player in the entire draft and could fit beautifully into a pick and roll or pick and pop attack. A regression in his production his junior year and questionable conditioning are the only things holding him back from being a sure-fire first rounder.
Norris Cole, Cleveland State
While everybody was fawning over the scoring of Jimmer Fredette and big plays of Kemba Walker, I was begging people to show Norris Cole some love for his spectacular play. He's probably the best player you never saw last season, as he didn't play for a major program, and didn't make it to the NCAA tournament, but he put up big numbers while still staying efficient. His best game looked like a video game stat line, as the 6-2, 175 pound guard tallied 41 points, 20 rebounds, 9 assists, 3 steals and only turning the ball over twice. It may not have been against a major opponent, but I can count the number of guys capable of putting those kinds of numbers up against anybody on one hand. Cole could step in and be a rotation player for a team in year one and balance the scoring and facilitating aspects of the position. He's able to draw fouls, and even hung 24 points on NCAA runner-up Butler. Cole has all the makings of an NBA point guard, and despite playing on a weak college team, found ways to get his teammates involved, something guys like Marshon Brooks and Charles Jenkins struggled with. It will be difficult to go from the Horizon league to the big leagues, but if anyone can do it, it's the floor general from Cleveland State.
Ravern Johnson, Mississippi State
Johnson doesn't get the credit he deserves as a shooter. He doesn't do a lot of other things, but his shooting ability makes up for it, as he's a dead-eye gunner. When you think of shooters in this draft, the names Jimmer Fredette, Jon Diebler, and Brandon Knight get a lot of the attention, but that just means some NBA team is going to get a steal in Johnson. Scouts often say to make it in the NBA, a prospect has to have at least one "NBA skill," meaning they must have at least one skill that is at an NBA level and Johnson's shooting certainly fits the bill. He also has good size for the position, standing 6-7. He'll need a little more development than you usually see from somebody that just completed their senior year, but he still has room to grow his game and his sweet shooting stroke will allow him the opportunity to get on the court and develop his game.