1. Why did you choose to work out in Philadelphia, but not D.C.?
I look back a few years and Philadelphia made the playoffs. They have Jrue Holliday, a good young guard. A good wing in Iguodala and Elton Brand was a double double player before he got hurt. I just thought they were on their way up.
2. Are you satisfied going #2?
Everybody wants to go #1, but at the same time you look in the mirror and you really say, "have I done all I could" and everything like that. My plan is to straight up ball, whether I go #1 or #2. I respect John, he's a great kid, a good player and the type of player that can rebuild a city.
3. What did Doug Collins say about your role projection?
About me being a wing player, you know just making plays and playing ball like I always do. Learning how to move without the ball and playing off the ball.
4. Are you excited the draft has finally arrived?
I'm definitely excited. I've been waiting for this since the season ended, and I'm ready to get about my career and start playing basketball again and hopefully build on that.
5. Do you anticipate utilizing the post game more at the next level?
I think so. If the matchup calls for it. You just have to play the game within the game. If somebody's guarding you thats smaller than you, kind of post up and try to get them in foul trouble, stuff like that.
6. What's your expected routine for tomorrow?
Wake up, probably try to find some food, chill out, get dressed a little before that.
7. Will you try to get a new nickname in the NBA?
E.T.'s cool. Whatever people call me, hopefully it's good. Something positive, nothing negative.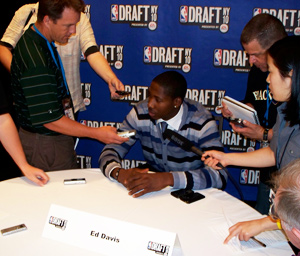 1. What were you aiming to show teams during workouts?
That I'm a face up player, not just a back to the basket player, and I have a nice jumpshot. That I have a lot of different elements to my game.
2. Did you go up against any other players in the workouts?
No, I didn't.
3. Was any workout tougher than the others? I think all of them were the same, just one on one by myself.
I wouldn't say one workout was the toughest.

4. Can you see yourself adding 15-20 pounds to your frame?
Well, I'm at 230 right now. I don't want to get too big. I want to stay explosive and quick on the court. It's more about getting stronger, not thick on weight. A lot of strong players in the league don't weigh 200 pounds, they're just wiry strong and thats the way I want to be. I just want to keep getting stronger and be able to hold my own.
5. What would be a good situation for you to land in?
A team that really has a need for a rebounder and shot blocker.
6. Did you have a "wow" moment when you realized how close you are to the NBA?
When I got to Indiana Larry Bird was right there. I shook his hand, and he's a legend… so I realized this is real now– Larry Bird's watching me workout. That was a wow moment right there.
7. There are rumbling that you might go #7 to Detroit. What conversations have you had?
I mean they all showed interest. I mean i worked out for them (Detroit). Whatever team picks me I'm gonna be happy.
8. Is there a current player you pattern your game after, or feel you have a similar skill set to?
Yeah. I really respect Chris Bosh's game. That's a guy I really try to watch and study his game. He's a lefty, 6'11, he can put it on the floor, he can shoot it.. That's a guy I really like.
1. What position do you expect to occupy in the NBA?
Power forward. I know my first year I'll be at PF. Depending how I develop, how far my skills go, the amount of trust the coaching staff has in me, will determine other positions.
2. Who do you pattern your game after?
Right now, no one, but in the future possibly anyone depending on how my skills develop. As far as whether I'm a perimeter player or if I stay in the post.
3. Was any workout tougher than the others?
No, you know all the workouts were tough. Each and every workout was different in its own way and definitely challenging.
4. What were you aiming to show teams at workouts?
That I can play back to the basket and face the basket. I've been working a lot on my face up game, and that's what I wanted to show each team, each scout, each coach, wherever I went. That my face up game and jump shot have improved.
5. When you finish a workout, are you able to gauge a team's interest?
It just varies. Some teams may say you did this and that well, or they want you to improve or work on a certain area. Sometimes they blow your head up and tell you what you want to hear.
6. What do you believe is your greatest attribute as a player?
Just my maturity. The way I carry myself on and off the court, and I'm a reliable person. Someone you can depend on, trust in and not have to worry about. I think my maturity and my professionalism.

7. What are your thoughts on your Kentucky teammates in the draft?
Let's see. DeMarcus.. I call him Yogi Bear. Big body, guy who can go out every single night and do whatever is asked of him. Probably the hands down best big man in the draft. By points per minute, there's no one better. You can always rely on him to score around the rim or grab a rebound. John the same way, hands down the best player in the draft, in my opinion, at point guard. Someone who is a leader that can run the team, and game in and game out do whatever is asked. He has that killer mentality to go out and score 30 points every single night.
8. How frustrating was the loss to West Virginia?
Extremely frustrating. The hardest part was going back home, being a West Virginian, dealing with all the fans and people. But the loss was definitely heartbreaking and just frustrating for me and my entire team.
9. How have you been able to extend your shooting range?
Just working on my mechanics last summer with coach Bob Hill out in California, and this year all year long with assistant coaches and Calipari. When you hit your first one, the rest of them are easy. Just them encouraging me every single day and my teammates pushing me to shoot the ball.
1. How do the Clippers at #8 sound?
That would be nice. I've been out in California. Pretty nice weather out there.
2. The Clippers have a backcourt that likes to push the rock. Would that be a good fit for you?
Yeah, I like to push the ball a lot in the open court. If somebody wants to push the ball I'll run with them.
3. Do you feel the need to work on consistency with your outside shot?
Yeah, always. You can always be a better shooter. I haven't been the greatest shooter ever, so I can always work on my shooting.
1. Who have you been pinned against consistently in workouts?
Hassan Whiteside and Cole Aldrich. Those are really the two.
2. How will improvements in your ball handling and decision making impact your game in the NBA?
It's going to be the best competition I'll be making those moves against. I'll be able to work on my game more and more and really develop at the best level.
3. You mentioned that you worked out with Whiteside, who's the more dominant shot blocker?
Whiteside, I mean he broke a record. 7 by 100 wingspan, I mean it's ridiculous. He does a great job.