By Aran Smith, Borko Popic, Eric Guilleminault
The 2010 Paris Final Four junior tournament turned out to be an exciting and competitive event with a number of intriguing prospects. The local INSEP team had by far the most talent of anyone, and combine that with solid coaching they were able to to win this year's tournament topping last year's champs FMP Belgrade in the final. While the event lacked any players that could be anointed surefire future NBA players, it showcased a number of prospects with NBA potential. With 3 NBADraft.net scouts on hand (more than any NBA team) here is a look at the players we feel have the most long term NBA potential.
1. Pape Amadou 6-8 195 SF/PF Senegal 1993 — An intriguing, albeit raw combo forward with excellent length and fluidity. Amadou would not rank quite so high based on his current skill level but this list is based on potential, which he showed more of than anyone in the event. His tremendous length, explosiveness, and fluidity running the floor gives him excellent promise for the future. The left hander displayed soft touch on his shot, although his offensive skills are still quite raw. His length and agility allows him to make plays on the defensive end, blocking shots and rebounding. Appears to have a 7-foot wingspan (or greater) and used it well blocking a number of shots in dramatic fashion (credited with 7 overall) during the event. Put up excellent numbers throughout with 15 & 10 against Zalgiris and 8 & 17 against INSEP. He saved his best game for the 3rd day helping Unicaja to knock out Olympija thus putting INSEP in the final, putting up 23 & 12 in an extremely impressive effort. He is a natural rebounder due to his quickness and length and slashes hard to the basket averaging 13 in the tournament. Scored many of his baskets on dunks and put backs but also displayed some posts skills, at one point using a finger roll. His shooting form on his free throws and jumper looks good. He also surprised with his outside shooting, hitting 2-of-3 from 3 in the game, although he was 0-2 in both prior games. While still quite skinny, he's beginning to show some muscle tone. He has an excellent basketball body with long arms and should be able to put on additional weight without losing any agility. On top of everything he's a late (December) 1993 kid making him younger than anyone on this list outside of FMP's Jankovic. He definitely appeared more comfortable and effective playing against the less athletic frontline of Olympija as opposed to INSEP where his offense was neutralized by the athleticism of the French squad. He also was just 6-13 from the line over 3 games failing to get to the line against INSEP. He'll need to become more aggressive seeking out contact and also become more reliable from the line. Amadou still has a ways to go, but in a competition with no clear cut #1 guy, he's our choice as the top overall prospect from the event. But it's important to temper the expectations of African players after so many great athletes have fallen short of their potential. -AS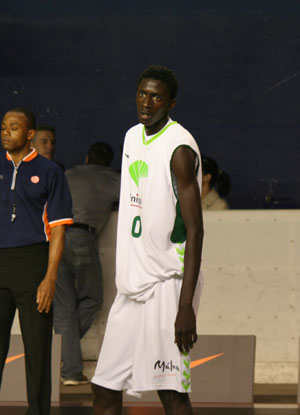 2. Deme Mambaye 6-8 180 SF Senegal 1993 — Born in 1993, he will not turn 17 until November. At 6-foot-6 he has a certain fluidity to his game that makes him look like he is gliding on the court. While he is very raw his enormous wing span, quick feet, and ability to put the ball on the floor makes him an interesting prospect. Statistically speaking he has greatly improved from the tournament he played at IJT Hospitalet in January to the tournament in Paris. One example of his athletic potential was against KK Split on a fast break when he glided down the court caught the ball at the three point line extended dribbled once then used a cross over from left to right at the free throw line extended, faking out the more polished and older KK Split guard and finger rolling the ball at the rim. He needs to work on all of his game but in particular he needs to add some strength and improve on his outside shooting. Deme is rail thin. While his muscular anatomy is well proportioned it is concerning that he is so significantly skinnier than the rest of his teammates, so there's some question whether he will be able to put weight on in time to stand out against older and stronger opponents. More concerning is his shooting percentage. While his form is not terrible, he does lack a great release point as he does not put enough arch on his shot making all of his shots flat. The good news is he can create his own shots, the bad news is that he can be pushed out after he gets by someone or misses a shot because of his lack of stated deficiencies. Maybe because he was on a team that possessed older, more polished players he was not always the most assertive player on offense, often getting his points in spurts and not scoring for long stretches. He is a very raw as a prospect but possesses all the physical tools to become a very good basketball player. -EG
3. Livio Jean-Charles 6-8 205 SF/PF France 1993 — The event's MVP showed a fairly diverse skill set for a player his age. In a rather weak '93 class of International players, Jean-Charles made a name for himself winning MVP of the Final Four junior event. Livio shows nice touch and solid offensive skills and has long arms and is a good run/jump athleticism. He can knock down shots from mid-range effectively. He displays a solid understanding of the game. He doesn't show great hands as he fumbled the ball at times and had too many turnovers, but when he made moves he was decisive and made good offensive decisions. He was extremely effective scoring on 73% from the floor over the course of the tournament averaging 16 ppg. He can play the 4 at the junior level but there are some questions about whether he's a 3 or will be strong enough to play the 4. He's also not the most gifted athlete lacking a true position. His lateral foot speed appears to be good but not great. He is listed at 6-9 but appeared closer to 6-8 when we walked by him. But he's young enough where he is probably still growing. Currently his leg strength is stronger than his upper body strength which will need work. He plays well around the basket using his long arms and athleticism to convert dunks and easy baskets. Jean-Charles shows a natural feel for the game lacking from many of the other big forward prospects and while his ceiling isn't as high as Deme and Pape's, his basement isn't as low either. He's a late '93 as well meaning there is a lot of intrigue with his future development. -AS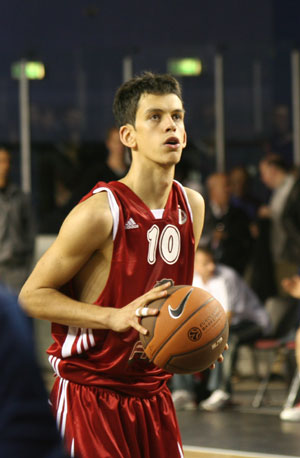 4. Nenad Miljenovic 6-3 175 PG Serbia 1993 — A very smart and crafty point guard, he played well the entire tournament, but was not able to lead his team to a 3rd straight championship. He is a very good distributor, both in the half court and in transition, he keeps his head up at all times and looks to find his teammates. At such a young age, he has an advanced game IQ and is able to make the right reads within the offense. Playing in a pick & roll system is his forte, as he is able to attack in a variety of ways and get the ball to the right spots when the defense shifts. At 6'3, he has very good size for the position, although he does have a skinny frame at this point, but his wiry body allows him to take contact and still play through it. He is very good at drawing fouls and knows how to exaggerate a play in order to get the call his way. He is confident shooting the ball and has the ability to make shots from deep or off the dribble from the midrange. His release is not textbook and it causes some inconsistent results, but he definitely has the foundation and time to tweak and improve it. He is a crafty finisher at the basket, showing a soft touch and the ability to use both hands when completing plays. His quickness is solid, but certainly not top level quality, and it showed in the final game where has had problems attacking against the smaller and much quicker defender in INSEP's Ulysse Adjgba. In terms of potential he is a bit limited because he is not a terrific athlete and his game has not shown major improvements since the last time we saw him. With that said, he does have some very good things going for him and he still has another year at this level to continue developing his game. -BP
5. Nikola Jankovic 6-7 207 SF Serbia 1994 — Born in February 94 FMP's Nikola was one of the youngest players in the tournament and still one of the best. At 6 foot-7 Nikola possesses a good base and body for his age. Nikola was a starter for the tournament finalist and led the team with 13.5 points and over 8 rebounds a game. He was their most consistent post player and was selected as a 1st team All Tournament. Nikola was also a very efficient scorer shooting over 65% from the field. While being a year or two younger than many of his opponents, he was able to establish position and to create his shot in the post. He has several moves in the post including a pump fake, drop step that he used on several occasions. He can run the floor and score in transition and has solid leaping ability. FMP and Nikola looked more impressive earlier in the tournament than at the end when he faced tougher competition. Against the long and athletic French team he was very selective picking his offensive opportunities. When he dunks, he emphasizes it by dunking it with power not with quickness. This is something that could hurt him as the level of competition gets stronger. More importantly he needs to develop an outside game. All of his points were strictly on fast breaks and on post moves. He needs to demonstrate he has an outside jumper and can create a shot, or grow 2-3 more inches to be considered a true NBA prospect, which is possible considering he won't be 17 years old until next February. -EG
6. Ulysse Adjagba 6-0 185 PG France 1993 — Standing about 6 feet tall, Ulysse does not have great size, but what he lacks in height he certainly makes up for with his quickness and athleticism. He had an up and down tournament showing intriguing flashes at times, then disappearing at others, but he was able to show some very nice things when it was all said and done. His jumpshot is extremely smooth and he gets terrific elevation on it, which makes it difficult to contest. He needs very little separation to elevate and get his jumper off. He is somewhat streaky at this point, but his stroke and compact form should allow him to become a very reliable threat from the outside. His handles are decent – he doesn't have a very advanced repertoire off the dribble, but with his first step, he has no reason to play with the ball in order to break his defender down. He turns the corner well and gets to the basket, where he is a good finisher because of his ability to explode and complete plays at the rim. On the defensive end, he plays with a lot of energy and uses his quickness and low center of gravity to get into the legs of ball handlers. He moves his feet and uses his body to turn his man out of the driving lanes. As a '93 born player, he has another year to develop at this level which is definitely a good thing in his case, because he has to become a more consistent performer and show up to play every game. His playmaking skills are limited at this point, and he needs to become better at finding teammates. At his size, his value lies in his ability to change the tempo and push the ball, and becoming a better distributor will make him a better prospect. -BP
7. Yannis Morin 6-9 180 PF France 1993 — French national team member and starting center for the tournament champion INSEP. As with most of the other INSEP players he is born in 1993 and would be eligible to play in the same tournament next year. He possesses a huge wingspan and is long and rangy as his body resembles current Chicago Bull Taj Gibson. He was an intimidating force in the post, averaging 2.5 blocks per game, while not possessing a great amount of muscle. He is agile and possesses good leaping ability. He possesses quick hops which helps him avoid getting his shot blocked and to be the first to grab a rebound. He has a limited offensive game, scoring most of his points on dunks and put backs, although he did score on one occasion on a mini hook. While the INSEP program provides good coaching and skill development, they are lacking in developing player's bodies and no player does it show more than with Morin. He does not have a strong base and while quicker than his opponents, he has hard time establishing position. His lack of leg strength/weight has made him be muscle dominant in the inside quads causing his knees to rotate inward. His muscles over correct this deficiency by pronating his feet. This is something correctable with proper muscular training. And extremely urgent for him. Added muscle weight in his legs would also allow him to establish a post position and be an offensive threat. While he has lots of potential because of his agility, and leaping ability these muscular issues need to be corrected for him to have a chance to be a more highly viewed prospect as some scouts viewed the post players on INSEP, including Yannis, as soft. There were situations when he would have the rebound first and the stronger but less athletic opponent (Spanish, Lithuanian, or Serbian) would simply take it away from him once he landed. We must remember however that he is a year younger than many of opponents and it will be interesting to see how his body develops physically. -EG
8. Nikola Siladi 6-9 225 PF Serbia 1992 — Starting for FMP, Siladi started out strong impressing NBA scouts with his size, length and shooting ability. Siladi lacks great bounce with limited explosiveness and leg strength. He's a finesse 4 with the ability to face up and knock down 12-15 foot jumpers with consistency. His upside is somewhat limited by his lack of elite athletic ability but his length and skill level at 18 gives him some promise. Siladi started strong but fizzled to some extent as the event went on. In their big opening win against Benetton, he had 13 and 8 with 2-2 on 3 pointers. In the 2nd game he had 8 and 8 and then apparently fell out of favor with the coaching staff, getting limited playing time and opportunities with just 2 and then 3 points in the last 2 games. Younger teammates Jankovic and Bezbradica got the lion's share of the playing time as the event went on. He shows big hands, solid speed in the open floor and some nice shooting ability. Added leg strength will certainly help him become stronger in the post and give him some additional lift (explosiveness) or he's likely a European player for life. -AS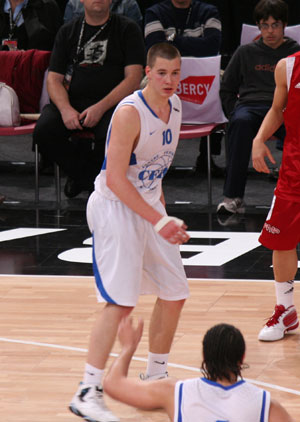 9. Hugo Invernizzi 6-6 210 SF France 1993 — At 6-foot-6 this French national team member was one of the most efficient players in the tournament, and easily could have received MVP. Despite shooting 2 for 7 from the three point line in the opener, he finished the tournament shooting over 50% behind the arc and 88% from the free throw line. He also had the uncanny ability of hitting three pointers at crucial moments during the game shifting momentum to the French INSEP team. His body and shooting style resemble to former Junior French National team player Nicolas Lang who was also a great shooter. He is a better prospect than Nicolas as he is a more rounded player. While he still is primarily a set shooter he has the ability to keep the defense honest by driving to the hole and using his body to create space and score or dish it to the wing or post for a score this is something Nicolas was not able to do. He was one of the few players on INSEP who had good weight and is willing to mix it up. He still needs work on being able to handle full court pressure and at the moment does not possess an in between game as he is not good at creating his own shot. That and his lack of great athleticism is why he is further down the rankings but he was an integral part of the INSEP team and was voted on the 1st team All Tournament averaging 14 points per game. Out of all the players in the event, he could have the most college potential due to his shooting ability. -EG
10. Djordje Micic 6-6 SF Bosnia 1993 — He did not have a great tournament and was very inconsistent scoring wise (he had 12 points, 0 points and 6 points in his three games). He did not play major minutes and for a larger part of the time he was lost in the shuffle and did not get many touches offensively. However, the '93 born Bosnian is very interesting because he is 6'6 and can play on the wing. He has a very mature body for his age and more importantly his game shows the signs of taking off in the near future. He is a smooth player with a good understanding of the game; he reads spacing well and is able to find openings on the floor. He plays the game the right way and unselfishly, looking to make the extra pass and get his teammates a better available shot. He showed a nice looking shot and was able to knock down some jumpers from long range (going 3/3 beyond the three in his first game). At this point he is most comfortable spotting up, but he has shown the ability to put the ball on the floor and attack to the basket. His inconsistency is certainly an issue at this point, but with his size and ability to play on the wing, Micic will certainly draw some looks over the next few years. -BP

Honable Mention:
[player: Mathis Keita] 6-4 190 PG France 1993 — Made top 5 on one of our lists. Played time at both guard positions in the event. He's one of the most polished guards in the event and if he can get time at the point at Gonzaga could really develop.
[player: Gabriel Darin] 6-10 240 PF Brazil 1992 — Mehmet Okur lookalike has a similar style of game. He's a face up bigman with good strength but prefers to leak out to the perimeter for shots. Lacks great lift or footspeed so likely a guy for mid level Europe.
[player: Sergey Vujetic] 6-11 210 C FMP 1993 — Blonde haired bigman. Still just a puppy and didn't get a whole lot of burn but shows nice size, length and agility plus decent touch. Could be a late bloomer to watch out for if he gets more aggressive.
[player: Alexandre Ndoye] 6-8 215 SF/PF France 1992 — Seems to have a good deal of upside despite being one of the older kids on INSEP and not getting much playing time. His feel for the game and decision making are not at a high level and he also lacks a true position. Watching these guys warm up, he appeared to be the guy, but in the games he didn't have it.
[player: Luka Pajkovic] 6-2 195 PG FMP 1992 — Was listed at 1994 on the Euroleague website but turned out to be 1992. He was a lot more interesting when he was 94. Still shows a lot of toughness knocking down a game winning 3 pointer in the second day. Gets ahead of himself sometimes, leading to traveling violations on his first step but a tough nosed floor general with solid European potential.
[player: Malick Fall] 6-10 230 PF Senegal 1992 — Extremely long and a solid shot blocker and dunker. lacks great fluidity. Extremely rigid and older than most of the other kids which limits his potential.