Behind hall of fame head coach Jim Calhoun, who looks like he's cut out to be a gun slinger from a old Western movie and their take charge dynamo point guard Kemba Walker, unranked UConn surprised everyone topping #2 Michigan State and #9 Kentucky in the final to claim the 2010 EASports Maui Invitational. This year's event featured numerous upsets and close match ups proving once again to be the premiere preseason college basketball tournament. The following is a look at the top prospects in the tourney from an NBA scouting perspective.
UConn
Kemba Walker 6'0, PG, UConn — Walker was 4 points away from breaking the all time (27 year) Maui Invitational record for points (93). The junior was also a point away from registering 4 straight 30 point games, which would have set a UConn record. He had 31, 30 and 29 coming off a 42 point game against Vermont. He leads the nation in scoring and absolutely took over this tournament making even his harshest skeptics accept that he has lottery potential. Walker is playing with incredible confidence right now. He is extremely comfortable with the ball in his hands and has shown vast improvement in his outside shooting and decision making. Due to his style of play – dominating the ball so much, and being more of a scoring point as opposed to a facilitator, a team will have to decide if he's talented enough to hand the keys of an offense to. His transition to the NBA could hit some bumps as he adjusts to getting shots off against longer and more athletic players.
Alex Oriakhi 6'9 PF, UConn — Oriakhi looked better as the event went on. He scored a number of first half baskets in the final and did a good job of catching passes, showing solid mitts. He also blocked one impressive shot going well above the square to block it at it's apex. His 17 boards against Michigan State were integral in their win. He averaged 15 pts and 11.6 rebs over the week. He's still got a ways to go offensively and is likely a year away from getting first round consideration but he has a chance to get there in his junior or senior year. We were harsh on him saying he looked like a 4 year second rounder at best after day 1. After talking to scouts it's clear that we jumped the gun on that as he's got a lot to like and is still very young to make definitive projections on.
Kentucky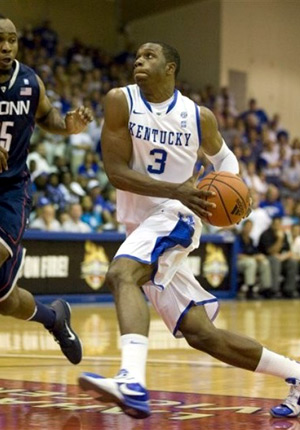 Terrence Jones 6'8, SF, Kentucky — Jones was a man amongst boys in the games for Kentucky. He was absolutely sensational averaging 23 over the 3 games. He threw down one monster dunk to cap off a drive early in the UConn game. The lefty showed his range of versatility playing tough in the post as well as the ability to drive to the rim from outside. Received a chorus of boos every time he touched the ball in the semi final against Washington. His worst performance was his 4-13 shooting game against Washington and he still finished with 16 pts and 17 boards. His dominance against Oklahoma showed that he's already one of the elite players on the college level going for 29 pts, 13 reb, 3 ast, and 4 blks. Comparing him to Harrison Barnes, Jones has a little more "dog in him", he plays with such aggressiveness and emotion. That emotion that he plays with can also get him into trouble, as when things aren't going his way (which was seldom in Maui), he can quickly lose his cool and let his temper get the best of him.
Brandon Knight 6'4 PG, Kentucky — Knight struggled shooting the ball in Maui. His one quality shooting performance (24 pts, 10-17 fg) in the win over Washington was marred by his 8 turnovers to 0 assists. But scouts remain high on him as a pro prospect due to his intelligence and scoring ability. His 3 for 15 and 4 for 15 fg performances in games 1 and 3 brought his overall % down to 36% and he really struggled from outside hitting just 3 of 24. He could be seen tuning out Coach Cal as he laid into him which one scout noted as a possible red flag. Another scout felt that it wasn't a big deal as he's a 4.0 student and all of the UK coaches absolutely love the kid. Knight's main objective will be showing that he has the ability to succesfully run an NBA team.
Doron Lamb 6'4 SG, Kentucky — Although Lamb is a little undersized for the SG position, scouts like his polish and potential to develop into a pro over the next few seasons. Without any depth at the PG position, Lamb is being used as the team's back up point and while he filled in admirably and played some at the position in HS, he's just not a natural PG and there's a huge drop off in play when Knight goes to the bench. Lamb makes the game look easy with a great feel and excellent ball skills. He's got a smooth stroke and a bright future.
DeAndre Liggins 6'6, SG, Kentucky — Has the length and athleticism but doesn't have the feel for the game. Liggins seems to get ahead of himself on plays and is unable to utilize his NBA level size and athleticism. Despite his versatility and ability to handle the ball, his decision making leaves a lot to be deisired. Scouts see him as a likely NBDL or European player at this point.

Michigan State
Durrell Summers 6'5, SG, Michigan St. — Didn't have the greatest performance in Maui averaging just 10 ppg on 33%, but he knocked down two big 3 pointers late in the Washington game redeeming himself to some degree. After his big performance in the tourney last year, he's developing a reputation for being a clutch player which helps his cause since he's been so inconsistent throughout his career. Scouts remain high on him giving him some slack pointing to Coach Izzo's demanding coaching style for some of his woes. A late first round draft slot is his for the taking this season.
Kalin Lucas 6'0, PG, Michigan St. — Lucas played extremely well in both games 1 and game 3 setting career highs with 28 and 29 in those games. He was outplayed considerably by Kemba Walker in their match up scoring just 10 pts on 4-12 shooting to Walkers's 30 pts. Tom Izzo was all over him challenging him to be the leader of this team and step up and be the scorer, and Lucas responded with his tremendous performance against Washington. Despite measuring 6'1 in shoes, he plays much smaller lacking excplosiveness. On the positive side, he's showing absolutly no ill effects from the achiles injury from last year and looks as quick as ever blowing by opponents off the dribble. He's a natural leader and quality floor general who should end up being a second round pick next June.
Keith Appling 6'2, PG/SG, Michigan St. — Appling is a tremendous talent but wasn't able to show it here. He's still adjusting to the college game and playing under Tom Izzo. Right now he is learning his role as a bench player and spark plug. Chris Allen's dismissal likely had a lot to do with Coach Izzo's faith in him to develop into being a factor come March, and look for that to happen. If he can develop as a PG in future years, Aplling might have more long term potential than anyone on the Spartan roster, Summers included.
Draymond Green 6'6 SF/PF Michigan St. — Green is this team's heart and soul. He is a chameleon who can do a little bit of everything- he averaged 1.8 a/to last year. Remember it was him who broke the press, bringing the ball up the floor and delivered the perfect pass to put Michigan State into the final four. He's capable of getting go-to baskets as well as scoring or defending in the post. Lacking foot speed and explosiveness, he doesn't look much like an NBA player, but he's got such an incredible feel for the game and great skills, look for him to find a role for himself.
Washington
Isaiah Thomas 5'8 PG/SG, Washington — Thomas plays with a ton of confidence and moxie. He's a competitor and has great strength and scoring ability. He stands a good chance of winning Pac-Ten player of the year. Scouts remain extremely skeptical about him for the NBA level, however. He's 5'8 tops and plays more like a SG than a PG. He's fearless attacking the rim and extremely creative at getting his shots off, but lacking natural PG instincts will make it very difficult for him to get NBA looks.
CJ Wilcox — Teammate Terrence Ross came in with more national acclaim as a top 30 recruit, but Wilcox was the guy scouts came away from Maui talking about. They love his shooting ability and potential with a body that should develop. Both Ross and Wilcox look like potential pros if they can develop over the next few seasons.
Notes: Tom Izzo's Michigan State team was upset, but then again they lost an early game to a vastly inferior North Carolina team last year. It's as if Tom Izzo makes sure this team doesn't peak too early.