Wolves get things turned around
Posted on: Thu, 03/08/2012 at 9:20am
Wolves get things turned around
We've seen amazing turnaround seasons before -- four years ago, for instance, the Celtics went from 24 wins to 66 and the league championship in one giant swoop, thanks to offseason trades for Kevin Garnett and Ray Allen.
But an amazing turnaround season with the same players? That's a new one. And that's essentially what the Minnesota Timberwolves are doing.
A year ago this club won 17 games, and was a laughingstock on multiple levels. They lost their final 15 games, won five road games all year, and were last in Defensive Efficiency. They were a joke, basically, known mostly for a general manager whose name had become its own punch line.
And while everyone up north was cautiously optimistic about this season, a 3-7 start made it seem that, despite genuine improvement, this club was still at least a year away from doing anything important.
Or not. Last night the Timberwolves beat the Blazers for the second time in three games, cementing two important milestones. First, Minnesota moved into eighth place in the Western Conference playoff chase, by virtue of its tiebreaker advantage over Houston. Second, the playoff odds rated their postseason chances as better than 50-50 for the first time since we began this three years ago; the Wolves now rate as a 60.8 percent probability to make it.
And they're still gaining steam. Minnesota has won eight of its past 11 games, and the most recent two against the Blazers mean they clinched the tie-break against their two most likely rivals for the West's eighth spot, Portland and Houston.
The incredible part is that most of the pieces are the same as a year ago. This isn't like Boston getting KG, or the Suns adding Steve Nash and Joe Johnson. Of the 13 Timberwolves to play at least 200 minutes, 10 also played extensively last season, making Minnesota one of the league's more stable teams. Kevin Love, Luke Ridnour and Wesley Johnson are still first, third and fourth in minutes, just like a year ago.
As for newcomers, Minnesota's big free-agent pickup, J.J. Barea, has played only 465 minutes due to injuries. And their first-round draft pick, Derrick Williams, has solid but unspectacular stats while averaging fewer than 20 minutes a game.
Newly arrived Ricky Rubio has made a difference too, but don't get carried away by the flashy passes -- he's played some of his worst ball even as Minnesota has surged. He's dipped to just 35.5 percent shooting from the floor, including missing the rim entirely on an uncontested layup last night, taking some of the steam out of his ballhandling wizardry.
Instead, the Wolves' renaissance is owed largely to two fairly impressive and rare phenomena.
[+] Enlarge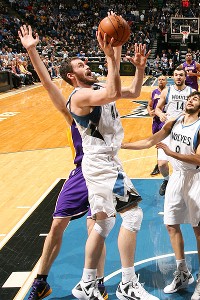 David Sherman/NBAE/Getty ImagesKevin Love has emerged as a legit MVP candidate.
The first is a simple one: They have their best players taking the shots. Imagine. It didn't take a lot of new-fangled spreadsheets to figure out that Kurt Rambis' system was basketball masochism, as a year ago Minnesota force-fed two of the least efficient offensive players on the team while more productive options went underserved.
The neon sign in this case was "go-to" post option Darko Milicic finishing with a higher usage rate than Ridnour, despite Milicic being one of the least efficient offensive players in basketball and Ridnour being well above average.
Darko wasn't the only one, though; Michael Beasley also had one of the highest usage rates in basketball despite creating little for teammates and mostly long 2s for himself. It's as though Rambis thought the contested 17-footer was the pinnacle of offensive achievement. Perhaps he'd just been around Kobe too long.
This season, things are different. You know who leads the Wolves in usage rate? Kevin Love! What a concept! And between Barea, Rubio and Ridnour, most of the touches that aren't flowing through Love are going through a small, quick guard who can create for others. Beasley and Darko still shoot too much, but their roles and their minutes have been curtailed under Rick Adelman.
Meanwhile, Darko's little-used backup from a year ago has suddenly begun to shine. This one can't be pegged on Rambis; as a second-year player, Nikola Pekovic has simply figured out which of his brutish physical tactics he can get away with in the NBA and which will be whistled for fouls. Last year he had the league's highest foul rate -- a spectacular 8.16 per 40 minutes -- but this year he's cut that more than in half to 3.7. Combine it with more touches and fewer offensive fouls and he's suddenly become a huge offensive weapon.
And combine a resurgent Pek with Love, and all of a sudden this is the most physically brutish frontcourt in basketball. With apologies to Canseco and McGwire, is it too soon to start calling these guys the Bash Brothers?
Meanwhile, the Wolves' backcourt additions may be more "solid" than "great," but they've allowed Minnesota to ease a lot of unproductive players into lesser roles. Wayne Ellington, Sebastian Telfair and Jonny Flynn all saw major backcourt minutes a year ago; giving that playing time to Rubio and Barea equals a huge improvement. Giving Darko's minutes to Pek and Williams equals even more.
That accounts for Minnesota's rise to the league's No. 13 offense, but the really amazing part is on defense: The Wolves' upgrade here has been spectacular, rising from 30th to 15th. That part is rare enough, but here's the clincher: They've done it despite getting younger. Their major rotation changes all added rookies or second-year players, who historically tend to take their lumps on defense.
Alas, not in Minnesota's case. And here is an example of where coaching is as important as personnel. Adelman is known as more of an offensive coach, but he has the Wolves competing at the defensive end, where they clearly weren't under Rambis.
Additionally, personnel changes have helped here too: Defensively, the younger guys have all been upgrades.
Most notable is Rubio. His offense is overrated, but his defense is most definitely not. A long, ball-hawking, charge-taking pest, he's dramatically improved on the assorted Flynns and Telfairs at the point of attack. Additionally, his ability to defend most shooting guards has also given the Wolves important flexibility and allowed them to gloss over their lack of a real shooting guard on many nights.
Love deserves credit too; he was a major liability a year ago but showed up in dramatically better shape and has played passable defense this season, another piece of his ascension into a genuine superstar. Adelman also made an important adjustment by playing Love more at the 5, especially when opponents go small; Rambis nearly always had Love playing the 4, and he sometimes really struggled to cover floor-spacing bigs.
And again, replacing the dross at the end of the rotation with halfway decent players has made a major difference. Minnesota hoped Darko could be a paint protector, and occasionally he does that, but his defense was as overrated as his offense. And Beasley was just brutal on D a year ago; even figuring things out on the fly, Williams has been an upgrade.
Two key second-year players have figured some things out too. Wesley Johnson remains a mess on offense, but has settled nicely into the wing stopper role on D. And Pekovic can have an impact now that he doesn't foul on every play.
Add it all up, and you have both a tremendous story and a gold-starred coach of the year résumé for Adelman (although Gregg Popovich and Lionel Hollins are giving him a run for his money).
I don't want to get too carried away. Minnesota still has its issues both organizationally and roster-wise, and a playoff berth is by no means assured. But turning from a laughingstock to a playoff contender with largely the same roster is a rare and special feat, and one that deserves more attention than it's getting.