insider help please
Posted on: Mon, 11/19/2012 at 11:13am
Posted on: Tue, 11/20/2012 - 4:49am
During college hoops season,
During college hoops season, Jay Bilas and Chad Ford will start the week off by addressing a big question, evaluating NBA prospects on the rise and looking ahead to next week.
The discussion: How does UCLA change with Shabazz Muhammad?
Jay Bilas: On Friday, the NCAA finally stopped the bizarre saga of Shabazz Muhammad andreinstated him to play college basketball. In what many termed a selective prosecution, the player himself had no rights or ability to defend himself, and UCLA was the party that chose to admit a violation in order to seek reinstatement and get him playing sooner. Muhammad admitted no wrongdoing, but that matters not to the NCAA. Now, a young man takes the court known more for NCAA violations than for his considerable talent, even though the violation was simply about who was allowed to pay for his visits to institutions of higher learning.
Must Watch


UCLA freshman Shabazz Muhammad makes his debut as the Bruins take on the Georgetown Hoyas tonight at 8 PM EST on ESPN 2.
After navigating the NCAA's kangaroo court, UCLA finally gets Muhammad on the court, and he is a difference maker. UCLA is a good team without him, one that can win significant games and challenge for the top of the Pac-12, but not one of the top national title-contending teams. With Muhammad, UCLA can play with anyone.
To me, Muhammad is a top-five selection in the 2013 NBA draft, and a sure-fire pro. He is a left-handed transition athlete who is a pure scorer, and he can put up big numbers in a hurry. Muhammad adds a piece that brings everything together, and a weapon that will command the attention of defenses and game plans. That will allow other Bruins talents, like shooterJordan Adams (averaging 24 points per game in three games without Muhammad, including 29 free throw attempts), Kyle Anderson, and David and Travis Wear to exploit openings Muhammad's presence creates.
UCLA has reached Final Fours under Ben Howland because of talent, but also because of outstanding defense. In the three consecutive years that UCLA played in the Final Four -- in 2006, 2007 and 2008 -- the Bruins' defense was ranked in the top three in KenPom.com's efficiency ratings. UCLA wasn't forcing turnovers, but doubling the post and limiting opponents to one shot through solid, physical defense without fouling. Howland now has a younger team that can score, but a "five as one" defensive mentality usually takes longer to develop than a potent offense. UCLA has played good defense at times this season, but it has not been continuous and consistent, and it has not been the Bruins' calling card. Muhammad is an outstanding individual defender that will help UCLA's defense.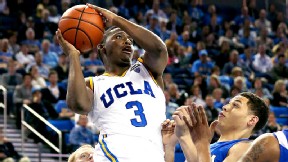 Stephen Dunn/Getty ImagesJordan Adams may be even more deadly with defenses zeroing in on Muhammad.
Muhammad is the type of player who can bring everything together for UCLA. It makes Howland's Baby Bruins a legit contender in today's younger game, but it does not automatically make UCLA into last season's Kentucky team. It does, however, provide UCLA with star power and a first team All-American. UCLA reached its Final Fours under Howland with pros who played with a blue-collar mentality. Howland has pros again, and Muhammad is one of the lottery pick variety.
Chad Ford: The NCAA's decision was, obviously, tremendous news for the Bruins.
Muhammad gives them a player who has the potential to average 20 plus points per game. He's a great rebounder for a player of his size and easily could pull down six to eight rebounds a game. Most importantly, Muhammad plays with an infectious energy that elevates the game. Although he doesn't quite have former Kentucky Wildcat Michael Kidd-Gilchrist's motor (no one does), he can have that sort of impact on both ends of the floor.
Place him on the court with three other terrific freshmen -- Anderson, Adams and Tony Parker -- and lots of veteran help like Larry Drew II, Joshua Smith, Tyler Lamb, Norman Powell and the Wear twins, and UCLA has a ton of weapons on both ends of the floor.
Now, how will that affect the Pac-12 race? Although Arizona has its own trio of special freshmen and looks especially intimidating up front, I don't think it has the balance of UCLA, nor does it have a player like Muhammad who can take over a game in the final minutes. Moving beyond the Pac-12, I think it's possible that UCLA ends the season with a top-5 ranking and a trip to the Final Four.
But I'm not totally convinced the reinstatement was a positive development for Muhammad's draft stock. He is a clear top-3 pick right now. With Kentucky's Nerlens Noellooking a bit raw and scouts a little concerned about the long-term upside of Indiana's Cody Zeller, Muhammad had a strong shot at being the No. 1 pick in the draft -- whether he played or not.
Multiple NBA GMs and scouts told me that they would consider Muhammad as a potential No. 1 pick regardless of the outcome of the NCAA investigation. In other words, he has nowhere to go but down. And although UCLA players who have played for Howland have had a lot of success in the NBA, his system has a way of making it tougher for NBA scouts to see it.
Every single top UCLA player who has been drafted since 2007 has gone lower than they should have on draft night -- some by a little, some by a lot.
UCLA's best draft year was in 2008, when Russell Westbrook went fourth and Kevin Lovewent fifth. In hindsight, they should've gone second and third behind Derrick Rose. That's a small bump upward, but it doesn't reflect the scouts' genuine handwringing going into the draft. Many scouts believed that Westbrook, especially, was a major reach for theOklahoma City Thunder, given his production at UCLA. And although the stat heads loved Love (he was ranked No. 2 in John Hollinger's draft rater), they thought Westbrook would be a bust.
In 2007, Arron Afflalo was drafted at No. 27. Many scouts, including me, thought the Pistons made a reach at 27. A re-draft would put him in the top 10 of the '07 draft class. Hollinger's draft rater didn't have him in the top 30 players of the draft.
In 2009, Jrue Holiday fell to No. 17 despite being ranked as a top-5 player coming out of high school. Darren Collison slipped to No. 21. Redo the draft three years later, and both players would've been top-10 picks. Again, the major concern from scouts was that both players didn't exactly fill up the box score at UCLA. Hollinger's draft rater -- which had them at 13 and 18 respectively -- still had both players underrated.
In 2011, Tyler Honeycutt and Malcolm Lee, both elite high school prospects, slid into the second round.
Hollinger, noticing how Howland's players consistently performed well above their statistical draft projection, actually introduced a "Howland variable" into his draft rater formula to compensate for it.
I'm not pinning this on Howland. He's a very good coach and his players have gone to the NBA well-prepared to be pros. I'm just saying that UCLA's system doesn't highlight players to pro scouts or to statistical measures the way Kentucky's or North Carolina's does. That's not UCLA's problem, it's a scouting issue.
If Muhammad doesn't dominate in Howland's system, will scouts cool their heels on him, too?
Most impressive team early
Bilas: I was really impressed by the Florida Gators. The Gators could well have visited the last two Final Fours, but simply couldn't hold the lead and finish off the two games in the Elite Eight.
After losing Brad Beal to the NBA, one might think the Gators would take a step back. However, this Florida team seems to be in position to be just as good, if not better, than last season's team. Florida allowed its opponents to shoot 40 percent from 3-point range in SEC play in 2011-12, a disturbing figure that placed the Gators' defense of the arc outside of the top 150. Coming into this season, clear changes have been made. Billy Donovan is a great coach, and he has worked with this team's strengths to find a solution to guarding the 3-point line. Florida is no longer straight denying in passing lanes, but showing more help and showing their chests to the ball.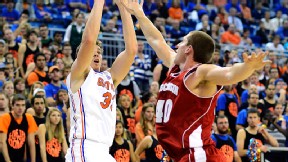 AP Photo/Phil SandlinErik Murphy has been impressive early for the Gators.
Against Wisconsin, a good 3-point shooting team with multiple threats, Florida did a much better job of guarding the perimeter, even without Scottie Wilbekin and Casey Prather, two of its best defenders. Donovan has some long and athletic defenders, especially Will Yeguete, who has the ability to guard anywhere on the floor and can credibly guard a point or a post.
Sitting courtside for the game against Wisconsin, it was clear that Florida has good balance. The improvement of Erik Murphy has been dramatic. He has always been a good player, but this year he has shown that he will be a good pro, and play for a long time. Murphy was close to perfect against the Badgers, and did not force a single shot or play. He scored in every conceivable way, was alert and active on both ends, and left you nodding your head and saying to yourself that this is the way the game should be played.
Florida is young off the bench, with some good freshman guards, so getting past its starters brings a mixed bag, especially on the road. But Kenny Boynton is an All-SEC guard,Patric Young is a very capable post presence and Murphy is one of the best face-up 4s in the country. Florida can spread you out, play pick-and-roll or pick-and-pop, and can now better cover the 3-point line. I really liked what I saw from Florida.
Ford: When I'm watching college games, I'm usually focused on prospects more than I am teams themselves, but I was really impressed with Duke in its win Nov. 13 against Kentucky. Mason Plumlee looks as if he's finally rounding into the player we thought he'd be since his freshman season. Ditto for Seth Curry. Having two seniors on your roster with that much talent should make the Blue Devils a very difficult out in March.
Prospect on the rise
Ford: Marcus Smart, G, Oklahoma State Cowboys
There is a dearth of point guards with NBA starter potential in the NCAA right now. Scouts are looking everywhere for someone who could be a dominant lead guard at the next level. Smart created a lot of buzz this week in front of a number of NBA scouts with his strong play at the Puerto Rico Tip-Off.
[+] Enlarge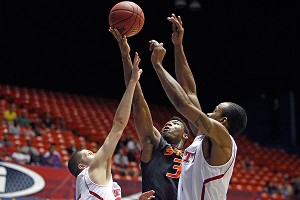 AP Photo/Ricardo ArduengoMarcus Smart elevated his draft stock big time.
The tipping point might have been the way he dissected Lorenzo Brown and North Carolina State on Sunday. A handful of scouts had Brown ranked as the top point guard prospect in the upcoming draft. Smart ended with 20 points, 7 rebounds, 7 assists, 4 blocks and 4 steals against the Wolfpack. Brown had 6 points on 2-for-9 shooting, 7 turnovers and just 1 assist.
Smart still has a number of weaknesses. His outside jumper is suspect. He is still turnover-prone. But I spoke with a number of scouts and GMs on Sunday evening who believe Smart has the potential to be a NBA star. He's got great size (6-foot-4, 225 pounds) for his position, is a terrific athlete, has a high basketball IQ, plays incredibly hard, is a natural leader (Le'Bryan Nash looks like a different player out there with him) and by all accounts, he's a coach's dream on and off the court.
We had Smart ranked right outside the top 30 before the season began. He's moved into the top 15 on our Big Board. But if he can play like this all season and polish some of those weaknesses, he has the potential to go much higher than that.
Bilas: Mason Plumlee, Duke Blue Devils
Plumlee's talent has always been clear, especially his athletic gifts. But early on in his college career he seemed to be a bit puzzled in the post, and under-confident and mechanical in the moves he had been taught. This year, Plumlee has been more assertive and fluid, and has better shown his worth as one of the best big men in the country.
A terrific rebounder and capable shot-blocker, Plumlee is now more of an offensive force who needs to be doubled on the low block. Mike Krzyzewski has spoken of Plumlee as a player of the year candidate, in part because he truly believes it, and in part because he wants Plumlee to think of himself in that way and develop the ego of a star.
I have watched Plumlee closely since high school, where he averaged only 15 points per game at Christ School in Asheville, N.C. He certainly did not go into college with any of Hakeem Olajuwon's moves, and he had a shot that needed to be broken down and re-tooled. Now, Plumlee is doing a much better job making free throws and finishing plays. I give great credit to Duke's big man coach Steve Wojciechowski for the work he has done in developing Plumlee's game. It has come a long way, and Plumlee is continuing to get better.
What to watch for this week
Bilas: The game between Pittsburgh and Michigan in Madison Square Garden this week could turn out to be the best barometer of the slate of games.
Pittsburgh is much improved, with freshmen James Robinson and Steven Adams coming in right away and making an impact. Robinson, the 6-3 point guard from DeMatha (Md.), is simply a winner who knows how to play, and did a great job guarding and limiting Lehigh'sC.J. McCollum. With Tray Woodall, coach Jamie Dixon can play two point guards together and make it work. J.J. Moore is a more confident player who has blossomed early in the season, but needs to show that productivity consistently throughout the season.
I ranked Michigan among the top five teams in the country before the season, and nothing I have seen has persuaded me I was incorrect. This is John Beilein's most talented team, and he has better depth and balance. Freshman guard Glenn Robinson III has been excellent early in the season, and Michigan has an outstanding and experienced backcourt with Trey Burke and Tim Hardaway Jr. Michigan will get a test with Pitt's physical defense that aims to stand you up on your cuts. And, after a difficult season, Pitt will get a chance to announce it is back at the game's best venue.
Ford: I'm in Maui this week for the Maui Invitational. North Carolina is headlining. Texas, USC, Illinois, Marquette, Butler, Mississippi State and Chaminade also are playing. The field isn't as talented as previous years, but I'm excited to get a close-up look at the new and improved James Michael McAdoo. McAdoo is off to a terrific start to the season, averaging 21 points and 11 rebounds for the Tar Heels.
Right now Noel, Zeller and Muhammad are the three clear-cut top NBA prospects in college hoops. But I think McAdoo has the talent to join that group. He struggled at times in his role as sixth man as a freshman but we kept him in the Top 10 of our Top 100 all year. Currently we have him ranked fourth.
I'm also hoping the NCAA finally makes a decision on Texas point guard Myck Kabongo. Once again, the NCAA seems to be dragging its feet on another silly investigation surrounding Kabongo's trip to Cleveland this summer to work out for a trainer. Kabongo is traveling with the team to Maui, but has been waiting months for the NCAA to rule on his eligibility. Maybe he needs to hire Muhammad's attorney.
As mentioned earlier, the draft is just devoid of quality NBA-ready point guards right now. Kabongo struggled as a freshman, but many scouts still believe he's the best point guard prospect in college basketball.