ESPN Insider needed.
Posted on: Mon, 11/12/2012 at 7:48am
Posted on: Mon, 11/12/2012 - 8:39am
It's an extreme irony that
It's an extreme irony that just days after Mike Brown talked about Steve Nash never winning a championship in Mike D'Antoni's offense, the Lakers whacked Brown so Steve Nash could pursue a championship running Mike D'Antoni's offense.
L.A.'s decision to fire Brown on Friday was the kind of knee-jerk silliness that we'd normally expect from Sacramento or the Knicks -- if you thought the guy was good enough on opening day, five games shouldn't change your mind. To that extent, it may hint at some larger issues in the Lakers' front office under Jim Buss.
It's also highly illogical that the Lakers were so focused on the merits of their coaching candidate's offenses -- Princeton versus Triangle versus Seven Seconds or Less -- when the Lakers' failing in their first five games came almost entirely at the defensive end. Even after two strong home wins under the undefeated Bernie Bickerstaff, the Lakers are tied for 10th in defensive efficiency.
More From ESPN.com

How will new Los Angeles Lakers coach Mike D'Antoni fit with Dwight Howard, whose opinion ultimately will matter most of all? J.A. Adande asks.Dime

Is their choice of Mike D'Antoni over Phil Jackson the right fit to take over the helm for the Lakers? Vote!
• Five-on-five: Debating the hire
• Kamenetzky: Why D'Antoni works
• TrueHoop: Pick-and-roll holds weight
• Lakers Blog | ESPN Los Angeles
Nonetheless, Brown's decision to shepherd in the Slowtime Era was an unwieldy mistake given his personnel, and the Lakers clearly came into the season already harboring a lot of doubts about him. I'll offer this additional critique that was scarcely mentioned -- he was playing the key players way too many minutes.
As for D'Antoni, he never quite got his due for what he accomplished in Phoenix, implementing a system with Nash that basically shocked the league for a few years while everyone figured out how to guard it (and eventually copy it). D'Antoni effectively provided the blueprint for how teams could space the floor and take advantage of the mid-decade hand-checking rules, and he still does it better than anyone else.
Somehow, the narrative on this accomplishment turned from "he completely knocked the league on its [butt]" to "he took a 29-win team and prevented it from winning a championship." What D'Antoni did in Phoenix was historic.
But it's a copycat league, and once Phoenix's system was copied, the surprise factor wasn't quite as strong. You now see elements of D'Antoni's offense all over the league -- Phoenix still uses it, and most of the league's other teams have appropriated large chunks of it. One of the few resistors, actually, was the Lakers.
You can see the impact over time. The Suns led the league in offensive efficiency the first three seasons Nash and D'Antoni worked together, with the first season in particular being one of the best offensive teams in history. But by his final season, the Suns were second, and his clubs in New York were 17th three times in four seasons.
FOLLOW THE NBA ON ESPN

Stay up to date with the latest NBA news, stories and analysis. Follow the NBA on ESPN on Twitter, Facebook and Google+:
Twitter » Facebook » Google+ »
In other words, just like everywhere else, the players usually matter a lot more than the system. For a brief window, D'Antoni was able to get the "system" part of that equation punching way above its weight.
D'Antoni will have some players in L.A., fortunately, starting with Nash. He might be a bit older and a bit slower than he was in his heyday, but he is still one of the best pick-and-roll practitioners you'll ever see. With Dwight Howard as a roll man, Kobe Bryant on the weak side with Metta World Peace (who, despite his other faults, is a good corner 3-point shooter), and Pau Gasol lifting for midrange jumpers, the Lakers certainly have enough weapons to make this half-court system work.
And make no mistake, this is mostly a half-court system. Seven Seconds or Less is a catchy name, but this system has more to do with drag screens for Nash and quick-hitting plays early in the shot clock than it does with players flying up and down the court in transition, especially if Leandro Barbosa and Shawn Marion aren't involved. Every one of D'Antoni's teams has finished in the top 10 in pace, as have every one of Nash's teams, but it's been a long time since either led the league or even came close. With this roster, one shouldn't necessarily expect Showtime 2.0.
Of course, the real way to look at the D'Antoni decision is by comparing it to the alternatives. I think we can immediately throw out the "he never won a ring" critique, as there was only one viable candidate who had. Otherwise, the only coaches who are (a) alive, (b) unemployed, and (c) won a title in the last quarter-century are Rudy Tomjanovich -- been there, done that -- and Larry Brown, who has since evolved into a parody of himself.
Among the rest of the field, D'Antoni was the one who had the best chance to get the, er, strong-willed Kobe Bryant to go along with the program, given the experience the two have had with USA Basketball and their shared quasi-Italian bond.
With one exception, obviously: Phil Jackson. Nonetheless, I thought D'Antoni was the right move based on the information that's out there. No sitting exec is going to willingly cede power, as Jackson apparently wanted, and having him skip road games wasn't going to be practical. One can argue the Lakers should have kept the door open for longer while negotiating with Jackson -- D'Antoni literally wasn't going anywhere, as he's recovering from knee-replacement surgery -- but the endgame seemed pretty clear, and hiring Phil under those terms would have been nearly as knee-jerky as firing Brown.
Which leaves us with D'Antoni, and his challenge of managing Dwight Howard and Kobe Bryant. The coach had trouble standing up to an iso-happy scorer with a big ego in New York (Carmelo Anthony); how is he going to fare with these two?
It's a fair question; that and doubts about D'Antoni's defensive chops are his two biggest obstacles to success in L.A. Nonetheless, there should be enough touches to go around for everybody, especially once Howard sees how many uncontested dunks Nash can get him. As for the defense, D'Antoni's teams were more "average" than "bad" at this end, but the critique that he has almost entirely focused on the offense from a practice and preparation standpoint has been widespread. With a defensive dominator like Howard, there's no excuse for L.A. not to have a top-10 defense.
D'Antoni's other challenge may be his roster. His later teams in Phoenix succeeded even when there wasn't a ton of shooting on the court -- the frontcourt was Marion-Boris Diaw-Amare Stoudemire -- but they were in the top four in 3-pointers every year. The Lakers' roster just doesn't have that kind of shooting.
A few short-term fixes can improve the situation a bit. We'll probably see a lot more of Jodie Meeks, and Antawn Jamison may see more minutes as a floor-spacing 4 rather than a fish-out-of-water 3. We may even see Steve Blake playing off the ball as a 2.
I also wouldn't be surprised to see the Lakers pursue another wing shooter. They'll probably inquire about Miami's little-used James Jones, a veteran of D'Antoni's system, and kick the tires on guys like Shawne Williams and Raja Bell, if Bell can ever work a buyout with Utah. (Side note: You also gotta think Barbosa is bummed he chose Boston over L.A.)
But in the short term, D'Antoni may have to play more traditional iso basketball. With Nash out and Blake nursing an abdominal injury, he's left entrusting his precious offense to Chris Duhon and Darius Morris. Egads.
Posted on: Mon, 11/12/2012 - 8:40am
Heres another
As head coach of the Phoenix Suns from 2003 to '08, Mike D'Antoni served as the mastermind of an offensive system that changed the NBA in many ways. Concepts that have become staples of offenses across the league -- such as emphasizing the corner 3-point shot and playing smaller, faster front lines (i.e., small forwards playing power forward and power forwards playing center) -- were first popularized by D'Antoni in Phoenix.
I had the good fortune to witness this firsthand while working in the Suns' front office during D'Antoni's reign.
D'Antoni used to preach to the players phrases like "shoot it or move it," "the ball finds energy," "the first three steps in transition are the difference" and, of course, "wings run to deep corners." These were all tenets of his coaching philosophy. And it's a philosophy that could turn around the Lakers' season.
For D'Antoni, offense and defense are intertwined. How many times have we seen players, as individuals, become more engaged defensively when they get a big dunk or a couple of shots to go? The same theory applies on the macro level to the entire team.
Concepts that have become staples of offenses across the league -- such as emphasizing the corner 3-point shot and playing smaller, faster front lines -- were first popularized by D'Antoni in Phoenix.
Roland Lazenby's tweet sums it up perfectly -- offensive confidence leads to energy on the defensive end. This is the psychology of the game; should we all strive to be consistent defensively, no matter what happens on offense? Of course, but that's not always the case, particularly with offensively talented personnel.
Taking all that into consideration, a renewed confidence in the offense leads to a corresponding vigor on the defensive end, and D'Antoni's playbook is ideal for the Lakers right now. Here's how:
Simple is beautiful
The beauty of D'Antoni's system, in its most basic manifestation, is in the simplicity of the decision-making for those who don't need to be making decisions. Steve Nash has freedom to read the defense and make the appropriate play call. I suspect Kobe Bryant and Pau Gasol, both extremely high-IQ basketball players, would be given similar freedoms. Everyone else is literally either filling the corners (shooters) or screening on the ball or away (bigs). That's it. If Metta World Peace gets the ball, he's either going to shoot it (because he's wide open) or move it (because he's not).
This reduces turnovers because you aren't letting the wrong people make decisions on the court, but rather are entrusting your higher-IQ guys to evaluate the risks. Furthermore, your role players now have a much clearer idea of where their shots are coming from, allowing them to become more proficient from those spots.
Of course, the full version of the playbook has a lot more wrinkles, and calls for more reading of situations by those peripheral players. But on a bare-bones level, there isn't a playbook that's more capable of being highly operational on short notice, particularly with the caliber of talent the Lakers bring to the table.
Personnel fit
One objection to D'Antoni's offense with the Lakers is they don't have the right personnel; they lack shooters. Indeed, the Lakers could use more shooters, but it's not a major issue. Shooters provide space for the pick and roll (Nash and Dwight Howard) to operate. If Bryant is in the corner, there is not a team in the NBA that's going to help off of him. His reputation alone creates the desired effect of the spacing. And if a team leaves him alone, Bryant had an effective field goal percentage (eFG%) of roughly .650 on unguarded catch-and-shoot situations in the past three seasons, according to Synergy.
World Peace, on the other hand, hasn't been a reliable catch-and-shoot player the past three seasons, even in unguarded situations. I suspect part of this has been due to his tenuous grasp on the triangle offense.
[+] Enlarge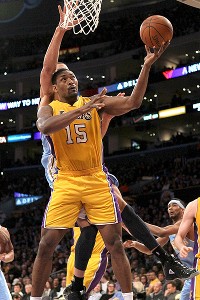 Stephen Dunn/Getty ImagesWhere does World Peace stand with D'Antoni coming in?
But he is a prime candidate to benefit from a simplification of his offensive duties. The ability to zero in on catch-and-shoot opportunities from specific areas on the floor will help him be a better shooter. If not, expect to see Steve Blake or Jodie Meeks at shooting guard with Bryant bumped up to small forward.
Gasol doesn't need to be able to stretch out to the 3-point line; he has shot .470 on long 2-point shots (farther than 17 feet) over the past three seasons. Again, that's going to create space. Even if the point guard hits Gasol as the open man and the defense closes in time, Gasol is smart and skilled enough to make something happen. For instance, he could put it on the floor and drive to the rim, or throw to Bryant on the weak side and then go into an immediate side pick-and-roll action.
Off the bench, Meeks can be a valuable piece as a pure shooter, and Blake has been a solid 3-point threat for most of his career. Antawn Jamison, to a lesser extent, also can create space; much like Shawn Marion in Phoenix, Jamison isn't a knockdown shooter from range, but he's just successful enough to make you think twice about leaving him open.
Trust
D'Antoni's system should work because, unlike former coach Mike Brown's Princeton offense, the players will believe in it. The players will believe in it because there is a familiarity; obviously, Nash was the maestro who ran it to perfection when he and D'Antoni were with the Suns, and Bryant and Howard have both been exposed to it as a part of Team USA (additionally, Bryant was coached by D'Antoni at the 2007 All-Star Game and spent time as a boy watching his dad, Joe Bryant and D'Antoni play together in Italy). Gasol is the type of savant who could work wonders within the context of the offense, much in the same way Boris Diaw did while playing for D'Antoni. Even reserve forward Jordan Hill got to run it in New York. The familiarity for some of the players will help bring the other players along.
Potential drawbacks
D'Antoni isn't without his flaws; with the Suns, we didn't devote enough practice time to drilling defensive concepts, for example. D'Antoni was an advocate of personal accountability; he'd tell you what the team was going to do defensively, but it was on you to know the coverage. However, some players could grasp and execute, but some couldn't, and more should have been done to bring them along. Outsourcing the defensive responsibilities to an assistant (Chuck Person?) and allocating significant practice time would go a long way toward solving those issues.
Another issue was that D'Antoni's rotations were always short; there wasn't a whole lot of trust in players Nos. 9-13 down at the end of the bench. The Lakers have a short bench as is, and Hill has had his share of run-ins with D'Antoni in the past. Also, can D'Antoni trust Blake enough to play through his mistakes, giving Nash ample rest time on the bench?