Roy Williams, Rick Barnes Voted By Peers As Most Overrated Coaches In NCAA
Posted on: Wed, 08/08/2012 at 4:19pm
Roy Williams, Rick Barnes Voted By Peers As Most Overrated Coaches In NCAA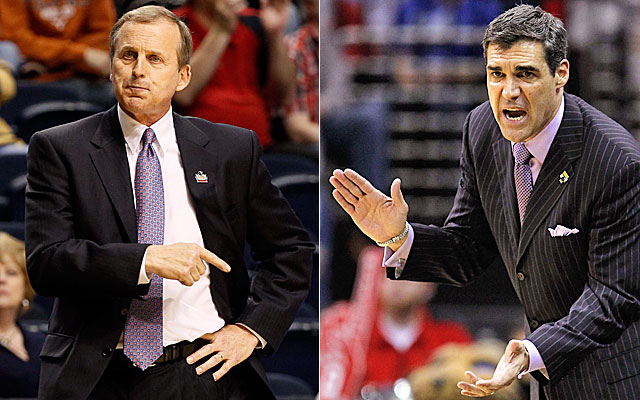 Texas' Rick Barnes and Villanova's Jay Wright were high on this particular list. (Getty Images)
CBSSports.com's college basketball quartet spent the July open recruiting period hobnobbing with nearly 100 coaches, brain-picking them on some of college basketball's current issues. From the best players to their comrades in coaching; from the AAU programs to the agents' involvement; from the rule changes to the NCAA as a whole. We had to promise them anonymity, and in exchange, they gave us honest answers. Over the next three weeks here on the blog, we'll be putting out one question per weekday and giving you the array of results, straight from the coaches' mouths.
This series started Monday with college coaches telling us they'd rather have Indiana's Cody Zeller on their team than any other player, and who could be offended by that? Then Tuesday they told us they believe Temple's Fran Dunphy is the sports most underrated coach, and who could be offended by that? But now we've arrived at the first question with which somebody will surely take offense.
The question is: Who is the most overrated coach in the country?
Roy Williams (North Carolina): 23 percent
Rick Barnes (Texas): 17 percent
Scott Drew (Baylor): 11 percent
Steve Lavin (St. John's): 9 percent
Jay Wright (Villanova): 6 percent
Ben Howland (UCLA): 6 percent
Jim Boeheim (Syracuse): 4 percent
Tommy Amaker (Harvard): 4 percent
Also received votes: Too many to list.
Quotes that stuck:
On Roy Williams: "He's won at Kansas and UNC. But who couldn't do that ... besides Matt Doherty?"
On Rick Barnes: "There's just no bang for the buck, is there? All that talent, so much in there every year -- and nothing to show for it."
On Scott Drew: "If Bill Self had his talent the past three years, they're winning the national championship at least once."
On Jay Wright: "I'll tell you this about Villanova and Jay Wright. In all our prep over the years, he's the only coach we never prepared a scouting report for."
On Ben Howland: "Just watch what they do next year. They're gonna win because they've got all that talent. But when has he won without it?"
On Tommy Amaker: "He had his shot against the big boys [at Michigan] and couldn't get anything done. And now he's a good coach? Because he won the Ivy League with way better players than everybody else? Come on."
Takeaway:
The first thing that must be made clear here is that the coaches we polled seemed to take the question of who is the nation's most overrated coach strictly as the nation's most overrated coach, as in a guy who draws up plays and stuff. Which is fine. But I've always rejected that premise in college basketball because, I've long believed, actual coaching ranks pretty far down the list of things that are important for a man to succeed in this sport. I'll take the guy who is a great recruiter and great motivator -- and who has the ability to hire a great staff -- over the best Xs and Os guy every day. But whatever. I'm not here to argue that point as much as I'm here to make sense of the results of our poll, and the above comment about Roy Williams is probably the best hint as to why he received more votes than anybody else.
"He's won at Kansas and UNC. But who couldn't do that ... besides Matt Doherty?"
In fairness, that's a decent point.
You'd have to be pretty average (or straight-up bad) at your job to fail at Kansas or North Carolina, both of which are programs with loads of inherent advantages. So I guess what the coaches we polled were saying is that lots of men could go to seven Final Fours and win two national championships in a 24-year span if they were allowed to spend 24 years coaching Kansas or North Carolina, and, you know, that might actually be true. History suggests it's not difficult to get great players at KU or UNC, and, in this sport more than almost any other, history suggests it's not difficult to win when you get great players on your roster.
Which reminds of a conversation I had with Ol' Roy a few years back.
We were sitting inside the Dean Smith Center, and I asked why, after all these years, he still works so hard in recruiting, because he does -- and I think most would back me on this -- still work really hard recruiting. Williams' answer always stuck with me. Basically, he said he still recruits hard because he thinks of himself as a good coach but not as a great coach, and that he never wants to have to find out if he's good enough to win with average players.
I love that answer.
Because I love the philosophy.
What Williams acknowledged is what I've long believed -- that actual coaching is secondary to lots of things in this sport, and that the proper approach is to get the best players you can get and then do the best you can with them. Williams has made a career out of doing exactly that, and if that's what makes him an overrated coach, so be it. My guess is that he'd rather be called an overrated coach than a losing one. Or a title-less one. Or an unemployed one.
http://www.cbssports.com/collegebasketball/blog/eye-on-college-basketball/19753693/critical-coaches-who-is-the-most-overrated-coach-in-the-country