Never thought I would do this but...Insider help please???
Posted on: Sat, 09/15/2012 at 4:36pm
Never thought I would do this but...Insider help please???
I feel like a scrub asking for it but I would really love to read the article about "Javale McGee's Breakout Potential". Especially if it is concerning a potential breakout of herpes he contracted from that no Chipotle eatin b****. Thanks in advance.
Posted on: Sat, 09/15/2012 - 4:39pm
this?
Hakeem Olajuwon isn't easily impressed. Why should he be?
He has battled against legends -- Kareem Abdul-Jabbar, Moses Malone, Shaquille O'Neal, Patrick Ewing, David Robinson, Michael Jordan -- and trained legends in the making -- Kobe Bryant,LeBron James, Dwight Howard.
So when Olajuwon, a two-time NBA champion with the Houston Rockets, says someone can play, the rest of us should believe that the guy can play. And when Olajuwon says someone can be dominant, well, we should take those words very seriously, too.
Which brings us to the point of this story: After working out JaVale McGee for three weeks this summer, Olajuwon said that the Denver Nuggets' young, 7-foot center can be a dominant player.
Olajuwon taught McGee, 24, some of his post moves -- moves with his back to the basket and moves to use when facing up. Before long, Olajuwon said, McGee was making up his own moves.
If this is even remotely true, a league in desperate need of quality centers might have found another one.
"He's a big guy with a lot of agility and very skilled," Olajuwon said of McGee. "He's long, he can handle. I mean, he has all the tools. He created his own [moves]. He mastered all the moves. Now he'll put in moves to create space and finish. He should be able to dominate the league. It's up to him how high he wants to go."
The fact that McGee spent three weeks with Olajuwon, training for three hours each day, shows he wants to go very high. That's the longest time a player has ever spent working out one-on-one with Olajuwon at the gymnasium on his 400-acre ranch outside of Houston. Bryant's famous workout with Olajuwon lasted just four hours, James' a few days, Howard's a week, and Amare Stoudemire's two-and-a-half weeks.
[+] Enlarge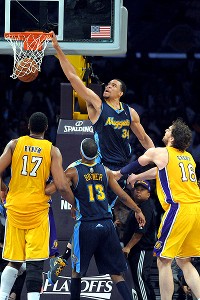 Kirby Lee/US PresswireMcGee fared well against Bynum and the Lakers in the playoffs.
We got a glimpse of how good McGee can be last season in Denver's seven-game first-round series loss to the Los Angeles Lakers. In Games 3 and 5, both Nuggets wins, McGee was outstanding, outplaying All-Star center Andrew Bynum. As long and athletic a big man as you'll ever see, he went for 16 points, 15 rebounds and 3 blocks in Game 3, and 21 points, 14 rebounds and 2 blocks in Game 5.
The problem was the other five games, when McGee totaled just 23 points on 6-of-29 shooting (20.7 percent).
So let's not put McGee, who averaged 11 points and eight rebounds while playing for Washington and Denver last season, in Bynum's class just yet. Olajuwon says it will take more than talent, length and new moves for McGee to reach his full potential.
"His work ethic, the ups and downs and challenges off the court," Olajuwon said, noting which other areas McGee needs to master to reach his potential. "Of course you have to get some rest, because in your career as a professional you have to take care of yourself. Sleeping at night, getting your rest, eating properly. Now, that can affect your outcome. You do those things, basketball will be easy."
McGee was viewed as one of the Wizards' many young knuckleheads during his three-and-a-half seasons in Washington. But Denver believes in him, as evidenced by the four-year, $44 million deal it gave him earlier this summer.
In contrast to his squirrelly reputation, the Nuggets say McGee has been nothing but professional since joining the team at last season's trade deadline.
"We haven't had one problem with him," Nuggets GM Masai Ujiri said. "Not once have I needed to sit JaVale down in my office. He's always on time, he loves the gym. I think he's growing up and maturing. Some of the things we did when we were younger were not the right things to do at the time, but young guys are going to be that way. But he's a good kid. There are no complaints about him from any of the players or the coaches."
Since completing his workouts with Olajuwon in late August, McGee, who was joined during his training with Olajuwon by teammate Kenneth Faried for a week, has been in Denver working out with the team.
While Ujiri is excited about McGee's future, he is being patient with him. He loved hearing Olajuwon's praise, but he is tempering his expectations.
"He does have the tools, but he has a long way to go," said Ujiri, who, like Olajuwon, is a native of Nigeria. "We got him because we felt he had tools. But it's not going to happen overnight. It takes big guys time to make that jump to become prominent in the NBA. But he runs the floor, he's athletic, he's got long arms, great length, big hands, and his skills aren't bad. He's just got to get more comfortable with what he does and more disciplined in what he does."
Posted on: Sat, 09/15/2012 - 11:05pm
Considering he actually
Considering he actually averaged decent numbers while being 'immature', the sky's the limit for this guy. While working out with Olajuwon doesn't necessarily mean that his game will improve vastly, it just shows that McGee is willing to work hard. He is extremely athletic for a Center, add a little more post moves and toughen up on defense and you have a star in the making so long as he doesn't revert to his old antics.