leadership rose V howard
Posted on: Mon, 04/11/2011 at 4:37am
leadership rose V howard
ORLANDO -- Everybody has a bias when it comes to the MVP award. Everybody seems to view the award a little differently. Everybody has different criteria as to how the winner should be picked.
Should it be the most important player? The most talented? The best player on the best team? There's a litany of different views.
"To me, you could go with any one of a half-a-dozen guys and you could make a strong, strong case for them," Orlando Magic head coach Stan Van Gundy said last month. "And we're all biased in our own way. If you're from Chicago, you think it's clear that it's Derrick Rose. If you're from here, you think it's clear it's Dwight Howard. If you're in Miami you think it's obvious it's LeBron James. It's all biases. But all those guys are worthy candidates."
Van Gundy, of course, said that Howard was his pick to win the award. Just like Tom Thibodeau, and the rest of his players, have said that Rose deserves to hoist the trophy.
While it seems as if over the past few weeks Rose has become the odds-on favorite to win the MVP, Howard has picked up some support from the group that doesn't think Rose is as deserving. The argument made by most Rose dissenters is that Howard is simply more valuable to the Magic's overall success.
Their over-arching point is that as good as Rose has been, the Bulls' team defense is a bigger reason for their Eastern Conference-leading performance this season. You take Rose off of the Bulls, they say, and the Bulls could still be a playoff team because Thibodeau's players bring it defensively every single night. You take Howard off the Magic, as the argument goes, and they've got no chance to sniff a playoff berth.
[+] Enlarge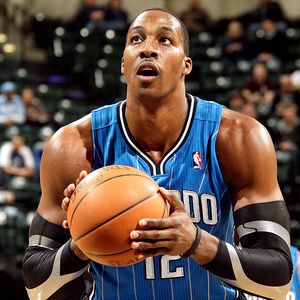 Ron Hoskins/NBAE via Getty ImagesDwight Howard is in the MVP running, but does he lead the Magic the way Derrick Rose leads the Bulls?
When it comes to the MVP vote, people deal in hypotheticals. Numbers can go one way or another. Rose is averaging 25 points and eight assists a game, while Howard is averaging 23 points and 14 rebounds.
Rose can take over games, just like he did in Sunday's 102-99 win over the Magic (who played without Howard), and carry the Bulls offensively. When the team needs a big shot, he isn't afraid to take it, and make it. Howard, on the other hand, doesn't have nearly the offensive repertoire that Rose does, but he's the best defensive player in the league. He can be dominant ... the same way Rose can be on offense.
Voters for Rose will point to the fact that Rose's team is now 10 games better than Howard's team. After all, it does make for a good story that Rose helped carry his team to the best record in the Eastern Conference without Joakim Noah and Carlos Boozer for a combined three months.
But when it's all said and done, I think there's another reason that will lift Rose to the top. It's not because he averages a couple more points or assists than Howard; it's not even necessarily that the Bulls have more wins -- although that helps a lot. It's that as this season progressed, it was clear that Rose lapped Howard in one of the most overlooked categories of all: Maturity.
The 22-year-old Rose has it. The 25-year-old Howard simply doesn't right now.
It's evident to anyone who watches the game, no matter what your bias is. I'm not just saying that because I've covered Rose every single day this season, either. I grew up in Orlando and have followed Howard's career closely since he came into the league. I've watched him interact with his teammates, I've watched him work in games, and I can tell you without any doubt that he isn't close to the leader Rose has become.
For starters, Rose was actually on the floor Sunday afternoon scoring 39 points and giving the Bulls another win. Howard was sitting at home because he picked up his 18th technical foul of the season earlier in the week and was suspended. But it goes way beyond just that one game. Rose carries himself on the floor in a much better way than his older counterpart.
Rose may occasionally scream at an official, but he doesn't let a bad call affect his play. Howard complains after nearly every call and mentally checks out sometimes when he feels as if he's not getting his way. Both men feel like they get fouled constantly, it's just that Howard is much more demonstrative about it. For Rose, the rugged play makes him play even harder. He knows how important he is to his team's success and he isn't willing to jeopardize that in the form of any kind of ejection or suspension for arguing.
When Rose makes a mistake and his coach, Tom Thibodeau, starts screaming at him, he doesn't take it personally. He trusts that Thibodeau will put him in the right position to win and he respects that. Over the years, when Stan Van Gundy, Howard's coach, has disagreed with him about something, Howard hasn't always taken the criticism well.
It was just two years ago that Howard publicly called out Van Gundy for not getting him the ball enough during the a postseason series against Boston, and got upset with his coach for being too negative with the players. Rose hasn't allowed anything like that to happen under his watch. He has matured into the type of player every coach dreams about. He sets a tone that everybody on the Bulls is willing to follow.
"I know, just from the little bit I know, he's a very serious guy in his approach," Van Gundy said of Rose before Sunday's game. "And I think as a result his team approaches the game very seriously also. Beyond that, in terms of his leadership skills, I wouldn't have any idea. But I think his approach tends to be mirrored by his teammates, that's for sure."
Compare that to what Van Gundy said a few moments prior regarding Howard and his leadership.
"I think where the understanding's got to be is, when you want to be a leader, how you project yourself is not just about what you think is best for you," Van Gundy said. "It's how it affects your teammates and everyone else. That's sort of a fine line with Dwight. Dwight can be loose and a little goofy at times and it is hard to say it's affecting his play because you just look at what he's done this year, but it affects his teammates. It affects their preparation and it affects their play. I think he's got to be able to weigh those two things."
So is Howard a leader?
"I think he's learning how," Van Gundy said. "I think he's trying very hard to learn how. But yeah, I think it takes time ... It's different than just going out and playing and playing well. Let's put it that way. There's a lot more to it than that and having an awareness of, when you're a guy of Dwight's caliber, an awareness of virtually everything you do and say will have an impact on your teammates. It puts a great responsibility on him. Every action, every word, everything will have an impact on his teammates. So learning that, and understanding that, then moderating how you approach things accordingly, is not an easy thing."
It has been for Rose. In just his third season, he has become the leader of the Bulls team. He may not be as vocal as teammate Noah, but he is the straw that stirs the drink in Chicago. He's the one everyone will follow and he's the one that is becoming more comfortable with getting into people's faces when he has to and speaking up, as he did at times on Sunday, because he knows his teammates will pay attention when he speaks.
"I think my teammates listen to me," Rose said. "I think I'm getting more vocal. I was just telling them that we had to keep playing, where we can't do this. I could tell from the beginning of the game and how we're going to be. We started off fast, then let them come back and get momentum of the game and stuff. We can't do that. Especially if we want to be a special team."
Howard may say those kinds of things behind closed doors; there have been stories earlier in the year about how he called out teammates for lack of effort. But do his teammates really believe him? Do they really trust a guy who has made a career image off of laughing and joking and having a good time on the court without leading his team to the promised land? Nobody knows the answer for sure ... but the difference between Rose and Howard is that in Rose's case, that's not even a question.
The Bulls have no doubt that Rose is the man who is going to lead them to bigger and better things now and in the future. He and Thibodeau have set a tone within the organization that anything less than a championship is a failure. The bar has been set high and Rose wants to raise it even higher. He wants to single-handedly bring the Bulls their seventh championship. It's the only goal on his mind. His teammates feed off of it every day.
Howard says he wants to bring a championship to Orlando ... but actions have always spoken a lot louder than words. How can someone say they are only focused on a title when they let officials control the way they react and respond during games? Rose's actions have spoken much louder than his points and assists have this season.
Rose hasn't become the odds-on favorite to win the MVP over Howard because he can dominate games. He's become the odds-on favorite to win the MVP because he's developed into the type of leader that Van Gundy and the Magic keep wishing Howard would become.
nick friedell