Insider Please?
Posted on: Tue, 04/03/2012 at 8:11am
Posted on: Thu, 04/12/2012 - 10:59am
No way Kentucky beats
No way Kentucky beats Bobcats
Young Wildcats would stand little chance, even against NBA's worst team
By David Thorpe | ESPN Insider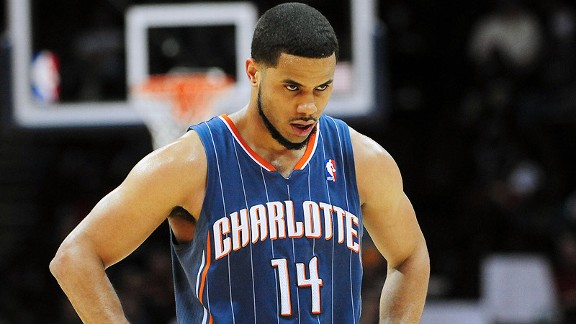 Jason Miller/US PresswireNo matter how bad Charlotte is, D.J. Augustin and his teammates wouldn't lose to Kentucky.
Every few years, a college team captures the hearts of America while beating up its opponents. It is seen as super-special and thus gets super-hyped.
Some of that hype has to do with the players on the team. Which ones are headed to the NBA? Which ones could someday be NBA All-Stars? When that college super hype leeches into NBA talk, one question inevitably arises: "Could they beat a bad NBA team?"
This year, that question has been posed for Kentucky, which won the NCAA title Monday night with scintillating athleticism and great chemistry plus three likely lottery picks and at least two other players who almost certainly will be drafted in June. Meanwhile, the NBA's Charlotte Bobcats are making a run at being the worst NBA team of all time. So, given Kentucky's incredible depth of talent and Charlotte's ineptitude, could the best overall team in college beat the worst NBA team this season?
Not a chance.
There's almost no scenario in which these two teams play and Kentucky would come out on top -- even if they played 20 times on a college court under college rules. Saying Kentucky's kids could beat professionals makes no sense if you've spent any time around the game and working with these players. Here are several reasons the Charlotte Bobcats, as bad as they are, would crush the Kentucky Wildcats in any scenario.
The "lottery picks"
Kentucky is flush in NBA prospects, both lottery picks and solid first- or second-rounders. However, you still have to prove you can play at the NBA level. Kentucky might have three legitimate lottery pick, but only Anthony Davis is a surefire NBA player and star. At this point in his career, even Davis has much to learn.
I like Michael Kidd-Gilchrist a great deal; he has a great motor and is terrific in transition. But he's a poor perimeter shooter. He's a top-five NBA draft prospect because he projects to be someone who can make a good portion of his jump shots someday (and the draft is not considered to be that strong on immediate help). Someday. Kidd-Gilchrist is very comparable to New Jersey Nets forward Gerald Wallace, who did not average more than 4.7 ppg until his fourth season in the league. He also has some similarities to Julian Wright, a talented forward who never figured out the NBA game.
[+] Enlarge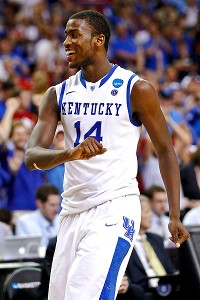 Mark Cornelison/Getty ImagesMichael Kidd-Gilchrist still lacks consistency on his jumper, something he will have to improve in the NBA.
Just a month ago, Terrence Jones was seen as an enigma -- talented but terribly inconsistent in effort and productivity. Kentucky's great run this season makes it easy to overlook that Jones has a lot to prove. Even Monday night's game showed weaknesses in Jones' skills, which remain raw. NBA benches are filled with similar players who sometimes take years to figure it all out, if they ever do.
Davis seems to be a foregone conclusion as a can't-miss top overall pick. But don't expect him to be a great player next season just because he's this year's likely No. 1 draft pick, albeit deservedly so. Certainly Davis is not a better player than Kevin Durant was at this age. Durant enjoyed one of the most dominating freshman seasons in college basketball history. Yet he also had his struggles. He lost his first eight games, finally winning in his ninth game at Miami when he scored 18 points on 16 shots and five turnovers. Although Durant averaged 20 ppg on 41 percent shooting, he was less than 30 percent from 3-point range, and the team went 2-14 in his first month. And this was after getting a full summer league and training camp/preseason to help him make the adjustment. Even someone like Davis will lag behind in NBA-game nuance and polished skills.
Men against boys
Rookies -- even ones with well-crafted NBA games -- struggle early because of the huge disparity between the players in their physical and mental makeup. College players hit the weights hard in the offseason and try to maintain their strength all season. But it's the first time many of them have been part of that kind of routine strength training. Almost every veteran NBA player in his prime is significantly stronger, though not always heavier, than he was in school.
It's an advantage most evident when a veteran plays a rookie early in the season. In the NBA, rebounds go to the guy who gets to the ball first, simply because most players have similar strength and know how to use their bodies to gain the best possible leverage. This is not the case in college, where the power disparity can be vast. The stronger player can take the ball from his opponent before he secures it. Kentucky is a solid but not spectacular rebounding team despite having two of the top big men in the country partly because they do not have a lot of strength. To be blunt: If Davis and Jones would play two more years in college, they wouldn't finish 15th in the country in rebounds per game as they did this season.
The strength disparity leads to another issue: fouling. When an opponent has a physical advantage, the disadvantaged player has to resort to grabbing, holding and pushing more to stay in good position, which results in more calls. Whether it's while posting up, boxing out, making cuts to the rim, defending ball screens or making tough plays in the paint, significantly weaker players are at a big disadvantage. They get beat up or foul to prevent getting beat up. In the NBA, it's easy to say that rookies just don't get away with much, but in most cases they have earned the fouls called on them. College is a more physical game in the sense that the officials allow more contact. So in a potential matchup between UK and Charlotte, whether the game is called looser or tighter, the advantage would go to Charlotte.
Fouling is a big factor, as even the most ardent UK fans would not suggest that their team has a bench that is equal to that of a bad NBA team. But it's hard to imagine that any of UK's guys would be able to avoid fouling and still get away with playing good defense.
Mental game
I have spent more than a decade coaching draft-eligible players and often coach them again in subsequent summers. The progress these players make between their first summer and subsequent ones is amazing. College guys fly up and down the court, moving a lot but seeing little.
[+] Enlarge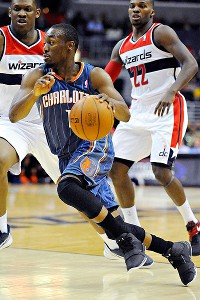 Brad Mills/US PresswireKemba Walker & Co. would simply outmatch and outplay a young Kentucky team.
The pros are faster, stronger and more explosive as they reach their prime, but they actually play slower most of the time. That is, until they correctly read a given situation that calls for an immediate burst of speed or a quick pass/seal/screen that enables them to make a play. The pros read the game rather than just play it. This is very evident when a young college player is inserted into 5-on-5 action in pickup games. If he is playing with older college guys, he tends to run around a lot and not get much done. But if he's on the court with pros, well, he tends to look like a pro.
I remember a practice with nine NBA players and one college freshman just after the freshman got done playing with a college group looking very ordinary. With the pros, suddenly he was making plays, as the game around him jelled so much more easily. One of the pros, Jared Jefffries, was coming off a bad season. He was maybe the fifth- or sixth-best player on the court that day, but as the freshman walked off the court he said, "I've never seen a 6-foot-10 player do all the things on both ends the way that guy Jeffries does. Where did he go to college?" I said Jeffries was the best player on his Indiana team that went to the NCAA championship game and earned second-team All-American honors as a sophomore before being a lottery pick in 2002.
As a 19-year-old, Jeffries would have been the third-best player on the court Monday night after Davis and Kansas' Thomas Robinson. Yet, in the NBA, he's never had a player efficiency rating above 11.6.
The X's and O's
Kentucky is right to crow about its title. The Wildcats are without a doubt the best team in college this season. But they are not strong in their half-court offense, which is what most NBA games come down to. Likewise, Charlotte is an awful team on both sides of the ball. The Bobcats are awful by design, though. Their executives made that decision to collect more talent in the draft, and their players are better than what we see. Spirit, energy, passion -- these are vital aspects of successful teams at every level, and they are missing in Charlotte.
However, that doesn't discount that D.J. Augustin, Kemba Walker and Tyrus Thomas simply are all better players than anyone on Kentucky with the exception of perhaps Davis. Gerald Henderson is better than Doron Lamb. Reggie Williams led the NCAA in scoring for two years and has proved he can score in the NBA as well. He's certainly better than anyone on Kentucky's bench. B.J. Mullens is growing into a quality NBA big, and at a mobile 275 pounds, he'd give Kentucky major problems in the paint.
Kentucky's offensive attack is great in college but rudimentary compared to what the Bobcats face every game. And Charlotte's offense would be far more challenging than anything UK has faced. On a college court, with college rules, Charlotte would have to play terribly and Kentucky would have to make better than 65 percent of its 3-pointers to make it even a competitive game.
On an NBA court and NBA rules, the Bobcats would beat Kentucky by 40 points most nights. As the cliché goes, it's a slam dunk.