Coming off of last year's 34 point loss and lacking much in the way of star power, outside of their young 16 year old phenom RJ Barrett, many scouts figured this would be another blow out. But behind the excellent coaching of Roy Rana and his staff (Marin Sedlacek and Borko Popic), the World team surprisingly kept it close as they showed a lot of grit and toughness maintaining a close-fought game until a late surge by Team USA. While the talent for this year's draft is lacking, as there may not be any 2017 first rounders from this game, there were a number of intriguing prospects for future years. Coach Rana sat down with me after practice on the day before the game to give a few words on each of his players.
RJ Barrett SG Canada 2000 (6-6.5 (height in shoes), 193, 6-10 wingspan, 8-6.5 standing reach)
Barrett is clearly the stud of this bunch. He's a full three years younger than some of the other members of the team (Richards for instance) and yet he's already the best player. He missed the first day of practice coming off of a long week playing for a high school title and when he joined the World team in practice on Monday, the dynamic of the team changed as the energy intensified among both the scouts in attendance and players on the floor. He brings that type of presence, which is amazing considering his age. He had a bit of a ho-hum Hoop Summit game with just 9 points, but was efficient hitting a 3 and shooting 50% from the floor. He's a very smooth, competitive kid who should only continue to improve as he grows into his body. One of the brightest talents on the high school level.
Coach Rana on Barrett: "A star. A potential superstar down the road. Doesn't look out of place here whatsoever. Has been the best player on the floor a lot of the time. Tremendous athlete. I've known the kid since he was seven and it's been tremendous to watch his growth as a basketball player and a young man."
Shai Gilgeous-Alexander PG/SG Canada 1998 (6'6, 175, 6-10.5 wingspan, 8-6 standing reach)
Gilgeous-Alexander made his mark in practice all week as scout's took notice of the Kentucky recruit's length and speed at the point guard position. He's still got a ways to go in harnessing his speed and point guard skills but the makings are there. Scouts were reminded of Arizona's Kobi Simmons as he looks and moves a lot like him and has a similar body type, and skill set. Shai had a solid game, forcing the action and getting to the line 10 times, knocking down 7. He puts a lot of pressure on the defense and finished with 11 points. 2-4 from the floor, 2 sat and 2 to in 21 minutes.
Coach Rana on Gilgeous-Alexander: "High IQ point guard with great size and length. A playmaker, and a quarterback."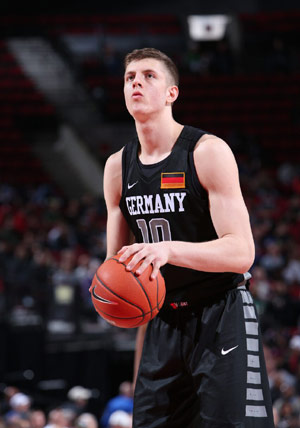 Isaiah Hartenstein PF Germany 1998 (7-1.25, 250, 7-2.25 wingspan, 9-1 standing reach)
Hartenstein is a focused individual who has spent a lot of time in Oregon, with family ties here, having been born in Eugene. He's much stronger physically than the average Hoop Summit big and he also did a good job of running the floor and hustling for rebounds. Clearly one of the standouts from an NBA draft perspective. His game was good but not great as he got in a bit of foul trouble finishing with 10 points and 4 rebounds in 18 minutes. Two areas of concern are first his shot has a funky side spin release as it appears his guide hand gets involved in the release, and second he seems to have pushed a little too hard to bulk up and get stronger and it could be affecting his mobility and joints. He appeared a lot more athletic 2-3 years ago, so the additional weight may be limiting his flexibility and explosiveness some. Some guys struggle to carry a lot of weight and this could be the case with Hartenstein at 250 lbs. He could still contend for a first round spot this year, but he didn't convince scouts of that in Portland.
Coach Rana on Hartenstein: "Big, strong kid. Lefty. A little awkward with his shot form because of the spin on the ball. Puts it on the deck. Powerful. He's been a little bit up and down here, but great size for the position. If he can get a little more consistency, he's going to be a great player."
Tadas Sedekerskis SF Lithuania 1998 (6-9.75, 211, 6-9 wingspan, 8-10 standing reach)
Sedekerskis is a solid wing getting some minutes in Europe with a medium level team. While he's not a huge prospect, he's pretty solid in all areas. He got a little overwhelmed by the talent and athleticism of the American squad, but that's to be expected. He would stand a much better chance to have a shot in the NBA if he became a knockdown shooter. He got the start but managed just 4 points on 2-4 shooting in 19 minutes. A solid teammates with good fundamentals, but likely a future pro in Europe, rather than an NBA guy.
Coach Rana on Sedekerskis: "Has gotten better as the week has gone on. A pro. You can tell he's played against men. Good size and strength for the position. Can put it on the deck. He's developing as a shooter."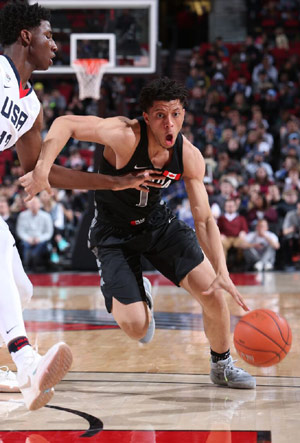 Lindell Wigginton PG Canada 1998 (6-2.25, 186, 6-3.5 wingspan, 8-1 standing reach)
Wigginton was one of the pleasant surprises as he flashed a very solid combination of speed, explosiveness and scoring ability. He's a tough kid who competes hard and also shows a solid feel for the PG position. He struggled some shooting the ball against the USA guards going 4-12 for 11 points, but had an impressive 7 assists. With a big opportunity to take over the PG position next year at Iowa State, it would be no surprise to see him be one of the Nation's most productive freshmen next year. Wiggington is Iowa State's first recruit to participate in the Hoop Summit, and based on his performance this week, Cyclone fans have an incoming player to be excited about.
Coach Rana on Wigginton: "Tough, relentless attacker, very powerful athlete, and has been very consistent."
Borisa Simanic SF/PF Serbia 1998 (6-11.75, 203, 7-0.5 wingspan, 9-0.5 standing reach)
Simanic is a very talented prospect. But unfortunately his development seems to have been stunted over the past year or two. He's a legit 7-footer who moves like a guard, with good ball skills, and shoots it extremely well and with range. So why isn't he a more highly rated prospect, why isn't he considered a potential first rounder? He played just 10 minutes, scoring 2 points on 1-3 shooting. It was likely a wake up call for the level of strength and intensity necessary to compete with the best in the world. At one point Jarrod Vanderbilt took the ball away from him at mid-court simply by being more physical. Simanic clearly needs to get a lot stronger, more aggressive and learn to play with more intensity. He may always struggle with the cultural side of playing in the NBA. He is limited with his English skills and seems to struggle with not only communication, but confidence and leadership as well. He built a solid rapport with guys like RJ Barrett in practices, which is a good sign and seems to enjoy the game and want to get better. He figures to be an ideal draft and stash 2nd rounder, as there is a lot of talent to work with if he's put in the right situation.

Coach Rana on Simanic: "Can really shoot it. A bit of a three/four tweener, or four/three. He's the one that's had the most challenges. It's a big adjustment with language and so forth. With the way the NBA is going, it fits his style. He's had a very good week. Another one that could be really good down the road."
Nickeil Alexander-Walker SG Canada 1998 (6-5.5 (height in shoes), 191, 6-9 wingspan, 8-5 standing reach)
Alexander-Walker was one of the real stand outs in practice all week. He's a legitimate top 20 level recruit, and should be a factor right away at VA Tech. He's all arms and legs, very wiry and extremely quick showing strong defensive ability and potential. He had some nice battles with RJ Barrett in practice and did a solid job of containing Gary Trent Jr. In the game. His shot needs some work, as the game showed hitting just 3-11 for 10 points, though he did make 2 of his 5 threes and chipped with 3 assists. He's quite possibly the third or fourth best long term prospect, after RJ Barrett and Nick Richards, on the World team.
Coach Rana on Alexander-Walker: "Dynamic scorer. He can shoot the basketball. Shot it well all week long. Sneaky athlete, tough."
Nick Richards PF/C Jamaica 1997 (6-11.75, 239, 7-3.75 wingspan, 9-0.5 standing reach)
Richards was a track and field star who came to the sport late as he has only played basketball for 5 years. He had a strong showing in the game, matching up well with the USA bigs. He finished with 12 points on 5-9 shooting, and converted on some impressive post finishes as well as mid range shots. He also affected things defensively with his shot blocking. He's got a very intriguing combination of length and athleticism, and a really nice stroke from the perimeter. He also seems to have a pretty solid understanding of how to operate in the post. He's a lot more effective in one-on-none perimeter shooting than utilizing it in game speed situations, but that's something that should come with time and repetition. He was surprisingly effective hitting 3s in drills. He's one of the most intriguing long term bigs in the class and should end up among the best NBA players from this team.
Coach Rana on Richards: "I think he's a stud. Has great hands. Gets off the floor easily. He's got good feel with his back to the basket. Can pass it. A great kid. I think the sky's the limit for him."
Felipe dos Anjos C Brazil 1998 (7-3, 251, 7-4.75 wingspan, 9-6.5 standing reach)
Dos Anjos is a massive kid with a youthful exuberance for the game. He isn't the quickest or most fluid of bigs, which hurts him in today's NBA. His 9-foot-6.5 standing reach alone is enough to make opposing guards think twice about attacking the rim when he's in the game. He doesn't get a ton of lift but can get blocks and rebounds without needing to get off the floor much. He's still a long ways away from being able to make plays on both ends with the speed necessary. But at his age, a kid that's worth keeping tabs on.
Coach Rana on Dos Anjos: "Really really impressed. He's come a long way with his mobility, his athleticism, his hands. Great length and size. Great touch for a guy that big. I think he's got a bright future ahead of him."
Kostja Mushidi SF Germany 1998 (6-5, 226, 7-0.5 wingspan, 8-7.5 standing reach)
Mushidi came into the week with some first round hype. But it became clear to those in attendance that he's a long ways away from being a first rounder. On the positive side he has a massive 7-foot (+7.5 inch) wingspan and strong, broad shoulders. He performed well in the game, leading all World team players with 14 points and connecting on 4-of-7 threes. But with a lack of foot speed, he really struggles to create offense and defend on the perimeter. He should probably focus on improving his (streaky) shooting, and also losing some of the bulk, and gaining some speed and flexibility, and try his luck in a future draft, as right now he's probably an undrafted player if he elects to keep his name in the draft hopper.
Coach Rana on Mushidi: " Big strong kid. Has pretty good skills for his position. Very tough."
Ikey Obiagu 1998 (7-1.25, 241, 7-5.25 wingspan, 9-4.5 standing reach)
Florida State's incoming big isn't the fastest or most skilled player but he offers a giant presence in the paint and shows excellent timing on blocking shots. He's got a massive 9-4.5 standing reach and shows the reaction timing and reflexes to be a defensive presence at the college level. He may not be a great fit into today's NBA considering everything has gone to speed and skilled guys, but he's young enough where he could continue to develop the necessary skills.
Coach Rana on Obiagu: "Shot blocker, rim protector. He does one thing really, really well. He probably had six blocks today. Huge hands. Timing. He's pretty unique from that perspective."
Luguentz Dort SG Canada 1999 (6-3.5, 217, 6-8 wingspan, 8-5 standing reach)
Dort was a fill in and received just seven and a half minutes in the game but he made the most of it going for four points on 2-4 shooting. He has a bit of a slow release on his shot and too high of an arch that he will need to work through, however he plays with a lot of physicality and aggressiveness and attacks the rim like it's his last game. A guy who reminds some of Arizona's Rawle Alkins as he looks very similar and has a similar build and playing style, though he's missing Alkin's shooting form.