ucla looking far better then i could have anticipated
Posted on: Fri, 11/29/2013 at 9:36pm
ucla looking far better then i could have anticipated
just got done watching the bruins blowout northwestern to improve to 7-0. Now they haven't played anybody yet. Drexel, who pushed Arizona wire to wire in a 4 point loss and then took care of Alabama today, is ucla's best win so far. But just watching this team, they look special.
Here's a break down of the roster
Kyle Anderson..... 13ppg...10 rpg...8apg...2stls in 29 minutes
Before the season I really questioned if he could truly play the pg position at 6-9 and deal with full court presses and create open looks for his teammates despite not having great speed. Well, he is excelling as a full time pg right now. He has hit 6 of 10 3point attempts and looks much improved as a shooter. I actually expect him to knock down every open shot now.
Jordan Adams.....21ppg...4rbs...2apg...3stls in 28 minutes
One of the better defenders and a guy who has a lot of strength for a wing. Attacks the rim hard and is shooting over 40% from three. He doesn't have a lot of flash, but he can hit all the tough mid range shots.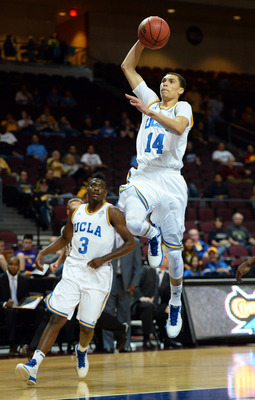 Zach LaVine....14ppg....16/28 from three....3rbs...2apg
Just wow. This site currently has Zach going 5th overall in the 2015 draft and right now I don't think that's off at all. Guys is killing it. He is a 6-5 combo guard who has all the things you want from an nba player. Many Los angelese journalaists are calling him the greatest athlete to ever wear a ucla uniform(to think westbrook was here not that long ago) and im not sure I disagree. He finishes above the rim and grabs rebounds above the rim and can push himself. He has the jumper off the dribble down which is a must at the next level where you don't get time to set your feet very often. This guy is getting better every single game and might not be around for a sophomore year if things keep going this way.
Norman Powell....12ppg...3rbs...2apg
Powell is the teams best defender and toughest guy even at 6-4. He attacks the rim harder then anyone on the squad. His jumper is normally decent but looks broken at the moment.
The rest of the team is full of solid role players.
The Wear twins are seniors now and as usual they are finesse bigs who can step outside and shoot and have good offensive skills but don't really bring a lot of toughness.
Sophomore Tony Parker has improved quite a bit and is now starting where he actually does bring toughness as well as some skill to the low post. I could see his role diminishing as the schedule gets tougher though, he is still developing.
Freshman Bryce Alford is the coaches son. He is a pg who looks to get after it on defense and can really shoot. He just got done scoring 18 on northwestern on 4-4 from three. He is a smart player who plays under control like you would expect a coaches son to do.
The Bruins are averaging 91 points per game and playing an exciting style of ball and might finally have the talent to make another deep run. Don't think for a second Arizona has this conference locked up.