Toronto Raptors Mascot Ruptures Achilles, Out For Season
Posted on: Thu, 10/10/2013 at 10:05am
Toronto Raptors Mascot Ruptures Achilles, Out For Season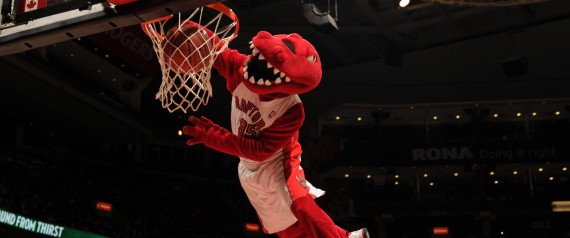 Achilles, Sports News
#news_entries #ad_sharebox_260x60 img {padding:0px;margin:0px}
This Canadian dinosaur will have to rest his bones.
The Toronto Raptors' mascot ruptured his Achilles tendon performing at a school in Halifax, Nova Scotia, last weekend and will be sidelined for the season, The Toronto Star reports.
The Raptor, known locally as the Chicken, has remained a popular feature at Raptors games even as the team struggled through the years, the Star wrote. The unidentified costumed actor has reportedly not missed a game since the franchise's inception in 1995.
The team told the Toronto Sun that the man behind the mask will undergo surgery and a backup plan is being formulated.
Even Raptors coach Dwane Casey chimed in on the injury. "My daughter cried," he told the National Post. "She was upset."
The Raptor might want to consult with Kobe Bryant, who appears to be recovering quickly from his Achilles blowout.
http://www.huffingtonpost.com/2013/10/10/raptors-mascot-achilles_n_4079253.html
Posted on: Thu, 10/10/2013 - 11:22am
Posted on: Thu, 10/10/2013 - 11:49am