McDonald's team selection is flawed
Posted on: Tue, 07/05/2011 at 2:40pm
McDonald's team selection is flawed
Apologies if this has been posted before but may be a good read to some who havent seen it before.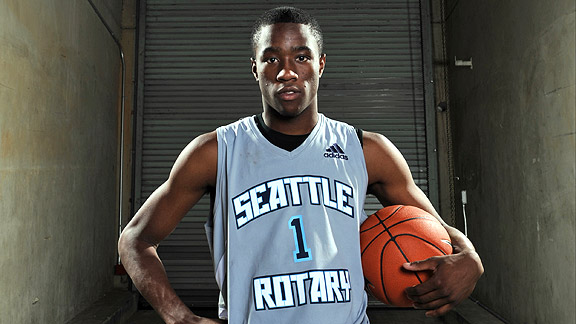 Tony Wroten Jr. was one of this year's notable McDonald's All-American team snubs.

Let me start with a question: Are McDonald's All-Americans chosen purely based on their own ability and performance, or are they picked based on whether or not they sign with an A-list school?
I bring this up because the McDonald's selection committee has done it again, churning out several curious selections and even more curious omissions this year. To be blunt, it is a joke. Need further proof? Look at the North Carolina Tar Heels. How is it possible that Roy Williams could coach a team loaded with seven Mickey D's All-Americans last season and still not make the NCAA tournament? He'd have to be the worst coach of all time to underproduce with a squad that was truly that talented, but Williams' two national titles and career winning percentage of .800 suggest that the man knows how to coach.
It is in this way that the McDonald's selection is flawed. Too often the emphasis on the ranking and voting in of players is based strongly on where they signed, how well-known they are and how high a profile their AAU team had. The game, the most prestigious in the land, is supposed to represent the top 25 players in the country, or at least come as close as possible.
The committee has hit on some top prospects in the past, including the likes of Michael Jordan, Kobe Bryant, LeBron James, Kevin Durant and Derrick Rose, but there is also a substantial group of players who were clearly vastly overrated based on where they signed. Omm'A Givens, Casey Sanders, Winfred Walton, Neil Fingleton and Taymon Domzalski are just a few names you might have gotten excited about, only to be let down when they were decent but ultimately overrated players based on their McDonald's All-American status.
I get it -- these things are subjective. But man, going two years in a row without having a California selection, for example, is hard to believe. Two years ago, Kawhi Leonard was the California high school player of the year and his team won the state championship; he didn't get an invite to the game. All he has done since is average a double-double for the San Diego State Aztecs (a school without a rich basketball pedigree).
Last year, the California snub was Allen Crabbe of Price High School. Crabbe is averaging 12 points per game (20 in conference play) as a freshman in the Pac-10. He should win the league's freshman of the year award. Did he not get picked because he committed early to play for the California Golden Bears and was not an AAU scene fixture who signed with UNC, the Duke Blue Devils or Kentucky Wildcats? It makes you wonder.
This year there are several omissions and other suspect selections.
Tony Wroten Jr., a Washington Huskies commitment and one of the notable snubs, handled it well in this interview (and he is right about Air Jordans versus Reeboks).
Wroten injured his knee his junior year and it may have hurt him on the AAU circuit, but one top-25 head coach said, "Wow, Wroten did not make it and Wiltjer did? Who picks this thing?"
Kyle Wiltjer is a very nice player and might get to start as a freshman at Kentucky next year, but the 6-foot-10, face-up big's selection could have something to do with the growing belief that if John Calipari selects a player, he must be special.
One assistant coach complained to me about another curious selection. "Shannon Scott was not recruited to start, we billed him as a second-level recruit, and I am stunned. No way. Nick Johnson is a stud, and Josiah Turner is a game-changing recruit for Arizona."
A Big East coach chimed in as well: "Quinn Cook ahead of Josiah Turner is a farce. Marshall Plumlee, too. This Duke bias thing has got to stop. My goodness, Cook is a good player, Marshall too, but there is not a soul alive who thinks they are players who will have a profound impact on a program. Jabari Brown will at Oregon, Josiah Turner will at Arizona and Dorian Finney-Smith will at Virginia Tech. If Finney-Smith signed at Duke, he'd be in the game, and that is flat-out wrong."
There's no way of knowing exactly what is behind these decisions. It could just be that some voters do not see players from all over the country, and therefore end up missing on some players. Or, it could be exactly what we all think it is: that our infatuation with Duke, UNC, Kentucky and other blue-blood programs has no bounds.