Jeremy Tyler...Lottery Bound...
Posted on: Wed, 12/15/2010 at 3:43am
Jeremy Tyler...Lottery Bound...
Article By Henry Abbot of ESPN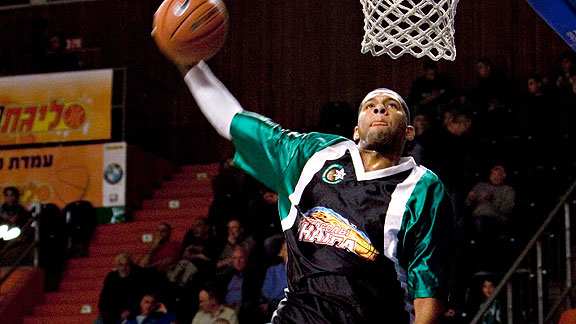 AP Photo/Tara Todras-Whitehill
Jeremy Tyler made headlines ditching high school for Maccabi Haifa. Ten games in, he made headlines by quitting.
Brandon Jennings did it. He stared down the NCAA, went to Europe instead of playing college ball, endured 10,000 smears from the powers that be ... and as a guy who is well on his way to a rollicking NBA career, he very much got the last laugh.
Many more would follow in is footsteps, they said. And Jeremy Tyler did. Tyler, an athletic 6-11 big man from San Diego, went one step further. He didn't just abandon the American system for one year of college -- he skipped his senior year of high school too.
How did that work out?
Once considered to be on rails to become an NBA lottery pick in 2011, he's now off the radar. He played for Israel's Maccabi Haifa, which was never a good fit -- he played his music too loud, they said, and his basketball too softly. He didn't produce much. And, 10 games in, he bought his own ticket home, to jeers from just about everybody involved. Then last summer, still needing to do something for a year before becoming NBA eligible, and hard-pressed to find good work in Europe, he signed to play in Japan, for Bob Hill's Tokyo Apache team.
And at this moment, he's 90th on Chad Ford's list of that draft's top prospects.
Is Tyler a bust before he even turns 20?
You could make a documentary trying to dig into that.
Andrew Gallery is already several years into the effort, in fact, and the filmmaker says it's too soon to answer the big basketball questions about Tyler.
"He's smart and really learning a lot. He's also still really young. People need to cut him some slack," says Gallery, who started following Tyler with a camera when the player was just 16, and on his way to play at Louisville. Now Gallery is raising money to take his crew to Tokyo for the film's next chapter.
Some video from the as-yet uncompleted project is on Gallery's website.
"You never know what can happen in Tokyo. Japan can change a lot of opinions," says Gallery, whose past work has connected him to Hollywood types like Britney Spears.
He first met Tyler after a friend showed him a brief video clip of Tyler. "He made this sick move," Gallery remembers. "He was just in the ninth grade. I said let's meet him! I had no idea this would turn into this international odyssey."
Around that time, Tyler signed committed to play for the University of Louisville.
"I thought," says Gallery, "we'd be chilling in Louisville, not Haifa. ... But now , It's not just Jeremy's story anymore, though. Not the way things have turned out. There's this multibillion dollar industry, and all these players who struggle to find the best way through. It started out as a story about a player, but it has become a story about a very messed up process of how we handle top players."
Gallery says that a lot of the issues raised by George Dohrmann's recent book about troubled American hoops development resonated with his experience. Basketball figures like Sonny Vaccaro and agent Arn Tellem play roles in Tyler's story.
For instance, I ask Gallery whose idea it was for Tyler to play in Europe. The perception, in basketball circles, is that it was Vaccaro's call. Vaccaro has a lot of influence with a number of young players, who see him as someone who can open a lot of doors. At the same time, Vaccaro's brazen about being on a grand multi-faceted mission to shake up the NCAA, and guiding top talent away from the NCAA is a major front in the battle. Gallery, who was there throughout the process, replies "that's a really interesting question," before saying it was Tyler's call, first and foremost, but also Vaccaro's, Tyler's family's, and Tellem's.
Meanwhile, Gallery is adamant that there is no victory in vilifying Tyler, who Gallery says is unbelievably personable. "It wasn't long after we started following him around with cameras that he was carrying the tripod, or driving us places. As much as we've become part of his life, he has changed my life in some ways, too. He even introduced me to someone who became my girlfriend. When we broke up, he was upset! I am no judge of basketball talent, but I want him to do well and be happy. He has this very sweet side, but also a very ambitious and very ferocious athletic side. Those two things together make him fascinating."
Mr. 19134 Tyler Update: In ten games and only 15 minutes a night of action Jeremy Tyler is playing very well basketball. In 15 minutes he is averaging 10 points, over 5 rebounds, shooting over 50% from the field but also 3 turnovers...
My personal take is that Tyler was very immature and young who went into a bad situation in Israel. I don't knock him for trying to be a Pioneer and steering clear of the ruthless and selfish NCAA, the same NCAA that will knock somebody like Tyler but will turn around and rule Enes Kanter ineligible who is trying to reverse the trend for them...Shame the NCAA for the Kanter ruling...
But let's not forget Tyler was the number one ranked prospect of this class before he went overseas and left it too Harrison Barnes...What is Tyler would of went to Kentucky or Louisville like he was headed too? What would his numbers looks like as a freshman in college this year? I feel like Tylers talents would of made him an instant impact and in this weak draft we would be talking about the potential first overall pick...