Irving, Fredette favorites for ROY
Posted on: Tue, 07/05/2011 at 7:58am
Irving, Fredette favorites for ROY
Now that the NBA draft is complete and the best prospects from both the NCAA and abroad have found homes, it's not too early to begin thinking about what these players can contribute as rookies.
My projection system translates NCAA performance to the pros using the performance of past rookies and adjusting for strength of schedule. To that is added the pace at which each newcomer's NBA team played last season and a guess at minutes per game to create a projected stat line. Here's a look at the most impressive of next season's rookies (whenever they finally get to take the floor):
Kyrie Irving: 35.0 mpg, 14.9 ppg, 5.1 apg, 3.4 rpg
We've projected Irving to play 35 minutes a night for the Cleveland Cavaliers. That's a little lower than the averages for his predecessors as point guards taken No. 1 overall after one year in college, Derrick Rose and John Wall, but neither of those players went to a team with a veteran point guard like Baron Davis.
Given that, Irving's projection compares very favorably to Rose's rookie line (16.8 ppg, 6.3 apg). Wall averaged far more assists (8.4) but shot just 40.9 percent from the field. Irving has a chance to be the most efficient scorer of the group as a rookie, thanks to a projection that calls for 40 percent accuracy beyond the arc. His projected .591 True Shooting Percentage would be far superior to both Rose (.514) and Wall (.494), who were well below average as rookies.
Derrick Williams: 28.0 mpg, 13.6 ppg, 7.5 rpg, 1.1 apg
Williams' role is a little more difficult to project. Conservatively, he figures to play somewhere around 28 minutes a night, seeing action at both forward positions for the Minnesota Timberwolves. This projection doesn't account for how moving to the perimeter might affect Williams' performance, so feel free to subtract a rebound or even two per game off that total.
The more important numbers for Williams as a small forward will be his 3-point percentage and his free throw attempts. Williams got to the free throw line more frequently than any other go-to scorer in the country at Arizona, padding his numbers. He also made 56.8 percent of his shots from downtown, one reason a move to small forward is even possible. Williams won't be that effective from the longer line, but if he keeps his percentage in the high 30s, he'll remain efficient.
Tristan Thompson: 28.0 mpg, 8.1 ppg, 5.8 rpg, 1.1 apg
The Cavaliers did not select Thompson based on the promise of instant production, and even if he takes all 28.2 minutes per game former Cleveland power forward J.J. Hickson played last season, he's unlikely to crack double-digit scoring. Thompson struggles to create his own shot, and when he gets to the free throw line it's an adventure (Thompson shot 48.7 percent last season). Where he will contribute is on the offensive glass (a projected 3.0 offensive boards per game, which would have put him tied for ninth in the league in 2010-11) and as a shot blocker (1.2 per game, which would have matched Anderson Varejao for tops on the Cavaliers).
Jan Vesely: 25.0 mpg, 8.2 ppg, 4.1 rpg, 1.4 apg
Of the three players taken directly from Europe in the top 10 (thereby not counting Utah's Enes Kanter, who has no projectable stats), Vesely is the only one certain to play in the NBA right away. If so, he's unlikely to dazzle with his numbers but could contribute to the Wizards nonetheless. The strength of Vesely's game from a statistical standpoint is his finishing ability. His projected 55.4 percent shooting on 2-point attempts is far better than any NCAA prospect's projection.
[+] Enlarge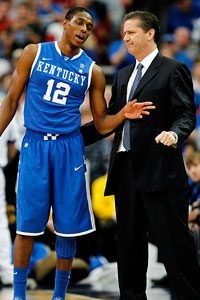 Bob Kupbens/Icon SMIJohn Calipari's guards have outperformed their rookie projections in recent seasons, which bodes well for Brandon Knight.
Brandon Knight: 24.0 mpg, 8.0 ppg, 2.7 apg, 2.2 rpg
Knight gets plugged into the combo guard role played by Tracy McGrady for the Pistons a year ago. As compared to his predecessors at the point for John Calipari (Rose, Wall and Tyreke Evans), Knight is not nearly as ready to contribute immediately -- especially as a passer. The upside is that all of those players significantly outperformed their rookie-year projections because the NBA's rules regarding contact on the perimeter made them dangerous off the dribble.
Kemba Walker: 20.0 mpg, 8.6 ppg, 2.3 apg, 2.3 rpg
Despite being ready to contribute, Walker might have a difficult time carving out a major role as a rookie with the Charlotte Bobcats, with D.J. Augustin established as a starter at the point. Augustin came out of college with similar statistics and has already gone through the difficult adjustment to the NBA, giving him the upper hand in the battle for playing time. Bump up Walker's projection to 35 minutes a night and his numbers look a lot more like Irving's: 15.1 ppg, 4.0 apg and 4.0 rpg.
Jimmer Fredette: 32.0 mpg, 17.0 ppg, 3.7 apg, 2.5 rpg
The leading projected rookie scorer is the No. 10 pick, Fredette. Because he carried such a heavy load at BYU, Fredette's projection doesn't quite match the role he will likely play for the Kings. Expect Fredette to use less than the 27.3 percent of Sacramento's plays his projection calls for, while at the same time shooting much better from the field than his projections (39.7 percent on 2s, 33.6 percent on 3s). Entering the NBA, Stephen Curry had similar projections but ended up shooting 43.7 percent from long distance. As a likely starter for a fast-paced team, Fredette has a chance to put up big enough numbers and win Rookie of the Year.
Two dark-horse rookies: Kenneth Faried and Markieff Morris
If the rookie of the year is to come outside the top 10, the two most likely candidates are power forwards Faried and Morris, both of whom are ready to contribute in the NBA immediately. If Faried can carve out 25 minutes a night for the Denver Nuggets, who are in need of a starter at the position with Kenyon Martin headed for free agency, his projection calls for 8.4 rebounds a night. Morris faces more competition for playing time in Phoenix and is unlikely to match Faried's eye-popping rebounding numbers, but expect him to be one of the league's most efficient rookie scorers.