Heat Fan that Gave Joakim Noah The FINGER Admits she is ''Sort of''Sorry
Posted on: Sun, 05/19/2013 at 7:23am
Heat Fan that Gave Joakim Noah The FINGER Admits she is ''Sort of''Sorry
Filomena Tobias the crazed Miami Heat fan that gave Joakim Noah the Middle Finger now says she's sorry..And gives her genuine apologies to anyone that she offended....
As the photo surfaced around the internet of her flipping off Noah..She received the usual attention and rude comments..And then the Lid came Off...
The incident led the press to do some digging into her background..And they found out that her late husband Seth Tobias died mysteriously in his pool in 2007..The internet quick to make judgements started making connections....Her lawyer says she's distressed because of the needless attention the incident has brought on her..The invasion of privacy the press has done to her private life....And the malicious and untrue reports of how her husband passed.
.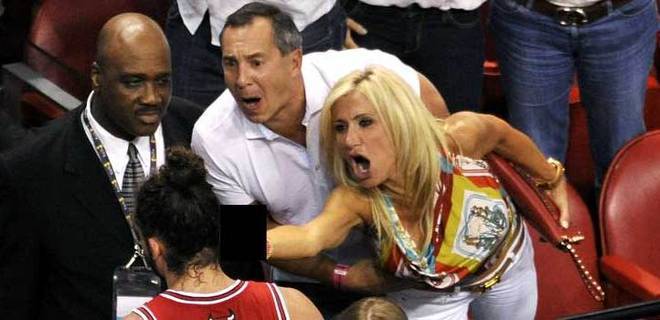 Bird-flipping Heat fan Filomena Tobias is sorry, sort of, for giving Joakim Noah the finger | Ball Don't Lie - Yahoo! Sports Philippines http://ph.sports.yahoo.com/blogs/nba-ball-dont-lie/bird-flipping-heat-fa...
****I Knew that woman Looked Like she had ISSUES