Espn Insider Please Barnes: One-dimensional or team player?
Posted on: Tue, 01/10/2012 at 11:26am
Posted on: Tue, 01/10/2012 - 11:55am
We made it through the first
We made it through the first week of conference play with no major revelations from a draft perspective. Still, there's a lot to talk about.
Here are a handful of notes I've collected from NBA GMs and scouts.
The Top Tier
Last year around this time, Harrison Barnes (Top 100 Rank: 3) shrugged off a disappointing first half of his freshman season to finish very strong down the stretch. Will history repeat itself?
[+] Enlarge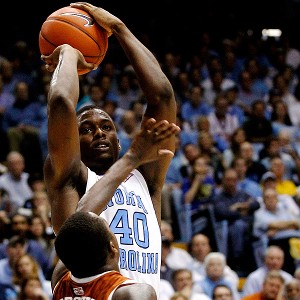 AP Photo/Gerry BroomeScouts must decide if Harrison Barnes is more than just a great jump shooter.
In his last four games, Barnes is averaging 22.3 ppg, has upped his rebounds per game to six and is shooting a red-hot 60 percent from the field. Yes, a couple of those teams -- Monmouth and Elon -- were patsies, but that stretch also included Texas and Boston College.
General managers came into the season with very high expectations for Barnes after his stellar play at the end of the season, combined with some rave reviews from the summer camps. He's been a scoring machine and has dramatically improved the accuracy of his 3-point shot (he's shooting over 50 percent from 3 this season) while cutting down on bad shots. But his lack of rebounds and assists has been troubling. Is Barnes one-dimensional or is he on a loaded team doing exactly what Roy Williams is asking him to?
• UConn's Andre Drummond (Rank: 4) had the biggest game of his college career versus West Virginia on Monday night. Drummond had 20 points, 11 boards, three blocks, two steals and shot 9-for-11 from the floor. Drummond has had a few other big nights, but not against this level of competition.
Baylor's Perry Jones (Rank: 2) went just 2-for-9 from the field against the Mountaineers a couple weeks ago.
Stock Check
• I've been a major Thomas Robinson (Rank: 5) fan since the start of his sophomore year. Last season we had him ranked as a late lottery pick on our Big Board and came into this season with him in our top 10.
After seeing him live for three games in Maui, I was really impressed and inched him up a few spots on the board. But lately? Wow.
Robinson is clearly getting more comfortable in his role as KU's go-to guy and is showing more of his offensive repertoire and quietly winning over a number of skeptical NBA scouts.
"I've always thought he was a bit of niche player," one prominent NBA GM said. "To me he was an undersized rebounder who gave you some energy off the bench. But I've watched him a ton this season and every game I think he gets better. He's got more to his game than I've given him credit for. If he's going to keep up this learning curve, he could be a great NBA player. Great."
• Speaking of skeptics, I've been a skeptic of Vanderbilt's Jeff Taylor (Rank: 22) for more than a year. Despite his tremendous athletic profile and stifling defense, after three years of college, he struggles mightily to create his own offense. That's starting to change.
Taylor is getting more comfortable on the offensive end of the floor this season. He's shooting a terrific 42 percent from 3, averaging a career-high 17 ppg and doing it on 53 percent shooting. NBA scouts always have said if Taylor could be a passable offensive player, he has a shot at the lottery. If Taylor keeps this type of production up all season, that's where he'll likely land.
• We wrote about Syracuse guard Dion Waiters (Rank: 24) six weeks ago and he continues his torrid pace off the bench. Virtually every scout I've spoken with has him projected as a first-round pick -- and several have him ahead of Duke's Austin Rivers (Rank: 15) and in the late lottery.
• Weber State's Damian Lillard (Rank: 25) is clearly benefiting from the strong play of Miami's Norris Cole. Cole put up big numbers for Cleveland State last season and had all the makings of one of the best point guards in the draft. But concerns about him being a 'tweener and the lack of top-tier competition caused him to sink into the late-first round. I'm not sure that will happen with Lillard. It's still not entirely clear whether he's a 1 or a 2, but he's lighting up everyone this season. In a draft really devoid of top-flight point guards (more on that on Friday) he has a chance to be the first off the board on draft night.
Uh-oh
Baylor's Quincy Miller (Rank: 12) is slowly beginning to fade as a potential top-10 pick this season. The talent is there, but questions about his maturity and a fading perimeter game abound. He still has the talent to be a top-10 pick someday, but it's looking more likely it won't be this season.
Sleeper
New Zealand big man Steven Adams (Rank: 21) is finally heading to the USA. Adams left New Zealand at the start of the year to attend Notre Dame Prep in Baltimore.
Adams has committed to play at Pittsburgh next year, but several sources indicate that he might consider declaring for the draft if he's projected as a lottery pick. Adams stormed onto the scene at the adidas Nations camp this past summer. He physically destroyed the competition with his defense, length, strength and athleticism. A few seasoned observers said that he reminded them of Greg Oden back during his high school days.
Adams hasn't played against great competition in New Zealand, and that might continue for the rest of the year. But NBA scouts will finally get a long look at him. If they like what they see, he has the potential to be a lottery pick.