Better Backcourt: Kyrie Irving and Austin Rivers or Derrick Rose and Eric Gordon?
Posted on: Fri, 07/22/2011 at 4:54pm
Better Backcourt: Kyrie Irving and Austin Rivers or Derrick Rose and Eric Gordon?
Hey I wrote this article a little while back for Bleacher Report and thought i'd bring it here since there are so many good debaters and I really think you could go either way with it. Most of you know should know the backstory so let me hear who you think would have been the better tandem had they actually played together like some thought they would in college.
I think this will make for great discussion. Here's the article:
In college basketball, usually having two guys that will even get NBA consideration on the same team makes for a formidable tandem, much less two on a fast track to NBA superstardom.
As they finished up their junior seasons of high school, Eric Gordon and Derrick Rose seemed destined to team up and form college basketball's most dominant backcourt at either Illinois or Indiana, the latter of which they visited together while Gordon had given a verbal pledge to the Illini.
Four years later, Kyrie Irving and Austin Rivers seemed likely to do the same at Duke, with a toe injury keeping Irving out most of his freshman season, and in turn, making his return to Durham for another year more likely, while Rivers, a high school senior, committed to the Blue Devils for the 2012 year. But neither of these ended up taking place.
We all know the story. Gordon and Rose ended up committing to Indiana and Memphis respectively before becoming lottery picks. More recently, Irving, with his toe fully healed, decided to forgo another season at Duke, making the chance to play with Rivers impossible. Still, though, it's fun to imagine how good either one of these combinations would have been in college. Furthermore, imagining that both had played together, which would have been better?
Unlike other other hypothetical debates, we got glimpses of both of these backcourts for short periods of time, and neither one came close to disappointing. Irving and Rivers won gold for the Under-18 USA team last summer, while Rose and Gordon carried an otherwise weak Meanstreets Express AAU team to a Peach Jam Championship and to the finals of the Las Vegas Big Time Tournament in the summer of 2006. All four guys were consensus top-five recruits in their classes, and Rose, Gordon and Irving have all been one and done in college basketball, with Rivers likely to follow if he desires at the end of next season.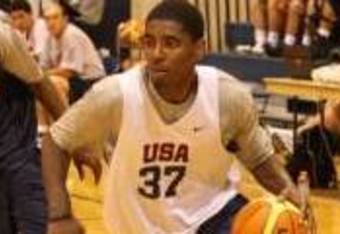 Some people might assume that this debate is easy, because Rose and Gordon have become 20-plus points per game scorers in the league, and the verdict on whether or not Irving and/or Rivers can mirror that success won't be in for a few years. However, we need to keep this fair to the younger two who are yet to lace up their NBA sneakers and keep this debate within the confines of how good these four guards looked coming into their freshman seasons of college. In other words, don't picture the youngest MVP in NBA history when you think of Derrick Rose, but rather, the quiet, pass-first point guard at Memphis who deferred to Chris Douglas-Roberts for most of the season before taking his game to a new level in the NCAA Tournament.
There is hardly a wrong answer in this debate, to the point where I started this article a couple of weeks ago and had to put it on the shelf because I could not decide on a winner. In the end, though, I have to sell out and pick the easier choice of Gordon and Rose, even though, ONLY AT THE SAME AGE, I believe that Irving is better than Rose and Rivers better than Gordon. Not to say that they will be in five years.
They are my choice for a couple of reasons. First, there is the fact that their games complimented each other perfectly. Gordon was the dominant, aggressive scorer and Rose the calm, clutch floor general. Gordon has since improved his handle and passing skills, but at the time, rarely put the ball on the deck more than he had to, and if so, only did so to score. He was an excellent catch and shoot player, and rarely held onto the ball for very long before either firing away from long range or powering his way to the rim for a bucket and/or trip to the charity stripe.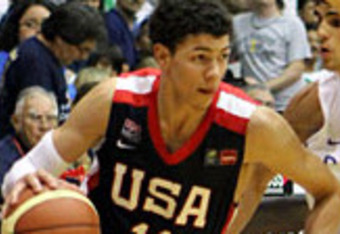 This left Rose to play to his strength, which was having the ball in his hands and breaking down the defense for one of his patented athletic finishes or an assist to a teammate. Neither player had to sacrifice much as a result of the other's presence on the floor.
The second reason they are my choice is because of the explosiveness they brought to the table. I hold the opinion that Derrick Rose is the most athletic player ever to step on an NBA floor. Meanwhile, Gordon's athleticism and power can be summed up with this footage http://www.youtube.com/watch?v=5YWe2r0AzEk.
Irving and Rivers are terrific athletes in their won right, both in the sleek, quick and agile mode moreso than raw power and explosiveness. Gordon and Rose both brought game-changing athleticism to the table and were just about the two strongest guards on the court every time they stepped on the floor, giving them a chance to physically dominate the opposition if needed in crunch time. Their bodies were ready for NBA contact before they even started college, evidenced by the fact that instead of wearing down at season's end, Derrick Rose saved his best basketball for the tournament that year.
I feel that because Rivers handles the ball so much and likes time and space to create his shot off the dribble, it at times would take away from the talents of Irving on the floor. In the same way that LeBron James and Dwyane Wade almost took turns attacking because they both did so in the same fashion this past season for the Miami Heat, I felt like Irving and Rivers, maybe only slightly, had to sacrifice for one another because they both are on-the-ball guards.
All things considered, Irving and Rivers are two of my favorite young players of the past few years, and both have a chance to be truly special going forward. They are worthy candidates in this debate and I'd love to hear someone make a case for them in the comments section.
That being said, full game footage of some of the winning combos AAU run together can be found at here http://www.cstv.com/cstv/programming/bigtime/live.html. Just click on the link below the comment. Hope you enjoy!