Best Backfields in the Nation NCAA 2011-12
Posted on: Wed, 07/13/2011 at 9:25am
Best Backfields in the Nation NCAA 2011-12
Oregon owns nation's best backfield
July, 13, 2011
Jul 13
10:09
AM ET
By Bruce Feldman, ESPN Insider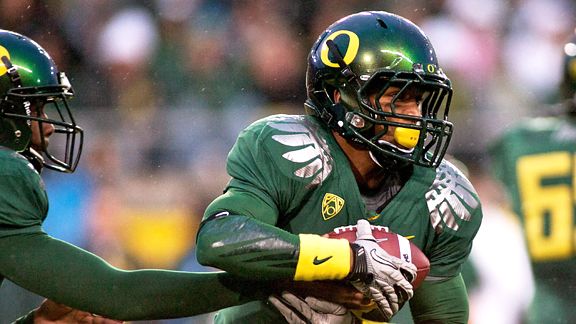 Craig Mitchelldyer/US PresswireDarron Thomas and LaMichael James form a dynamic backfield duo for the Ducks.
Next week we have the beginning of the annual conference media days, which are a good sign that teams are close to reporting for camp and the season is almost here. So for this week's list we decided to look at some of the stars that will be taking the field this season, honing in on the top 10 backfields (QBs and running backs) in the country:
1. Oregon Ducks
The Ducks have a very, very good quarterback in Darron Thomas and a great running back in LaMichael James, a pair of standout Texans who are thriving in the Pac-12. James, who is a legit Heisman contender, ran for 1,731 yards and 21 TDs in 2010. The Ducks also have a dangerous back-up to James in Kenjon Barner, who gained 551 yards and averaged over six yards per carry.
Thomas, a 6-foot-3, 212-pound junior, may get overlooked due to the presence of James and also because he plays in the same conference as Andrew Luck, but the Ducks' QB is a lethal triggerman in Chip Kelly's scheme. He almost ran for 500 yards last season while averaging over five yards, in addition to posting a stellar 30-to-9 TD-to-INT ratio.
The presence of Andrew Luck alone would almost merit the Cardinal a spot on this list. He is that special. Luck is the best player in college football and he's got some pretty good talent around him. Stepfan Taylor, a junior, rushed for 1,137 yards and 15 TDs last season. The Cardinal, however, did lose versatile RB Owen Marecic, the tough two-way player who was Jim Harbaugh's favorite.
Kellen Moore's production in three seasons is staggering. The guy has an almost unthinkable 74-to-9 TD-to-INT ratio the past two seasons. He averaged over 10 yards per attempt last year. And this is not a one-dimensional team, either. Doug Martin, one of the guys on our Freaks list, is a highlight film runner with his tackle-breaking style. Martin ran for 1,260 yards in 2010 and is an outstanding receiver to boot.
It remains to be seen how easily North Carolina State Wolfpack transfer Russell Wilson will blend in with his new teammates. On paper, he looks like a great addition. The heady QB has a career 76-to-26 TD-to-INT mark and he's a very capable runner, too. Still, he's going to have to overtake sophomore Jon Budmayr, who seems like a viable option. At running back, the Badgers have two studs: 214-pound Montee Ball (996 yards and 18 rushing TDs) and 202-pound James White (1052 and 14 TDs) to hammer away at rival defenses.
Kirk Cousins is a winner, a leader and a study in perseverance for this gritty MSU team. Last year, he connected on 67 percent of his passes and had 20 TDs and just 10 INTs. He is also fortunate to have quite the 1-2 punch behind him with Edwin Baker (1,201 yards) and Le'Veon Bell (605 yards as a freshman).
Marcus Lattimore was one of the breakout stars of the 2010 season in the SEC, rushing for almost 1,200 yards and 17 TDs. The bruising 220-pound sophomore is also a very underrated receiver coming out of the backfield. There's has never been a question about Stephen Garcia's toughness or ability to make plays. Decision-making with him is another story, but the Florida native has been very sharp at times, and in big games (he went 17-for-20 with three TD passes against Alabama last year).
The Sooners come into the season ranked No. 1 by many people (myself included), and one of the biggest reasons for that is QB Landry Jones, who has blossomed into a star for Bob Stoops. He completed 66 percent of his passes for almost 5,000 yards to go with 38-to-12 TD-to-INT mark. Gone is versatile DeMarco Murray, the team's leading rusher, but OU has options to replace him. Speedy Roy Finch is a playmaker, and keep an eye on Brandon Williams, who may be the most explosive true freshman running back in the country.
Ryan Tannehill sparked the Aggies when he took over at midseason. And with a full offseason to build off the strong finish, along with the return of standout wide receiver Jeff Fuller and another year of experience for last year's incredibly young offensive line, Tannehill should be even better in 2011. The Aggies also return one of the top 1-2 running back combinations in Cyrus Gray (1,133 yards) and Christine Michael (631 yards). This is an offense with a ton of firepower.
Perhaps more than anyone on this list, the Razorbacks have the potential to make a big move up because new QB Tyler Wilson, who was impressive in his one game of significant action last year against Auburn, seems primed for a big season. He has everything he needs to really turn some heads (a very good arm, a QB friendly system and some fantastic skill talent to work with). The Hogs have a superb starting running back in 230-pound Knile Davis, who emerged last year as a star, rushing for 1,322 yards and 13 TDs. Behind him is an even bigger back in 6-3, 235-pound Ronnie Wingo, who is coming off a very strong spring.
10. USC Trojans
Matt Barkley returns for his third season as starting quarterback of the Trojans. He's been very impressive at times, but will need to take his game (26 TDs, 12 INTs) to another level if this team is going to get close to being back where it was just three years ago.
Barkley does have some spectacular young receivers to throw to, led by budding star sophomore Robert Woods. The Trojans have more young talent in the backfield, starting with speedy redshirt freshman D.J. Morgan, who appears to be the home run threat this team has lacked the past few years. Senior Marc Tyler, the team's leading rusher last season with 913 yards, is a bigger back to provide another option. Shifty Dillon Baxter and little Curtis McNeal also have flashed some potential, but they still have to prove they can do it in games and not just on the practice field.
Hmmm, what to think? Oh, yes, GOOOOOOO DUCKS!