Analyzing the James Harden haul - insider
Posted on: Mon, 10/29/2012 at 8:15am
Analyzing the James Harden haul - insider
Figured I would go ahead and post this insider article before someone asks for it
http://insider.espn.go.com/nba/story/_/id/8567505/nba-analyzing-oklahoma-city-thunder-haul-james-harden-trade
Analyzing the James Harden haul
Oklahoma City boasts bevy of options with draft picks and Jeremy Lamb
Originally Published: October 29, 2012
By Amin Elhassan | ESPN Insider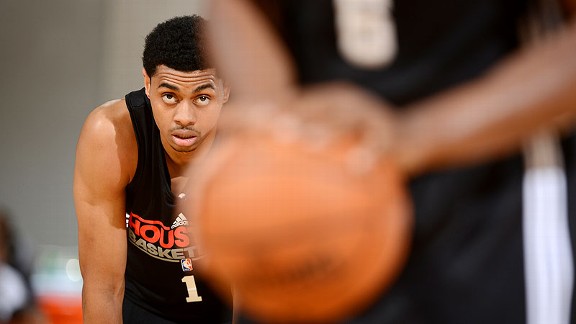 Garrett W. Ellwood/NBAE via Getty ImagesJeremy Lamb won't remain in the background long and eventually will replace James Harden.
As the league continues to feel the shock waves sent by Oklahoma City's trade of James Harden to the Houston Rockets, opinion seems split on whether Thunder general manager Sam Presti should have pulled the trigger so early.
Although that remains debatable, what most will agree on is that Presti acquired pieces and assets that will make this reconfiguration of his team's core short and effective. Here's a look at the pieces Oklahoma City received in return.
The rookie: Jeremy Lamb, SG
Scouting report: Lamb is an excellent catch-and-shoot player with deep range who also is a long, explosive athlete who can finish above the rim. Had one of the best "in-between games" in college last season, with a versatile array of runners and floaters in the paint. If he can't get to the rim, his soft touch allows him to use the glass nicely when gliding toward the basket. He's not the playmaker for others that Harden was, but he has a good basketball IQ that allows him to make the right play.
Defensively, his length and athleticism allow him to gamble in the passing lanes and get deflections. He's extremely active and aware on the weak side, frequently cheating in the middle of the paint after his man has cleared out to give help on the post and on dribble penetration out in transition. Conversely, I felt as if his length and athleticism allowed him to take shortcuts a lot (e.g., doesn't always lock and trail off screens, doesn't always fight over picks). His slight frame will make him frequently overmatched physically until he can add some muscle strength.
Does he fit? As an 18-year-old freshman at UConn, Lamb put the basketball world on notice with a series of clutch performances en route to the 2011 national championship. Despite speculation that he'd be a first-round draft pick, Lamb returned for his sophomore season. Although he posted solid individual numbers, the team suffered through a lackluster title defense, which resulted in a first-round knockout in the NCAA tournament.
I bring this up not as a walk down memory lane but as context for this: There might not be a better situation in the basketball universe for Lamb than Oklahoma City. The main knock on Lamb has been his tendency to disappear for stretches of games, especially in his sophomore season, when he was expected to take Kemba Walker's place as UConn's offensive dynamo. With the Thunder, he'll have the luxury of picking and choosing his spots as a dangerous fourth (eventually third) option. In time, he can play the same role Harden played.
The veteran: Kevin Martin
Scouting report: In the short run, while the Thunder wait on Lamb's development, they can rely on Martin's offensive production. Again, Martin isn't the playmaker or overall player Harden is, but he brings a very important skill set to the table: he draws a ton of fouls and converts at a high rate. For his career, he has averaged almost eight free throw attempts per 36 minutes and shot better than 84 percent every year after his rookie season. Other than last season, he has annually been one of the league leaders in FTA/FGA, a list typically dominated by power forwards and centers.
[+] Enlarge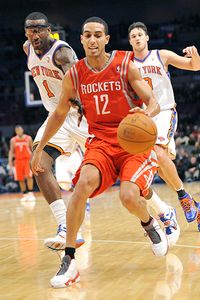 AP Photo/Kathy KmonicekKevin Martin is a good stopgap for now, but his defense is terrible.
When you talk about Oklahoma City as the league leader in free throw percentage, with four returning players who shot 80-plus percent from the free throw line, you can see that this is a valuable trait. He is similar to Richard Hamilton and Ray Allen at using down screens to free himself for jump shots, and his unorthodox release makes it difficult for defenders to contest. Lastly, he's a career 38 percentage shooter from 3-point range, so he spaces the floor and serves as a legitimate perimeter threat to discourage help defense on Kevin Durant and Russell Westbrook.
Defensively, Martin has been a liability everywhere he's been, partly because of his slight build but mostly because of his apathy. Having said that, in 2005-06, he was part of a Sacramento defense that was 12th in the NBA in points allowed per 100 possessions and featured noted defensive sieves Mike Bibby and Brad Miller. With the Thunder, he'll be able to be "subsidized" defensively by the presence of Serge Ibaka, Kendrick Perkins, Thabo Sefolosha and Westbrook. Also, let's not forget that Harden was no defensive stalwart himself.
Does he fit? Ultimately, Martin is a short-term rental. His presence is all about having a proven scorer come off the bench and pick up the considerable scoring gap left by Harden. He won't make plays Harden did, but the return of Eric Maynor from injury should alleviate that issue. His ability to get the opposing team in the penalty will be a boon for the other Thunder players. There probably isn't a long-term future here for Martin, as Lamb waits in the wings.
The draft picks
Here's where it gets interesting. Oklahoma City could have as many as four picks in the 2013 draft: its own first-round pick, the Dallas Mavericks' first-rounder (protected for picks 1-20), the Toronto Raptors' first-rounder (protected for picks 1-3 and 15-30), and the unprotected Charlotte Bobcats' second-rounder (which is basically like owning another late first-rounder). This affords the Thunder enormous flexibility in shaping their roster for years to come.
I've always felt that many people misunderstand the value of draft picks; more often than not, it's not about the opportunity to snag a star player at way below market value. Draft picks allow you to replace role players at way below market value. In the example of the Thunder, the presence of Reggie Jackson on a scale contract makes it easier for Sam Presti to say he'll take a wait-and-see approach on extending Maynor.
By having role players locked into manageable deals, the Thunder can afford to pay the big bucks to their stars. Of course, in the case of the Toronto pick, there is a chance they could land a top-five draft choice, meaning a possible shot at a Cody Zeller or a Nerlens Noel.
On the other hand, it is unlikely a team contending for a championship will carry four rookies next season. That's where the secondary value of draft picks comes into play as currency on the trade market. Presti can package a combination of some of the picks to upgrade his roster or, down the line, to incentivize a team to take Perkins' contract. For example, as thePhoenix Suns continue their own reconstruction project, would they entertain a Perkins-for-Marcin Gortat deal if OKC threw in a couple of draft picks?
The judgment
The Thunder were never going to "replace" Harden in a trade, but, in terms of return on investment, it's hard to argue with Presti's haul. Martin can fill much of the scoring void now, and Lamb has the potential to be the third option in the long term. The draft picks give the Thunder the flexibility to go in many directions. The fact of the matter is the Thunder might have taken a small step back in the short term, but it's a decision that will allow them to sustain the highest level of competitive basketball for years to come.
Amin Elhassan worked in the Phoenix Suns' front office from 2006 to 2012, serving as a video coordinator, college scout and assistant director of basketball operations. He holds an MBA from Arizona State University. You can follow him on Twitter: @AminESPN
Posted on: Mon, 10/29/2012 - 9:01am