all aboard the silver and black oakland raiders a$$ kicking our way to the playoffs war wagon
Posted on: Mon, 11/01/2010 at 5:01am
all aboard the silver and black oakland raiders a$$ kicking our way to the playoffs war wagon
the legendary emblem...
the hot cheerleaders...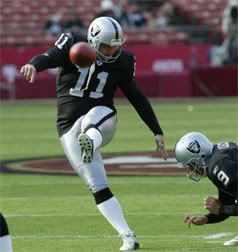 the best overweight crime record having polich kicker in the league...
darren mcfadden the fastest running back in the game now no longer afraid of contact...
nnamdi asomugha the best shut down corner in the nfl...
all of this equals the silver and black are back. We follow up our 59-14 beatdown on denver with a 33-3 smacking of seattle. 3 of our 4 losses are by single digits and were decided in the final minutes. The line play is finally getting it done. ANd best of all, no jamarcus russell. Beating a team near you very soon.